Proenza Schouler's Unconstructed Breakthrough
<span class="message_content">Jack McCollough and Lazaro Hernandez find a much-needed new direction. Plus: Fall will be tweedy! </span>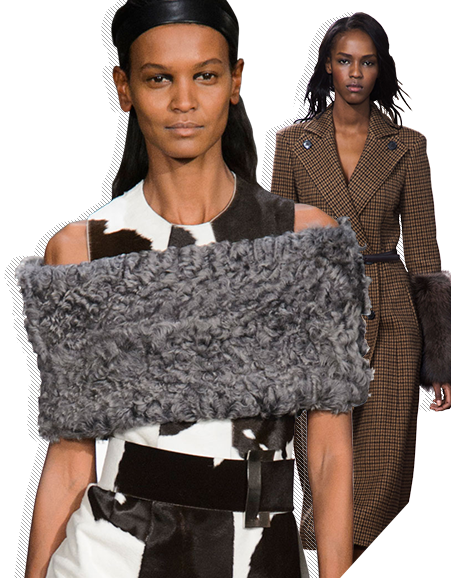 Proenza Schouler's
Unconstructed Breakthrough
Jack McCollough and Lazaro Hernandez find a much-needed new direction. Plus: Fall will be tweedy!
For a while now, the collections sent down runways by Jack McCollough and Lazaro Hernandez of Proenza Schouler have been driven by novel fabrics. A year ago, there was a thick jacquard that looked like insulation material, which ended up as shapely jackets and coats; before that, it was woven leather that evoked a stiff plastic seat cover. All too often, though, their clothes looked heavy. They weren't something you'd actually want to wear and, what's more, it was hard to see any real design value in some of these strange materials.
Last night at the Whitney Museum, McCollough and Hernandez finally broke the tedium with a collection that put more emphasis on cut than new fabrics. In a way, their idea was simple: Cut into a long tweed skirt, leaving wide strips of fabric, or into the hem and lapels of a gray wool coat, so that the structure was literally broken up and, of course, lightened. The return of classic tailoring has been a major trend of Fashion Week, and I love the civility and poise it suggests. But I've been hoping a designer would take a freer approach with the cutting — propose a shape and attitude that's more modern — and that's what Proenza achieved. (I suppose it's also what poor Kanye intended with his slashed Adidas clothes, but he lacks the talent to articulate a big fashion story.) The texture of modern life, the disruptive breaks, demands a similar expression in fashion. And it means more when those ideas come from high-fashion designers who work with traditional techniques and materials.
Once upon a time, Proenza's loose-paneled tweed skirts, flappy coats, and tubular knits with uneven bands of knitting exposing a layer of fishnets might have been called deconstruction. But I think a better word for this collection is unconstructed. It's a subtle distinction, but McCollough and Hernandez seemed mainly intent on eliminating elements — in order to lighten the garment and create (to my eye) a different, just-get-on-with-it energy. How many times, I wonder, have bored designers looked at a skirt or wool sheath dress, and wanted to be free of the form — much as painters and novelists have over the past 100 years? A black Proenza sheath, cut sharply down to the sternum, with black grosgrain bands woven into the tweed near the hips, was sublime. Finished without a waistband, a pair of black tweed trousers looked disconcertingly easy. Like the airy skirts, you wanted to wear them.
Of course, in the grab bag of fashion, nothing is new. Japanese designers have sliced into tailoring and in New York, we have the legendary example of Valentina, who, in the '30s and '40s, found modern ways to make clothes look unencumbered. And not everything in the Proenza show worked. The bandaged shoes were bizarre, like mummy's feet, and sheer, grommet-pierced tunics stretched the art theme. (The works of Helen Frankenthaler and Robert Morris were inspirations.) But Hernandez and McCollough succeeded in creating a total vision. They needed this kind of big effort to break out of their own mind-set.
Elsewhere, it looks like fall will be tweedy. The hint provided last week with Joseph Altuzarra's natty brown check blazers and coats now resembles a movement. On Wednesday, Michael Kors put his considerable stamp of approval on checks, lady capes worn with foulard-print silk pants and brogues, pullovers with white poplin shirts, and other American classics. This was one of those collections that seemed to come to Kors and his team with a snap of the fingers. He is very good at plucking a few choice items from the Wasp attic, like the tweed cape jackets or pajama shirts, and freeing them of nostalgia by means of cut and modern contrast. It also helps that his models, their hair gathered in a perfectly arranged mess, look like they don't care. Jason Wu, at Boss, also went crisp and tailored. What will Ralph Lauren do?
The back-to-back experience of Josep Font's super-bright Delpozo show, with its childlike tent shapes, and Jeremy Scott's baby-bumper prints left me feeling momentarily trapped in a doll's house. Scott's minidresses are silly in an ironic, pop-culture way, but I don't get the excessive fawning over Delpozo, which this season featured dainty teacup skirts and pinafore-style wool dresses with appliqués. Perhaps it's not for me. I was much happier to see Sophie Theallet's clothes, especially her new leather pieces, and a pair of sensational gold lace gowns. By the way, Theallet, who knows how to fit a dress, says she's getting more and more requests for custom work.