The Familiar Thrill of Returning to Fashion Week
Like reentering my former life after a spell in the federal witness-protection program.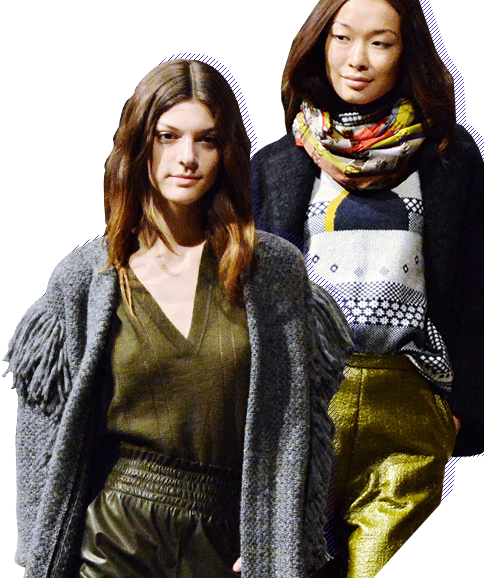 The Familiar Thrill of Returning to Fashion Week
Like reentering my former life after a spell in the federal witness-protection program.
"How many unsung souls in a woman's vagina?" the actress Tracee Ellis Ross winsomely asked the crowd last night at Rachel Comey's fall show in Red Hook. For the past few seasons, Comey has been giving a dinner, with models touring the room between courses and a performance by an artist. Ross, in the character of a chortling life coach named Madame Hiver, her fat eyebrows like tattoos, continued, "It's just a vagina. It's a scary thing, isn't it?"
The same could be said for fashion: one big vagina. And I was back in it, looking at clothes, having the same conversations, seeing people I knew as intimately as my own … well, you know, but whom I didn't immediately recognize this time.
"Yeezy?" I said absently to myself, turning over an invitation from Adidas, a vacuum-sealed pouch filled with what looked like cocaine. Ah. Right. Kanye.
I felt like I was reentering my former life after a spell in the federal witness-protection program.
It's good to be away, though. You see the yawning gaps in the business, and also where it's oversaturated. I'm skeptical that the industry can support another streetwear brand, given the dismal state of retailing and especially given the fact that the big spenders are baby boomers who don't want to wear another version of oversize track pants or a metallic cropped top. It also seems to me that there's an unjustified amount of pressure on designers to make youthful clothes. No one wants to be called boring or dated, but the relentless insistence on youth actually seems to be hindering imagination.
Sure, I want to be thrilled by great design, challenging ideas, even offensive ideas. I'm all for that. But my mind is equally open to clothes that are simply beautiful, that have an easy and inhabited and ageless quality.
That's one reason I'm drawn to Comey's line, which for fall includes some lovely ribbon-embroidered denim, hand-loomed tops and coats with loopy fringe, and fake-leather separates that are ultra-soft and elegant. Before the show, I asked Comey how doing her casual dinners in Red Hook, at Pioneer Works, had affected her business. She said they definitely raised her profile, but, more important, they gave her team the confidence "that we can follow our gut instincts." She says business in her new store on Crosby Street has been terrific, in part because of the wide age range of her customers (the advantage of not making clothes exclusively for 20-year-olds). She also mentioned that she uses five fit models in order to reflect different body types among women, and I was impressed that a brand as small as Comey's would make such a conscious effort to reach more women.
Comey doesn't make a big deal about any of this — and that is as it should be. Instead, her designs subtly deal with the most elemental ways that women feel included in fashion: through fit, ease, and individual expression.
These days the gutsiest decision by a new designer might be to do something that's quiet — and do it well. Mafalda von Hessen, a relatively new designer from Rome, showed her first collection in a hotel suite at the Gramercy. I loved Von Hessen's clothes — flared wrap skirts in tweed with a leather tie, a shirtdress in dark-brown velvet or in a hand-painted print of black-spiked clouds, blouson jackets, and a lanky hooded coat in dark quilted wool. A former costume designer who has four children between the ages of 12 and 23, von Hessen has a wonderful color sense, with lots of greens and blues mixed with browns, and she said that many of her styles were based on things that had belonged to her family. (Von Hessen is apparently related to several dead European monarchs.)
She brought out a cropped jacket based on one worn by her great-grandmother Elena.
"And who was she?" I asked.
"The daughter of the king of Montenegro," Von Hessen said offhandedly.
(Nick Carraway was screaming in my ear: "Little Montenegro!")
Von Hessen's clothes have a country quality; they plainly combine a German and Italian aesthetic (she grew up in Hamburg, and her parents were close to Jil Sander); and they, too, are ageless. I could see the brown velvet dress on a woman of 20 or a babe of 60. Von Hessen is also working with Eric Wright, who assisted Karl Lagerfeld for years and who was with her yesterday in her hotel suite, getting the models ready. In a way, her clothes reminded me of those that Loulou de la Falaise did after she left Yves Saint Laurent. They're sophisticated without trying, though Loulou's clothes had an English-French vibe.
"Absolutely," said Jean-Claude Huon, the owner of the New York showroom Wave Atelier, when we spoke later. Huon immediately agreed to represent Von Hessen when he saw her clothes, which are priced from $1,000 to roughly $3,000. "There's a big void in the market for the kind of classic clothes Mafalda does. They're well done, well made — they're gentle. The lines are soft."
I started to say to Huon, "They're clothes … "
"That you don't see everywhere," he said with a laugh. "Everyone looks the same in the fashion world."