Finding Magic in the Trash at Rodarte
<span class="message_content">And a promising beginning for Peter Copping at Oscar de la Renta.</span>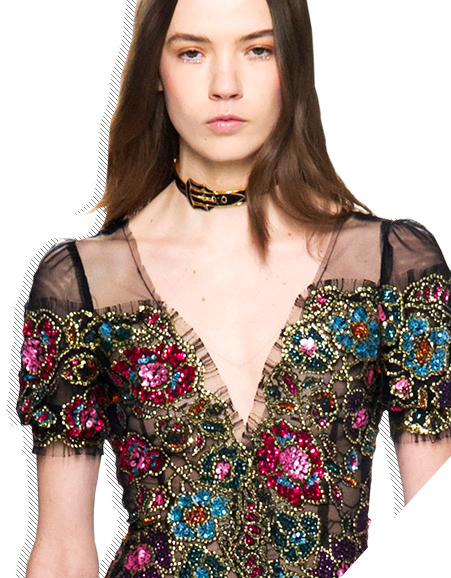 Finding Magic in the Trash at Rodarte
And a promising beginning for Peter Copping at Oscar de la Renta.
You need perspective in the fashion business — if only to make sense of the nonsense — and there are days when I don't think you can have enough. Tuesday was such a day. It began for me with a ten-minute sprint around the J.Crew exhibition at Lincoln Center, where Jenna Lyons and her team like the look of ultrawide wool pants (strictly for the adventurous fashion customer, I was told), loopy fringed skirts, sleeveless coats, and a tan parka with a fleece lining of the Big Bird type. The collection glowed from its sequined sparkle and TV colors, and nobody seemed to mind that it was a little incoherent and lacking, if I may say, in plain old cool.
I was desperately hungry after that, and on my way down to the Rodarte show, I stopped and had a full breakfast. I've never been a supporter of the fashion of Kate and Laura Mulleavy; they rose on a tide of ballyhoo and cloyingly naïve craft statements, without a clear aesthetic to orient the customer year after year, and I haven't felt a need to revise my opinion. However, their show was fascinating, in part because it was awfully bad and awfully good. The split occurred two thirds through the show when, after many skintight leather pants or hot pants worn over lace, and some things stabbed with feathers, the designers sent out a group of evening dresses that had a rich, lacquered shimmer, in tones that were half Vegas and half desert — I couldn't say. They were so vivid and precise, and the shapes of the (long and short) dresses were fine, too. If the Mulleavys can finesse this kind of magic, I'm tempted to say they should ditch their banally trashy daywear, or at least find a better way to unify their artistic interests and their commercial objectives.
In the early evening, I walked up Sixth Avenue amid commuters hurrying for the subway, and thought of the experience and geography that now separates the fashion business from the world that guys like Oscar de la Renta and Bill Blass encountered in '60s New York. (I always think of the two of them together, isn't that odd?) Blass and his pal Oscar got so many ideas for clothes from being out and appraising the style or attitude of a stranger. They didn't follow trends, but they didn't design in a vacuum either — they were sensitive to taste rather than fad. But all too often today clothes seem about as alive as drawings on a board.
It will be intriguing, then, to see how much warmth and Oscar-like zest Peter Copping can inject into his collections for the late designer's company. His debut was more than respectable; he managed to strip some starch out of the tailoring, offering lighter suits (a gorgeous one in crimson wool with a flared skirt), lovely coats in eye-catching tweeds with panels of contrasting tweeds, and the simple idea of an ivory silk blouse (an Oscar specialty) with a flaring skirt, the best of which came in red tweed with a wide band of black fox and a little jacket.
Copping also tuned up the embroideries, using silvery appliqués of roses on a dark faille gown for a more modern look than beadwork, and for one strapless minidress in fuchsia silk with a teacup skirt, creating a flat, overall mélange of rose petals in the same fabric. His interpretation of day clothes was fresher and more promising than his ideas for evening clothes, some of which had traces of the kinds of romantic techniques he liked when he was at Nina Ricci. Oscar was a gutsy designer, a force of nature, with a cunning sense for the extravagant gesture. Perhaps that time has passed, and with it the self-knowledge; I don't know. Copping brings other qualities to the company, like the ability to meet and charm customers, but it will take another three or four seasons to know for sure if he can fully unpack Oscar's world.
Narciso Rodriguez shifted his collection somewhat from the sporty to the almost serenely monastic, with slim below-the-knee skirts, many long coats (the best in a delicious combination of pale peach and pink), a pretty sleeveless dress in marigold, and slip dresses with lightly embroidered bodices and dramatic asymmetrical hems. His endnote was superb: a black silk pants outfit with a wide, pristine stole running across the top of the body and unfurling down the back. The competition for the best models is intense these days, but I found his boy-skinny girls distracting; too young, too waiflike, too bland, they didn't inhabit the clothes as his women usually do.
But who am I to talk about perspective? There I was at the tail end of the night, at a dinner at Indochine for Sarah Rutson of Net-a-Porter, when I glance up from my conversation with Howard Socol, the fashion and retail consultant, mildly aware that the waiter is extending his hand to take my dirty plate.
Flustered and half blind, because I've taken off my glasses, I try to hand him the plate. He waves it away.
I reach for my glasses. The "waiter" is Andrew Rosen of Theory. He was just trying to shake hands.