The Chicest Mafia Funeral and the Sweet Sadness of Being Young
<span class="message_content">Thom Browne and Eckhaus Latta deliver two of the best shows so far. Plus, Donna Karan, Herrera, and The Row. </span>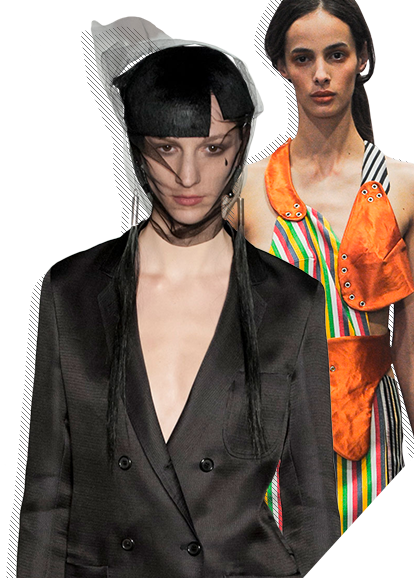 The Chicest Mafia Funeral and the Sweet Sadness of Being Young
Thom Browne and Eckhaus Latta deliver two of the best shows so far. Plus, Donna Karan, Herrera, and The Row.
Eckhaus Latta and Thom Browne are unlikely soul mates. The former is the label of two RISD graduates, Mike Eckhaus and Zoe Latta, whose clothes have a cast-off quality that wouldn't appeal to spike-heeled Manhattan obsessives. For one thing, you're not sure if someone wore their paint-swirled, red plush sweatpants before, maybe as a Snuggie. Browne, of course, is the guy who put grown men in short pants and whose lavishly realized shows, often based on sartorial traditions and elitist hobbies, have been dismissed as joke couture.
But Browne and Eckhaus Latta are the joys of New York Fashion Week so far, and what unites them is sadness. With Browne, this was more obvious: He based his elegant black clothes on mourning, just as he had done in his recent men's show. (And, no, he said, he did not see the exhibition on widow's weeds at the Met, where his partner, Andrew Bolton, is a curator; he purposely avoided it, so as not to be overly influenced.) The set for Browne's show was a Victorian surgery, with guests seated in the wooden stalls of an amphitheater and the cadavers — white-powdered girl models — stretched out on gurneys in the center.
But let's forget about that. Once the show began and the stiffs were wheeled out by some passive-looking gents, this was a chic parade straight out of a Mafia funeral, as conceived by Wes Anderson. Shown with delirious little hats (by Stephen Jones) that swept around the models' faces or shadowed them with netting, the clothes had bespoke restraint that lifted Browne's work above the city's better coat-and-suit-makers. Each outfit offered something for the eye — a short, swingy jacket edged in thick beaver worn over a tweed mini and cardigan; an overcoat of black wool bouclé edged all around with frayed silk faille; sublime wool dresses with scooped necklines; coats with lash-y, horsehair fringe, and a jacket in a wool woven to resemble astrakhan and then embroidered with tiny black beads and deep green feathers.
Although Browne's women's clothes are more wearable than they were a few seasons ago — note the difference in his garden-bright spring collection — this show marked a shift. In their soft lines, in their lighter construction, and in their simple but ingenious ideas — like a zipper in the back of coats that enclosed a pleat of moiré silk — these clothes successfully gave modern attitude to chic.
Later, I asked Browne to explain the difference in his clothes. He couldn't. "It just felt right," he said. Browne wasn't being cagey; many designers are uncomfortable explaining their work. And his has been a long process. Backstage, I ran into Trino Verkade, who came to Browne's staff after years of working with Alexander McQueen.
"So is this a change?" I asked her.
She shrugged. "What did he tell you? Because he doesn't tell us what he's thinking."
The sadness expressed by Eckhaus and Latta's tender clothes, and by a show done on a relative shoestring — no lights or chairs, the models maybe friends of the designers — was of a more general kind. There is a whole reality of being in your 20s in New York that isn't captured by urban streetwear labels, or, God knows, by the TV show Girls. Happiness is qualified by shitty jobs and the fact that the culture is telling you to buy this or that. Fortunately, you're not buying any of it. You're going to piece together a career or a life with what you have, make interesting connections, and see what happens.
That's sort of what Eckhaus Latta says to me. A group of vocalists, placed randomly in the audience and led by Dev Hynes, sang softly as the models passed through the crowd in a Soho art space. They wore plain cropped sweaters with cool, plushy white sweatpants and great-looking jeans with sharply tapered legs. There was not much design to the clothes, apart from some eccentrically pieced dresses and halter tops, but you would notice them. The performance also included a steady thumping — from a hammer being applied to a pristine wall each time a model walked out.
Donna Karan and Carolina Herrera, also on Monday, were pretty much what you might expect. Herrera's inspiration was water — its colors, wave shapes, sparkle — and though some of the curved bits in suits and skirts looked contrived, it was a bankable collection. Karan's collection was conspicuously strong on coats. She is your woman for a luxe bomber — and some of the best-looking tailored pants this season, in that classically tapered Saint Laurent cut.
Ashley and Mary-Kate Olsen's streamlined clothes for The Row were lovely, but they're not unique. They were, to me, a blend of early Calvin Klein and Zoran. Remember Zoran? He was the salty, vodka-drinking guy who made gorgeous clothes in the same few solid hues, in fabrics like Tasmanian wool and taffeta, interspersed with roomy Italian knits, and always without zippers or buttons. He made a fortune, too.
That's more or less what I saw at The Row: Zoran with buttons.
Zoran is definitely in the air, in fact. A new line called the Brock Collection, by Kris Brock and his wife, Laura Vassar, who met in design school, hinted of his influence in their wrap coats, shell tops, and a long, straight silvery skirt. When I mentioned the name to Brock, he didn't seem to know it, and I believed him. Brock and Vassar are sweet and committed to making high-end, wearable clothes. Their strong suit is tailoring, expressed beautifully by a nipped-waist coat in a black jacquard with the grainy reverse side worn out.