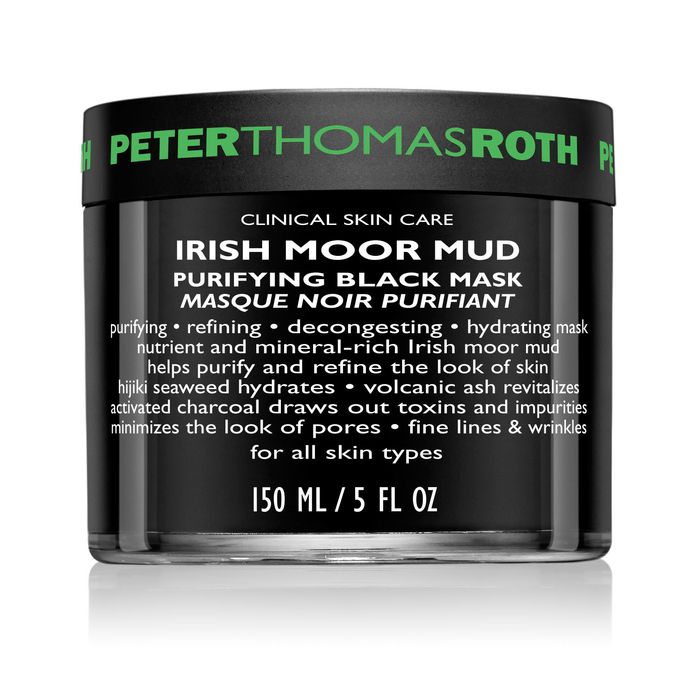 Peter Thomas Roth Irish Moor Mud.
Here's what I know about clay masks: They clear blocked pores, dry out skin, and typically smell like death. I used to think that funky, dehydrating masks were the only option for clear skin and pores, but Peter Thomas Roth's new Irish Moor Mud mask made me change my mind.
This mask sweeps away dirt in pores like a tiny vacuum cleaner, and I usually apply it twice a week at night for ten minutes. When I first applied it over my clean face, I noticed a significant reduction of oil in my normally overactive T-zone the next morning. I wasn't surprised, since that's exactly the sort of thing charcoal and mud masks are designed to do, but I was shocked about one thing I didn't notice: the smell. Unlike most other skin-clearing masks, the mask smells like nothing at all: It's completely odorless. A generous amount of glycerin and seaweed make it hydrating too, which is a total deviation from every other mud mask in stores. The two ingredients together act like a big gulp of water to parched skin.
And, unlike most other masks, Irish Moor didn't harden in my sink. It was easy to wash it down the drain. After using it, my skin feels softer, smoother, and the tiny blackheads that tend to live around my nose disappear. Maybe it's the special mud in the mask, which comes from a 9,000-year-old moor in Ireland, but it makes my skin look like a Sephora ad.
Peter Thomas Roth Irish Moor Mud Purifying Black Mask, $58 at Sephora.