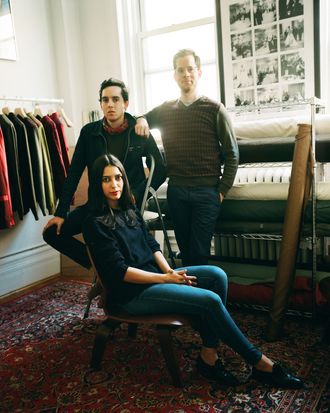 Matthew, Alex, and Samantha Orley.
Photo: courtesy photo
Orley — the three-year-old menswear brand designed by Matthew Orley, Alex Orley, and Matthew's wife Samantha Orley — has something exciting up its knitted sleeve for fall 2015: It will launch womenswear for the first time this season. The collection, which shares the men's line's focus on colorful knitwear, will be shown during a presentation today at Lincoln Center. The three designers took a break from putting the collection together in their CFDA Incubator studio to chat about diving into the women's market and why acid yellow is a tough sell in January.
What has it been like going into women's from menswear?
Alex Orley: It's something that we wanted to do for a long time. We started small with just this capsule collection of knitwear, and as we've grown we've always had this core clientele of women that's been buying the men's sweaters from us. For our first couple seasons it was a huge part of our sales, those private clients, so it's something that has always been a part of our business. Going into women's has sort of been a natural extension of men's, especially because knitwear is a little bit more inherently unisex.
Matthew Orley: Forty percent of our private business was female clients buying boyfriend sweaters for themselves.
M.O.: We were sizing down! We were in double extra-small in our men's sweaters for private sales.
A.O.: Out of the gate, it was always the product, even the men's, something that women liked and gravitated toward, and obviously that made us more comfortable in launching the women's — that we would have those customers ready for it. But the concept behind the men's is taking this idea of something slightly retro and subverting it in a way that feels modern, and so with the women's, we're doing the same thing where we're taking a retro idea like the twinset, but doing it in a jacquard that feels really modern and kind of youthful. It's reminiscent of something that you might've seen, but done in a modern way.
People usually make the opposite transition; they'll do women's and then add on menswear, so you're kind of going against the tide.
M.O.: I would add to that though that when people make that transition in reverse, I think it's probably harder to bring on a men's customer to your brand when you start as women's. Whereas I don't — and this could be preemptive — but I don't foresee us having that kind of resistance from a women's customer just because we started with men's. We've been encouraged to do the women's by many of the [CFDA/Vogue] Fashion Fund judges, whom we just spent the last six months with. They were really positive and encouraging toward us about expanding into women's, and I think a lot about how what the men's was and is can so easily translate.
Are there things that are different about designing for women that were challenges at first?
A.O.: I think in men's we sort of have to curtail ourselves a bit. We have to hold back our tendency to — because we do a lot of color and a lot of stitch development and we like to use really interesting textures — with men's you have to limit yourself a little bit. We definitely color outside the box of classicism, but there is a line that we toe. But with women's, we can do acid yellow for fall and not worry about that. For men's, you don't want to be selling bright-yellow sweaters in January.
Is that because men aren't as adventurous?
A.O.: Guys are much less adventurous, but our guy is, I would say, adventurous.
M.O.: The general consumer of menswear does want something that is masculine, and acid yellow is apparently a tougher sell.
A.O.: In January. In August it's okay, I think. [Laughs.]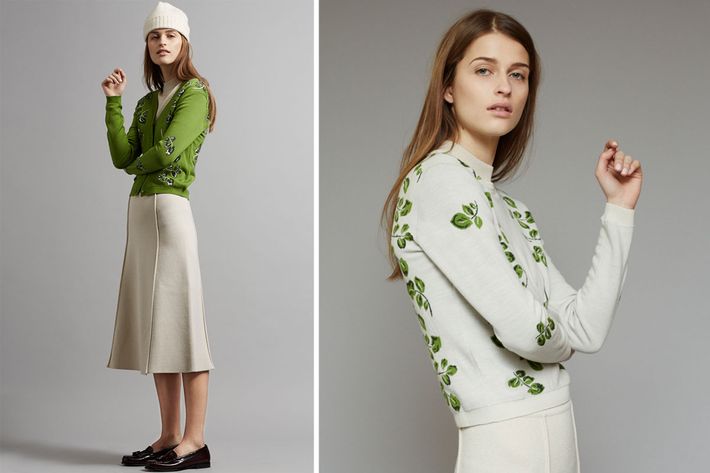 What were some of the inspirations you were looking at? Your mood board has a whole mix of eras.
A.O.: The collections are never linear because there's three of us and we're all kind of bringing unique ideas to the table. It's never like, "Our theme is India." It starts with a color palette and then it'll grow into a silhouette. For fall, we were looking at the paintings of William Merritt Chase, who was this kind of obscure American painter from the early 20th century who did these impressionistic portraits of people.
Samantha Orley: But a lot of times the references are more in terms of color palette.
A.O.: It's always about this idea of taking something familiar and maybe a bit older and flipping it on its head. I think in the men's you have it in something like this, which might be in a solid — this would be kind of like your Loro Piana knit jacket, but do it in oversize floral jacquards.
Did you market test these with anyone in an informal way? Were you just asking female friends?
S.O.: No, it was definitely a process, we talked to different retailers and through the Incubator we have a lot of mentors. I think for us it's important to get as much feedback but also to still stay true to what we're trying to do.
A.O.: Not too much market testing. We don't want to know, you know — we're not trying to give them what they want; we're trying to tell them what they didn't know they want.
So I'm wondering what the plan is, now that you're going into women's, what is sort of the overall plan several years down the road?
M.O.: I think women's will quickly become as big as the men's. I think the demand is there. Whether or not it expands away from knits very soon is hard to tell, but I think it's important to the DNA of women's to echo the men's in the sense that it needs to be clear. People need to know what our core products are, and that's something we're trying to establish out of the gate. We'd like to more fully realize all the product categories that we can do within knitwear for women, and I think we're really excited about that. As well continuing the men's, which has been really strong and continues to grow really nicely.
A.O.: I have a hard enough time thinking about resort, so thinking two years away is kind of a lot.
M.O.: We want to move out of the Incubator, open a store …
A.O.: Matthew's thinking about the two years and I'm thinking about the six months. [Laughs.]
Did you get a lot of attention from appearing on The Fashion Fund?
A.O.: Matthew was stopped by a FedEx driver who said he was watching the show, and I was stopped by someone at SoulCycle who said that they were rooting for me.
This interview has been edited and condensed.