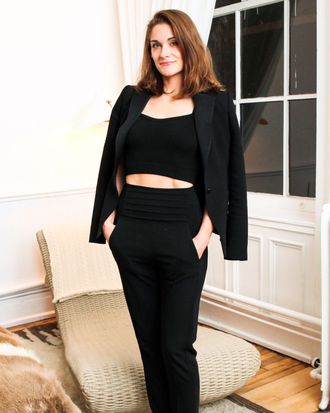 Kate Wendelborn.
Photo: Sam Deitch /BFAnyc.com/BFA NYC
In 2013, Vanessa Traina and Morgan Wendelborn founded The Line — an ecommerce site built on the idea that whether it's a luxe nail clipper from Tokyo (yes, such a thing exists), an Altuzarra dress, or a set of Cartier-Bresson prints, discerning women would buy it all in one place.
Soon, The Line launched a brick-and-mortar counterpart, The Apartment, which sells the goods in a Soho-loft setting. Among the brands it carries is Protagonist, a women's ready-to-wear line founded in 2013 by Wendelborn's twin sister, Kate. What began as a shirting line sold on the site, and Protagonist has since come into its own — expanding to include a number of new product categories such as knitwear and pants. Now, it's stocked everywhere from Barneys to Net-a-Porter. Today, Protagonist makes its New York Fashion Week debut at a presentation that will be styled by Traina and held at a one-time-only show space, Skylight at Ironworks in Chelsea — one that, Wendelborn proudly notes, has never before hosted a fashion event. The designer spoke to the Cut about how Utah inspired her latest collection and why she's not fond of being called a minimalist.
Protagonist began its life as the in-house label of The Line. But you always had bigger plans for it.
From day one we said, How can we build these brands independently, but leverage them? The intention was for Protagonist to always be marketed separately, independently, be its own brand, have an opportunity to have its own life. People know Protagonist even if they don't know The Line; people know The Line even if they don't know Protagonist.
Now you're selling it at Barneys and a number of other outside retailers. 
So we have Isetan in Tokyo, Forty Five Ten in Dallas, Barneys. Net-a-Porter picked us up for spring, which is incredible. We have plans to do a really cool launch thing with them [in the spring].
Initially, the line was just shirting, but now you're building it out into new categories. 
Yes, so for the fall [2014] collection when we launched wholesale, we thought it best — because the intention was always for it to be a fall collection — to start with something more meaty — sweaters, tailored trousers, some really beautiful cashmere pieces. For this fall, we're adding coats, so we kind of just add on a little bit as we go. And this fall collection is very comprehensive, actually — we couldn't stop! The idea's so good, we just have to keep adding.
You have a fairly minimalist aesthetic. Everything is very stripped-down.
I know I'm not the first designer to say they hate being called a minimalist. I don't hate it. I would say just because minimalism is such a specific design category, which literally means taking away everything unnecessary, and I wouldn't say that we do that. There's a lot of experimentation in what we do. So, for example, this coat that we're working on [gesturing to a black-and-white graphic-print coat], that wouldn't necessarily be a true minimalist piece. I think it's about paring things back and making them wearable and touchable, things that people can grasp without having to have some huge backstory behind it or be an outrageous dresser at the same time. Things that are pared back as opposed to being completely stripped-down.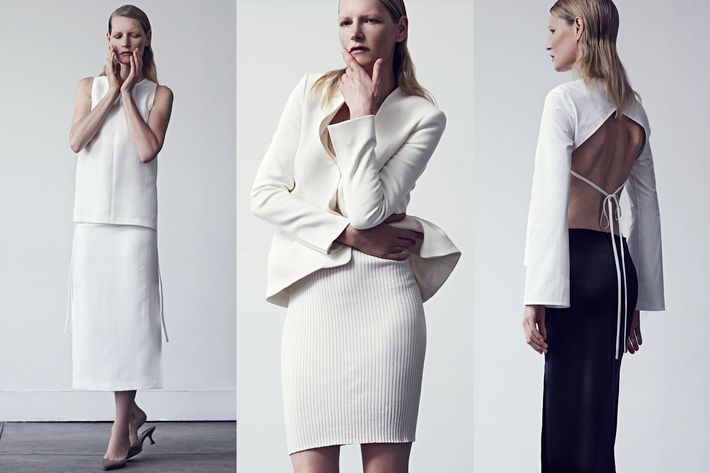 I know you're an equestrian, and your mood board seems to have a couple of references to that. 
So, that's a bridle — I actually kept it in a bag so the smell was retained. It doesn't smell like horses, it smells like a tack room. It makes me want to go ride. What really has interested me, too, is Arte Povera, the Italian art movement from the '60s. I think you can see the idea of taking found objects and putting them together. I also went to Utah and got really inspired by the landscape. I had people saying, Oh, are you going to do some Western collection? I said, Come on. [Laughs.] It was really more about the shapes of the mesas and straight lines mixed with curved lines and the shape of the landscape as opposed to any culture, anything else that had been there.
I also see you have a lot of denim here — are you planning on adding it to the line? 
Yes. I don't know what I would do without jeans. I mean we all run around so much, there's no way I could run around in trousers all day. I love the look of a worn jean, something that has a story to it. So I was like, If we make new jeans, I don't like the inauthenticity of making it look old when it's not really old. So I just troll eBay randomly when I have five minutes extra and I add to the cart —
These are all Levi's 501–style, really classic shapes.
Yeah, they're all actually Levi's. We're going to take elements apart and put them back together. There's something a little formal about the cut of the denim. I think it's going to be a really cool contrast to some of the very formal pieces.
Can you tell me a little bit about your plans for the presentation?
It was really important for me to not have it be like this grand runway show. I didn't think it was in the spirit of the brand, not in the mood of the collection. I mean it's our first one as well, so it's bold, I guess, to go in and do a show, but I think even that aside, the collection would be best conveyed in a presentation format. So we have an hour, and we're building a set, just a very few pieces of furniture in the middle of the room that invoke the Arte Povera reference and have girls just interacting with the pieces, so there's a bit of a performance-art element to it. Frédéric Sanchez [who's designed show soundtracks for Marc Jacobs, Prada, and Martin Margiela] is doing the music for us, so that's amazing, and I'm so honored to have him do it. I don't want to say too much, but I think it's going to be really exciting and beautiful (and very appropriate for the clothes) to have people come in and see it.
This interview has been edited and condensed.