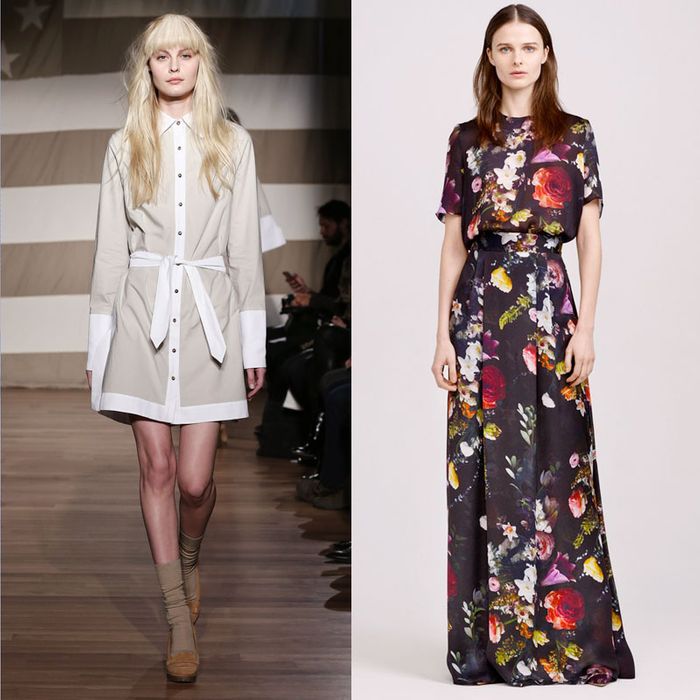 Photo: Imaxtree, Getty Images, Courtesy of Adam Lippes
Hustlers and flowers. Those might seem like disparate starting points for a collection, but for Adam Lippes, they came naturally. For fall, the photography of Philip-Lorca DiCorcia — which Lippes first saw in the form of his 1993 hustler-portrait exhibit "Strangers," while on a trip to MoMA with his parents — was a central inspiration, as was the floral design company Putnam and Putnam, whose blooms inspired the first prints Lippes has ever done for his eight-season-strong line. "I don't do theme collections," said the designer, briskly walking visitors through his bouquet-strewn townhouse at yesterday's presentation. "It's just about things I love, and Philip's work touches me. When you look at it, it's sort of banal. When you really look at it, there's something a bit subversive. You just have to look more." He pointed out a white cardigan: "You see a shaggy fur from afar, but it's ten different yarns and gauges, all hand-knitted," he explained. Or a gray shift dress, which appears to be embroidered with pearls but is actually studded. He fingered fabrics: double-faced merino, satin-backed silk.


Lippes's concept of "looking more" was also pursued by his fellow journeyman designers Chris Gelinas and Dion Lee. All three make clothes that reward close study. In his show notes, Gelinas dedicated his show, the first-ever runway outing for his label, CG, to "the trades that find fulfillment outside flashes of insta-gratification"; namely, the pattern cutters and garment workers who occupy one of the most crucial and least talked-about parts of the industry, or what he phrased as "the countless hours that exist outside these next 15 minutes."

As such, he flew the flag for American commerce (he even had a muted Star-Spangled Banner as the backdrop to the show) with a collection primarily made in New York and heavy on classic sportswear and workwear fabrics: cotton shirtdresses, classic coats and trousers, with many of the looks styled with simple moccasins. Delicately printed fabrics, like a silk windowpane print or a gray checkered wool, helped reinforce the celebration-of-craft angle. Backstage, the designer said, "Sometimes things get very glossed-over, and I think it's nice to just remember the behind-the-scenes part as well. I'm in factories all day long, and I feel so much more at home there than I do in other elements of the industry." One imagined he might be referring, here, to the glitzy parties and Kimye Insta-bait moments that have come to dominate this ten-day week.
See the full Adam Lippes fall 2015 collection here.
See the full Dion Lee fall 2015 collection here.
See the full CG fall 2015 collection here.

The Sydney-based Lee relocated his show to New York a few seasons ago, after having shown in London and his home city. His work still feels extremely Aussie, though — marine colors and recurring maritime themes (evident, this season, in netting that draped over his fluid gowns). His work is always body-conscious and intended for bodies that are taut and Bondi Beach–tanned. For this season, he said, he was "looking at eveningwear silhouettes in a kind of street way." In particular, he was excited about "taking a fabric like satin, that's generally quite mature, and doing something kind of cool with it." In this case, "something kind of cool" meant cutting it on the bias and slashing it for a deconstructed, shredded-to-ribbons effect. From far away, it might look like an ordinary evening gown, but watch it go by up close, and it's something to behold.