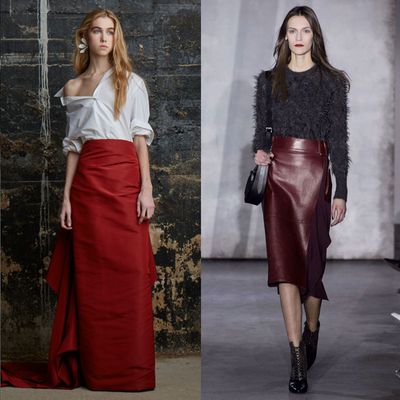 Looks from Rag & Bone, Rosie Assoulin, and 3.1 Phillip Lim.
Photo: Imaxtree, Courtesy of Rosie Assoulin
Is Rosie Assoulin, of all people, jumping on the athleisure bandwagon for fall? Yesterday in her presentation, she showed a comfy-cozy pair of drawstring velour pants just made for a marathon — a House of Cards marathon, that is — and a monochromatic, if fitted, sweatsuit. She considered the term for half a moment. "Athleisure," she assented, "but in cashmere and silk velvet."
Those two looks, though, were anomalous: In the rest of the collection, Assoulin further advanced her pursuit of the grand gesture, complete with exaggerated pannier dresses and oversize flower earrings created by her mother-in-law, Roxanne Assoulin of Lee Angel. But her clothes are never just unadulterated elegance — she always adds a zany touch, like a pair of evening pants with fluted bells or a classic white shirt that fell just off the shoulder. Assoulin was one of several entrants in yesterday's fashion stakes who set out to complicate the concept of "pretty."
See the full Rosie Assoulin collection here.
See the full 3.1 Phillip Lim collection here.
See the full Rag & Bone collection here. 
For Phillip Lim, this season marked an outright attempt to "readdress the systems and structures that we build along the way," according to his show notes. While Lim's vision wasn't as much of a grand overhaul as that concept would seem — he found ways to telegraph femininity without stooping to a single cliché. A model wore a double-breasted cream blazer over a minidress with an asymmetric hem that seemed to drip, rather than fall, from the waist, and carabiner straps secured various floaty garments. A fuzzy sweater paired with a high-waisted leather skirt in a rich bordeaux hue was one of many pieces that would translate well off-runway.
Meanwhile, at Rag & Bone, David Neville and Marcus Wainwright layered laced-edged slip dresses over pants, 1997-style, and topped them with quilted leather bombers and nylon parkas, one of which a model elaborately ripped off midway through her walk. The looks came in extrovert-worthy colors — traffic-cone yellow, caution orange, and a fiery shade of red; flat messenger bags and coin purses were fitted against the body for an aerodynamic effect. The slip dresses were the only hint of sweetness; their woman was going places.