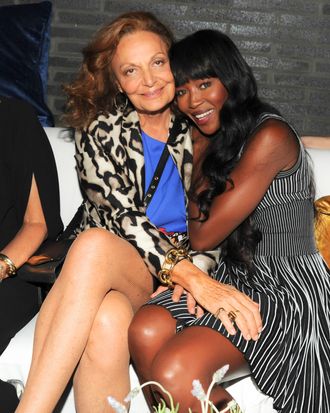 Diane von Furstenberg and Naomi Campbell.
Photo: Neil Rasmus/BFAnyc.com
Naomi Campbell may have been the victim of a misspelling issue during her special guest star turn on Empire, but her delivery of "What is bae?" removed any doubt about who she is. However, Campbell has confessed that she was initially reluctant to say yes to the part. "I've known [creator] Lee [Daniels] for a long time but when he asked me to play the role, I wasn't sure," the supermodel told Vogue. "I'd kind of given up on acting." She consulted her longtime pal Diane von Furstenberg, who told her to, as Campbell paraphrases, "Give it one more try, go out there and own it!" DVF: always empowering women, even ultraconfident supermodels.