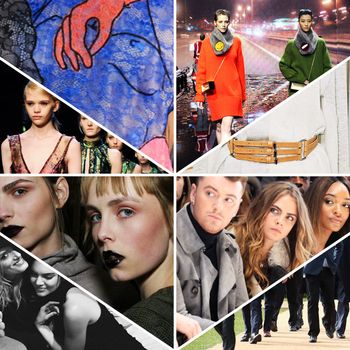 Getty Images, Imaxtree, Kendall Jenner/Instagram
Photo: Getty Images, Imaxtree, Kendall Jenner/Instagram
London Fashion Week is over. And what a week it's been: We've admired exquisite fabrics and whimsical shoes; we've drunk juice made out of things that should never go into juice; we've taken blurred photos of Kanye West. Following yesterday's roundup of the weekend, here's what you've missed at London Fashion Week on days four and five.
1. Erdem's show felt like a Hitchcock movie. Deep in the heart of a dilapidated retail space, his team created a dusty domestic scene: There were panels of grubby wallpaper, kitsch oil paintings, and abandoned photo albums. We were alerted to the start of the show by the sound of a key in a lock, then a door slamming, and the lamps on the set flickered into light. Finally, out walked Erdem's heroines, sad and gorgeous in frayed floral jacquards and ostrich-feathered gowns (which will look just as great on happy girls, undoubtedly).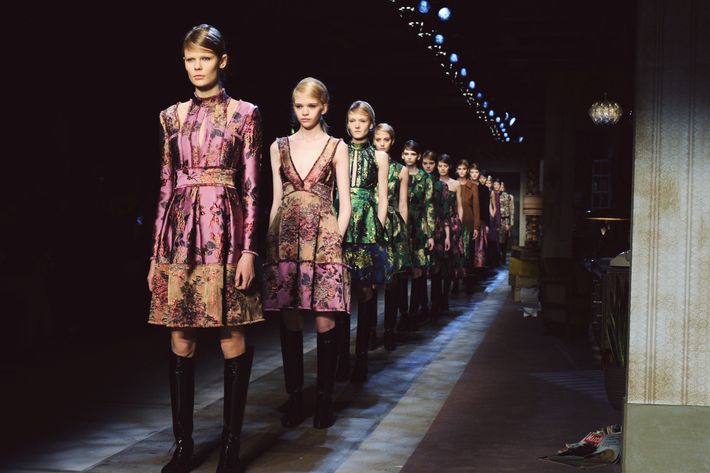 2. Like a true fashion devotee, Kanye popped up not necessarily at the biggest shows but at the most interesting ones. There he was, low-key and seemingly fascinated, at Thomas Tait on Monday. Tait has only been showing since 2010, but in that time he's won multiple awards, including the LVMH Young Designer Prize in 2014, so West is right to identify him as one to watch. The show was a literal change of pace — models in slouchy suits, shift dresses, and leather jackets walked very slowly through eerie pools of light. When Tait came out for his bow, West applauded him like an old friend.
3. Despite the presence of Yeezy, LFW has been short on celebrities this season — not helped by the Oscars clash and the absence of Tom Ford. But the big-name designers showing on Monday rallied a few troops. At Erdem, Dianna Agron, who is working on a movie in London, sat next to Downton Abbey's Laura Carmichael and looked like she was loving every second. Salma Hayek accompanied her husband, François-Henri Pinault, CEO of Kering, to Christopher Kane — and charmed half the front row. Burberry Prorsum, as usual, drew the most starry crowd: Sam Smith and Maggie Gyllenhaal shook hands and looked charmingly pleased to meet each other, and Cara Delevingne, Jourdan Dunn, and Kate Moss did their campaign-girl job of showing up and being enviable.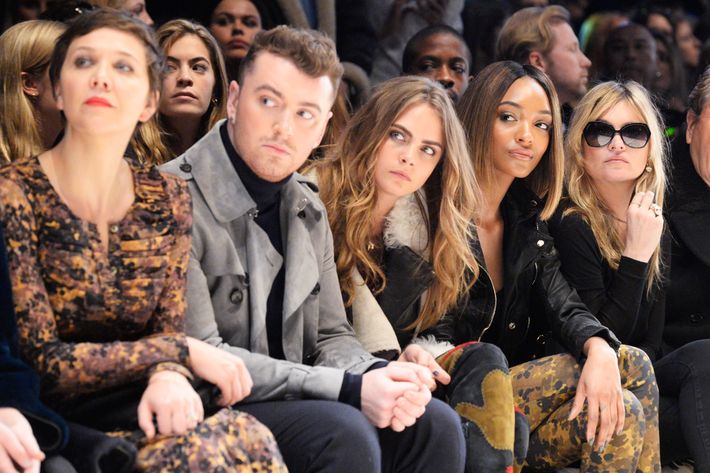 4. Edie Campbell, always a leader when it comes to unexpected hair choices, dyed her mullet from black to blonde at some point between New York's Hugo Boss show and her arrival in London. When civilians try that, their hair goes green. What's your secret, Edie?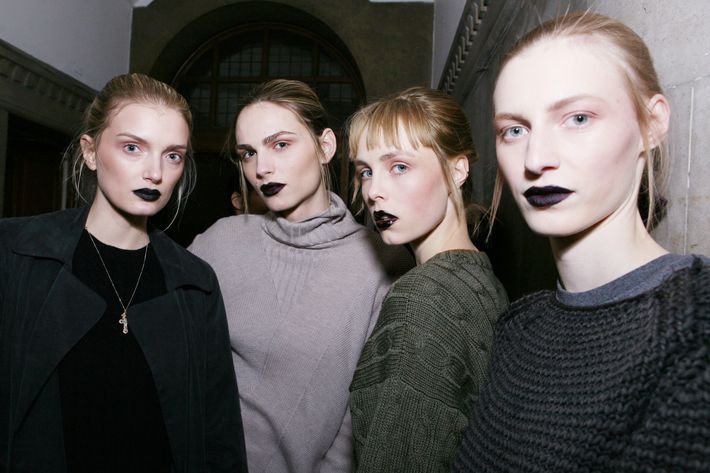 5. No runway show for Mulberry again this season, but there was a two-day showcase of the new collection, which was full of beautiful coats with luxury details like hand-painted, hand-brushed wool. The new creative director, Johnny Coca, is due to start in July — fingers crossed that the runway shows return after that.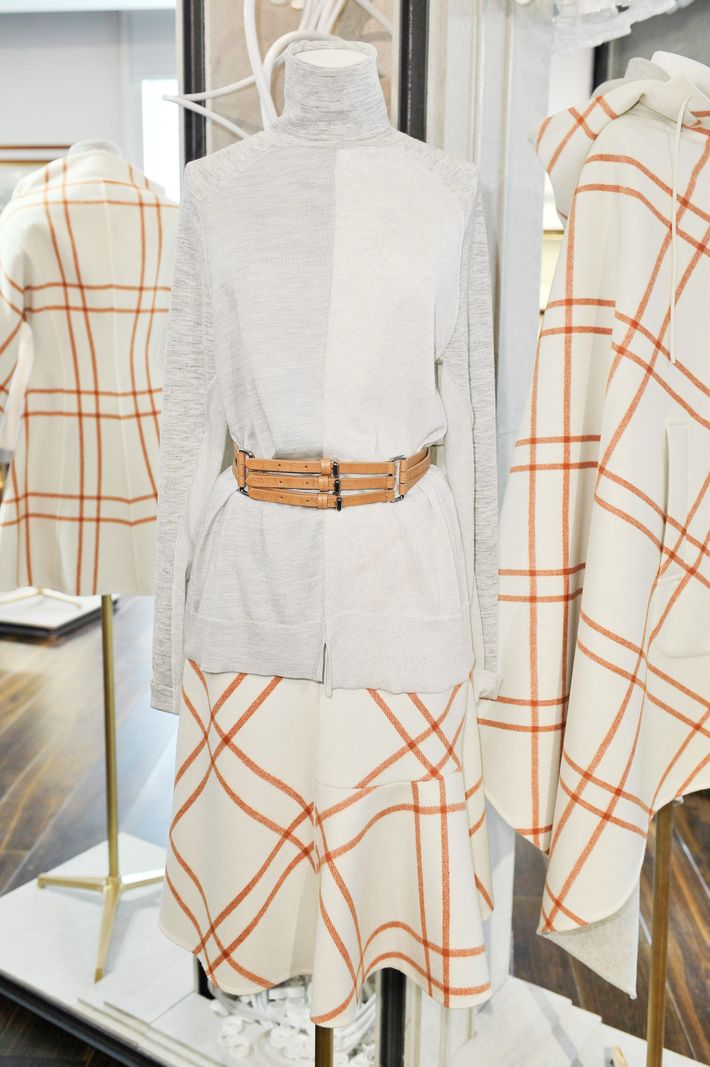 6. We're happy to see the ever-comfortable flat riding boot may be back for fall. For Erdem, Nicholas Kirkwood created glossy black boots that looked like tough exoskeletons, while at Marques'Almeida, they were designed for the dance floor, in incredible metallic shades of blue and copper. We want them, we want them now, we want them all.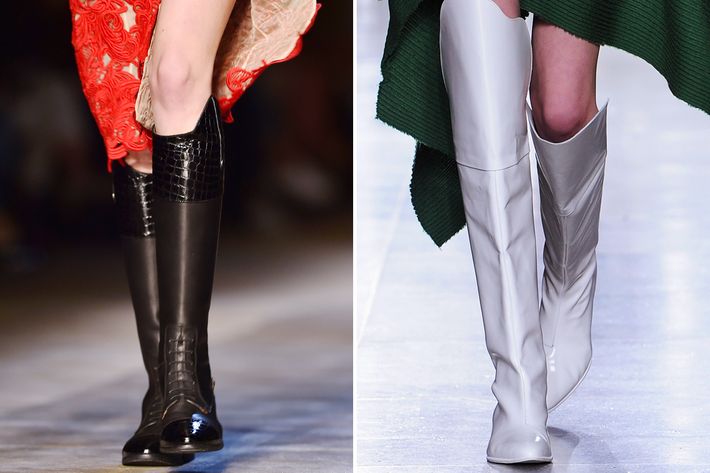 7. There was sad news from the Christopher Kane camp: Kane lost his mother on Friday, and dedicated Monday's show to her memory. It was a fittingly gorgeous collection, with lace and velvet dresses decorated with line drawings of nudes — taken from life-drawing sessions held at the designer's studio.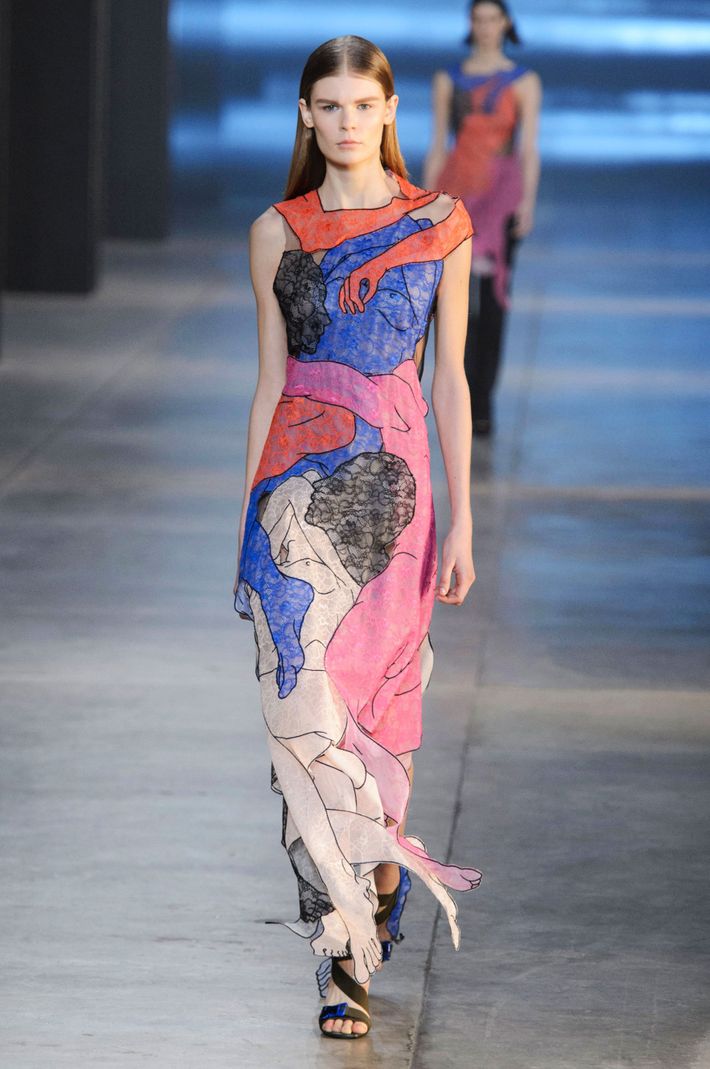 8. It's rare that a show starts without its front-row stars, but with a carefully timed live broadcast, Burberry waits for no man. Several minutes after yesterday's show started, Kate Moss and Mario Testino began to whisper and giggle, then gestured to others to shift along. Then, like a vision in feathered white, Naomi Campbell was ushered down from the cheap seats at the back to take her place in the best row in the house. Presumably, this wasn't deliberate, but it did give her the most dramatic entrance of all.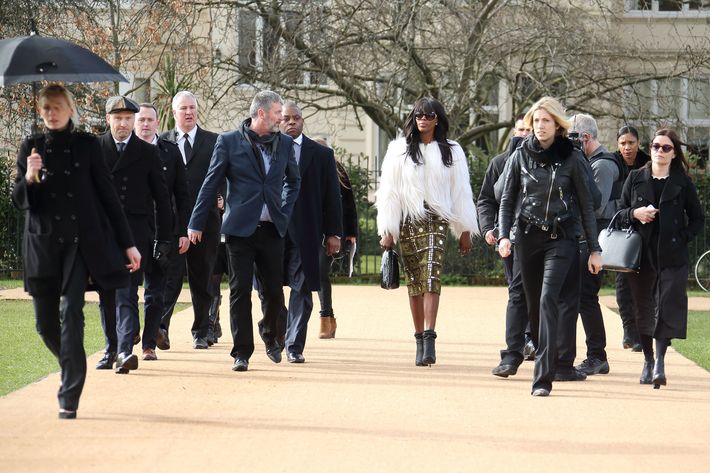 9. With flying astronauts, spinning seating, toppling dominoes, and liberal use of conveyor belts, Anya Hindmarch's last few shows have been so spectacular that she must get an ulcer coming up with new ideas. Today's collection continued her preoccupation with graphics, this time focusing on signs and symbols used on the roads. Halfway through the show came the big surprise: a male choir (the London Gay Men's Chorus) dressed in orange uniforms and hard hats like construction workers. They appeared from behind a screen and marched out to sing on the runway — watch and listen at anyahindmarch.com.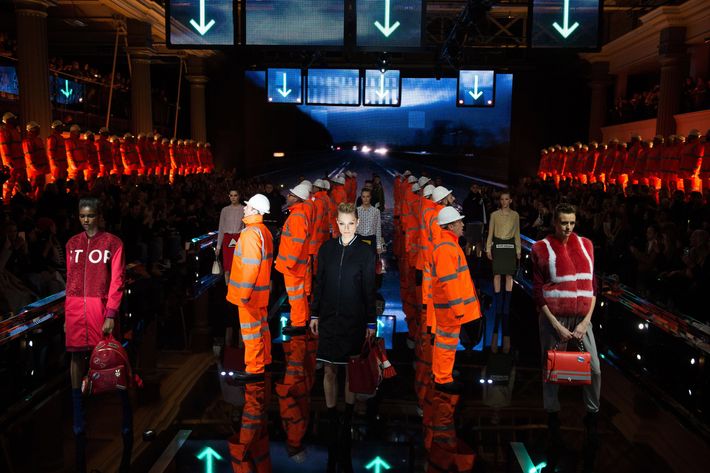 10. Judging by Instagram, Cara Delevingne and Kendall Jenner are trying to make "CaKe" happen, as a combined BFFs' nickname. This is particularly awkward when applied to photos that include a third giggling model, like Lily Donaldson or Jourdan Dunn. Hashtag: #DontForceIt.