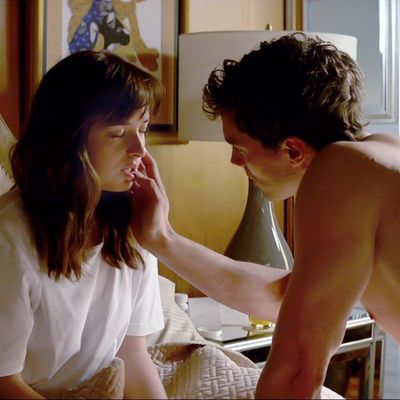 Photo: Universal Pictures
If you're still wondering whether you'll see Fifty Shades of Grey next week, here's some solid number-crunching that might help. According to the The Guardian, per data-crunching site Mr. Skin, of the movie's 100-minute running time, 20 minutes are dedicated to sex scenes. That means one fifth of the movie is sex.
By sheer numbers alone, this is the "raunchiest movie in mainstream media in nearly a decade," says The Guardian — Eyes Wide Shut only had two minutes of sex. But remember, quantity does not equal quality. It's likely that Sam Taylor-Johnson's visions of whips and todger will end up being 20 minutes of tasteful pans and cutaways to billowing curtains. Here, an illuminating anecdote about a cut scene:
So there was a scene when we go into Anastasia's world and her head, and we just had these jellyfish on the screen. It was beautiful, very impressionistic. Everyone went, 'What the f*** are those jellyfish doing there?'
She goes on to express sadness over having to cut the jellyfish, because she found them "so sexual."
Every time somebody talks about this movie, a vagina seals itself up.