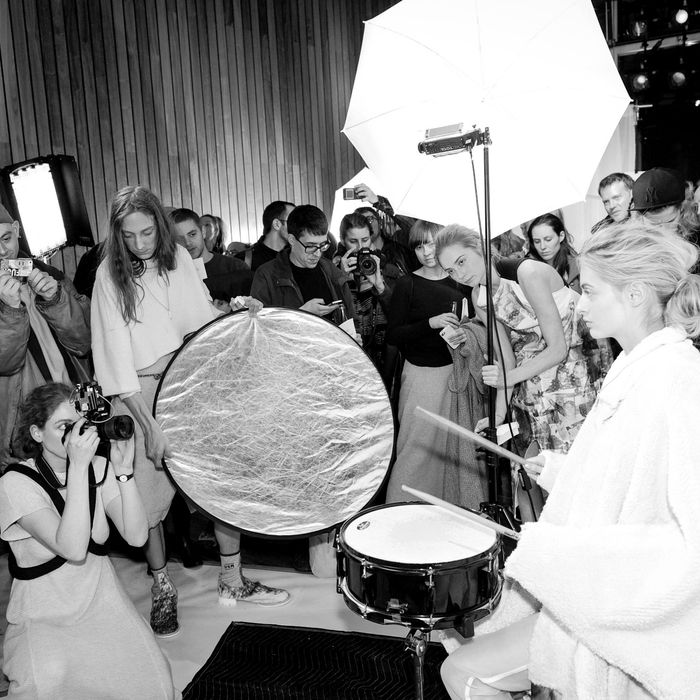 Photo: Diana Eliazov/BFAnyc.com
Fashion Week officially kicks off today, which means dozens of fashion shows will take place on shrink-wrapped runways. But for those of us inside the machine, traditional runway shows have increasingly come to feel like old news. Fashion shows are the status quo — but they wreak havoc on attendees' schedules, designers' budgets, and result in really blurry Instagram photos. They're crowded. The view is sometimes distant and always brief. Ultimately, they just aren't the optimal way to actually see clothes. And even though they may be wedded to the idea of a traditional runway show, many designers are finding that with all these drawbacks, it's not worth it. 
Designers who have made the shift of late include Band of Outsiders' Scott Sternberg, who will release a digital lookbook this season; Opening Ceremony, which opted for a charming play over a runway show last season and will do a presentation-cum-photo-exhibit this time around. Reed Krakoff and Peter Som are also sitting this season out — and dozens of young designers are opting for presentations instead of splurging on cost-inefficient runway shows. 

For emerging designers, many of whom don't yet have the budgets or clout of any of the above names, the choice is made out of necessity. When well-wishers ask Alexander Lewis, who designs his eponymous line in London, if he's showing during Fashion Week, he turns the question on them: "If I were, would you come? Because there's so much going on already," he explains. "And then I'm standing there with a £10,000 loss because I've hired models, hair, makeup, put this production together." Instead, Lewis has chosen to show his collections via intimate appointments. For his debut, he came to New York during the less-crowded resort schedule and walked visitors through the collection in a hotel suite. The decision was made when he learned that most buyers spent 80 percent of their budgets on the pre-collections — resort and pre-fall, which are typically more commercial and stay on racks longer. "Most editors and buyers that I've ever spoken to really don't care about the show," Lewis says, "unless they're writing about the atmosphere for a show review." (He's not the only one taking this tack: Rosie Assoulin, Baja East, and Trademark are all newer labels that also launched during resort season, a move that helped them stand out from the rest of the pack.)
Chris Gelinas, who interned at Marc Jacobs and Proenza Schouler before launching his CG label in 2013, had no plans to show his first season, but after a complimentary feature ran on him in Women's Wear Daily, "my inbox was full of requests from editors and buyers I could only dream would be emailing me," he recalls. "Everyone wanted to know where I was showing and I thought I was about to miss a huge opportunity." Gelinas took a more prudent approach; with a week to spare and about $2,000, he "threw together" a presentation at the Standard hotel. He stuck with the presentation format when it came time to show the following season, finding that "they are really about making things as easy as possible for those editors and buyers who are trying to check off as many boxes they can on the microscopic New York Fashion Week grid. My pieces are really detail-oriented and all about fabric and fit, so getting people up close to touch the clothes and see them in detail was the proper introduction to what CG is all about."
While presentations have become the launchpad for many young designers, they're increasingly being adopted by bigger names, and one can only hope the trend continues. They allow designers to exert more visual control, whether with creative stagecraft, interesting tableaux, or video installations. And for those who specialize in delicate detailing, it makes more sense to have attendees (and their iPhone lenses) able to get up close and personal with the clothes. Jordana Warmflash favors presentations for Novis, her two-year-old label of intricately printed, art-history-referencing pieces, because, she says, the format allows everyone to "see detail and construction, and other aspects that you would never be able to see from a runway."
And since most people will never see the other side of a runway but tens of thousands might see a single Instagram shot, why set up conditions that will make that publicity-generating picture an out-of-focus mess? For Cynthia Rowley — who this season ditched a show for an immersive video presentation — the decision was about aesthetics. "There are things you can do on film that you can't do in a runway show," she says. "The chaos of Fashion Week is exciting, but it also is totally inefficient. We're telling the girls, 'Run past the photographers,' and hoping they get a good shot." With a fashion film, as Rowley points outs, thousands of people, rather than a few hundred, can experience the show up close. A good portion of them might be seduced into making a purchase.
Still, for those who dream of breaking into the industry, fashion shows will always exert a mythical pull. Gelinas, for one, is dipping his toe in the runway waters this season, "but without losing that intimate atmosphere I have loved so much the past three seasons. I think there is a good balance between the two formats," he says. "I am hoping this season I can find it."