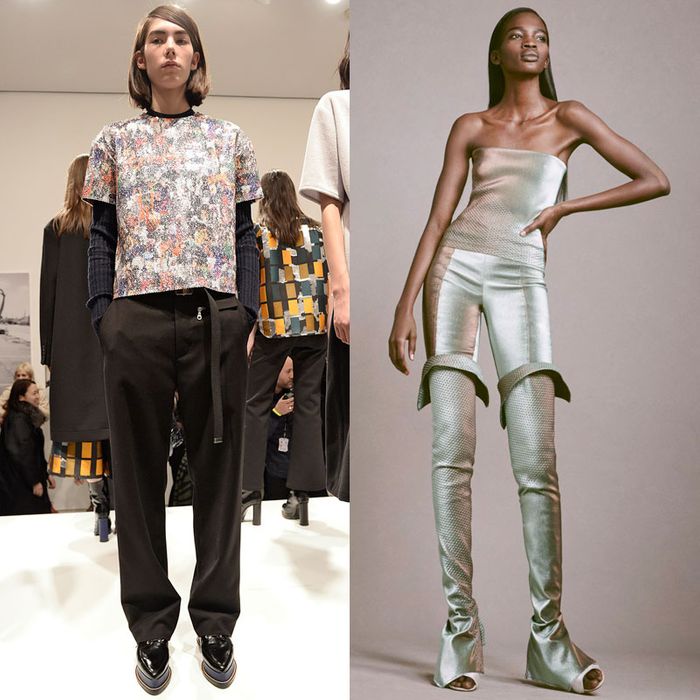 Photo: Getty Images, Courtesy of Area
It's a clear sign that you're getting old when the completely passé fashions of your youth turn up, stripped of their original context, in a new generation's work. For the designers behind Area, a fledgling brand currently in its third season, the late '90s and even the early '00s (ready or not, folks, they're coming back) have been a touchstone since day one. Last season an embossed print of Leonardo DiCaprio leaning against a fence in a scene from The Basketball Diaries was printed on a leotard. Co-designers Beckett Fogg and Piotrek Panszczyk met in the MFA program at Parsons — the former has worked under Francisco Costa at Calvin Klein Collection, while the latter did stints with both Hannah MacGibbon at Chloé and Giles Deacon at Ungaro.
Fogg and Panszczyk draw on the same set of references, but approach them from entirely different backgrounds. The two both geek out on textile development — noted Fogg, "At Parsons, Piotr loved to shave into textiles, and I loved embossing, so this is kind of bringing those together." When Kentucky-born Fogg points to a '90s Ralph Lauren ad on the duo's mood board, she recalls her mother wearing the label; to Panszczyk, a native of Poland, the image feels exotic and new. "I like seeing [these things] through Piotr's eyes," Fogg says.

For fall, the two drew on sorority culture, and the mood board in their Chinatown studio featured everything from a '50s babe in a sorority sweater to shots of a midwestern teen they found on Tumblr. The inspiration went so far that nameplate-style necklaces with sorority letters were translated into embroideries on many of the pieces, while an oversize menswear-inspired coat made for what Panszczyk called a "walk of shame" moment. Other looks smacked of rave culture, like a V-neck lamé shirt that Piotr held up, noting, "We use this fabric quite a lot. It's very sparkly." Also in evidence: ruching, bandeaus, flared pants, and arm warmers, all redolent of the cusp of the millennium. The two even referenced Zoran, the mysterious minimalist who experienced a surge in popularity circa 1999. How did they find out about him? Why, via a cram session in the library, what else?

Area's spring collection happens to be exclusive to Opening Ceremony, which also showed today. The crucial difference was that Humberto Leon and Carol Lim drew on a past they experienced directly rather than learned about after the fact. For Gen-Xers, their presentation must have induced that same flood of nostalgia, along with the uneasy realization, "This is vintage now." The duo, who were inspired by the year 1991 last season, moved things a little past the year punk broke this time around. They worked with their frequent collaborator Spike Jonze on a photo-exhibit-slash-presentation featuring Jonze's trove of '90s photos — many of them never-before-seen and encompassing behind-the-scenes shots from his music videos, personal photos, and skateboarding and BMX shots. Kim Gordon, Björk, and Sofia Coppola all made cameos in the snapshots, and former Kids ingenue Rosario Dawson showed up in the flesh. Lim and Leon channeled the photos directly. "The silhouettes are really referencing the ease of the period of time the photographs are from," Lim said. Case in point: A loose pair of skater pants were styled with a casually knotted belt worn by a dead ringer for a youthful Coppola, or the Cali skater-style layering of a loose T-shirt over a tight long-sleeved tee. One model wore a track jacket that bore the X-Girl logo, but lest brand aficionados get any ideas, it's a one-off. "It's something that Spike has that he loves, one of his favorite pieces, so we contacted [the company] to just re-issue this exact piece," said Lim. There was even, fittingly, a stapled and Xeroxed zine, created by the skateboarder and artist Mark Gonzales, with contributions from Björk and Karen O. The models, one of whom was young enough to be sporting orthodontia, may not have recognized the era-appropriate soundtrack, but were headbanging along to it nonetheless.