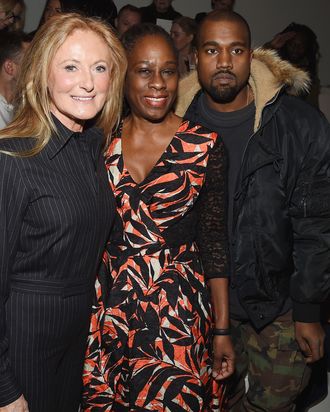 Ricky Lauren, Chirlane McCray, and Kanye West at the Ralph Lauren show.
Photo: Mike Coppola/Getty Images
After making an appearance at DVF last season, Chirlane McCray has been lying low on the fashion front. But at this morning's Ralph Lauren show, she made a stylish front-row appearance in an orange-and-black leaf-print dress and sensible black boots. (No word on what she thought of the trapper-hat-and-evening-gown pairing that walked the runway.)
McCray wasn't the only politically connected member of the front row, however — a black-clad Huma Abedin was only a few seats away. And, since it wouldn't be a day at Fashion Week without a Kanye appearance, the rapper sat next to Ricky Lauren, taking what appeared to be copious mental notes on all the looks that strutted by.