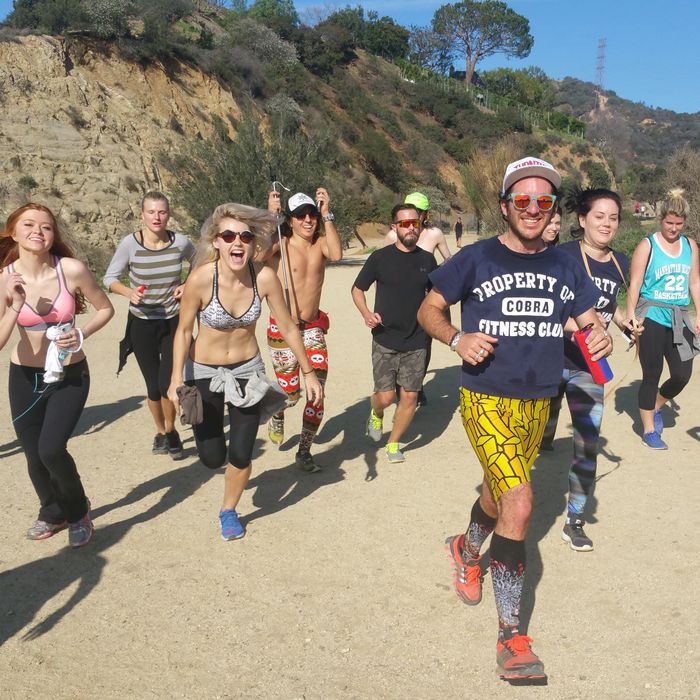 Hunter and his acolytes in action.
Photo: Courtesy of Mark Hunter
"I'm slowly working on a six-pack for this year," Mark Hunter says, stretching his legs on a steep sidewalk at the base of L.A.'s Runyon Canyon Park. He's still got some work to do, but Hunter has managed to drop 25 pounds, thanks to a fanatical devotion to healthy living. It's a sharp turn from his past life, which found him, in his early 20s, a fixture in the L.A. and New York party scenes. As the photographer known as the Cobrasnake, he obsessively chronicled the late-night adventures of the hipster-glam set, capturing young people in unabashed moments of wildness. Hunter was at the center of the action in 2005 and 2006, surrounded by doe-eyed sexpots and sporting a wacky outfit and an ironic mustache, looking a little greasy and doughy.
Now it's 2015, he hasn't had a drink in years, and the doughiness is all but gone. He stopped going to so many parties, and began advertising free group hikes on a new Instagram account, hoping to target the kinds of people — his friends and strangers alike — who maybe wouldn't have been drawn to the juice-and-sweat life in previous eras. And so, as hipster culture continues to shift away from coke and clubbing and toward clean living (see: "Health Goth"), Hunter's at the front line once again.
He likes to say that he spends more time planning his fitness outfits than his regular attire. And today, on Martin Luther King Day, his compact, 29-year-old frame is dressed in knee-length spandex printed with a bright-yellow French fry pattern, rubber-band bracelets, coral Adidas running shoes with tread that looks like spikes, black tube socks, cheap plastic sunglasses, a white trucker hat, and a too-small sweatshirt advertising the reason we're here this morning: "PROPERTY OF COBRA FITNESS CLUB," which refers to a semi-ironic workout collective he spearheads. Hunter, portable stereo in hand, is ready to make his presence known on this mountain we're about to climb. This mountain we're about to crush, as he would say.
"It started as a joke," he explains, lifting up a knee and pulling it toward his chest, recalling the period about five years ago when he first began exercising. His life as the queenmaker of the "It"-girl set was losing its luster. "I was rounder in my face. I had no energy. I was grumpy all the time," he says. "I was like, 'What's wrong with me?'" He began hiking Runyon, jogging, and taking fitness classes, and by 2013, announced that "THE COBRA FITNESS CLUB CAN WORK FOR YOU!!!" on his web site.

As we wait for today's hiking crew to arrive, Hunter seems physically incapable of staying still, bouncing around like an impatient fiend awaiting a serotonin fix. He has hiked Runyon more than a thousand times, and now, he's on a mission to legitimize Cobra Fitness. He's created merchandise, and has drummed up enough of a following that he can schedule at least two well-attended (and cost-free) hikes per week. It appears to be working, to some extent: He's seen people in the Midwest use the hashtag #cobrafitnessclub on Instagram. He's been asked to guest-instruct at L.A. fad-fitness studio Pop Physique, and a fitness video company has approached him about featuring in DVDs, in which he'd "be, like, a hipster Richard Simmons," he says. And Hunter has a built-in clientele leftover from his past life as a party voyeur. Regular hikers include people like One Model Management founder Scott Lipps and a slew of models and artists (aspiring and successful), along with hangers-on who lust after the life Hunter depicted in his flashy, debaucherous party photos.
"There's this one girl, she can't come today — a Russian girl who's a huge fan of [the band] 30 Seconds to Mars and Jared Leto, and she became a residual fan of me because she knew I was working with him," Hunter says. "She likes to be near me, and ask questions about him [Leto] secretly." Even though he hasn't really "made" anyone in years, the shadow of his early 20s looms large. I get the sense that some of the actress and model types drawn to him hold out hope that they'll end up like Cory Kennedy, the teenage girl Hunter plucked out of nowhere in 2005 and began photographing (and dating), generating what's been widely cited as the first-ever case of internet celebrity. Hunter was never truly able to leverage his Myspace-era work into an auteurist presence — he's not a Terry Richardson or a Ryan McGinley — and now, he does workmanlike commercial gigs for sexy brands like Wildfox and less sexy brands like Logitech. He tells me about one aspiring model who shows up to the hikes in the hopes that Hunter will work with her. "Eventually we'll shoot together," he assures me.
***
"Good morning, girls!" Hunter bellows down the block when he spots today's first arrivals — Madison and Kelsey, Los Angeles transplants from Alabama and Indiana, respectively, with a small dog named Russ. Madison, who's sporting a Cobra Fitness T-shirt, a black plastic choker, and bright blue-and-purple sport leggings, was a longtime fan of Hunter's photography before she started coming on the hikes. "I've always followed you on Instagram," she tells him. "Sometimes I hike on days when the group isn't here. Just to get better, to get stronger."
Since it's a holiday, the 9 a.m. crew is larger and more diverse than usual. "Girls, come say hello," Hunter gestures to a redheaded young model named Ellie and her friend, who shuffle over to greet the group. There's an affable, muscular guy, wearing a tank top and a keffiyeh, named Jesse, a Turkish model and her companion Matt, and Dom, a shirtless, wild-haired surf-bro photographer in colorful leggings and a lip ring. Dom is tasked with compiling video footage of the hikes; today, he's toting a selfie stick with him up the mountain. And there's Kacy Hill, a petite 20-year-old singer who recently signed to Kanye West's label and moved here from Phoenix. Today's hike is being delayed a bit as we wait for her best friend, a Kat Dennings lookalike and Pitzer College junior named Megan Fay (the two met while modeling for American Apparel).
"We're going to have so much fun today!" Hunter yells, beginning to corral everyone for the start of the hike. "Martin Luther Kinggggg!" The crew begins the first leg, a grueling sprint up a hill soundtracked to Usher and Juicy J's "I Don't Mind" and Hunter's cheerful encouragement. "Let's get up there!" he yells as the group grows silent and begins to huff. "Lookin' good!"
As we reach the first plateau, Hunter orders us to perform 20 "high-five" push-ups facing a partner. The group continues the ascent and begins to separate into sprinters and stragglers, whom Mark stays behind with to motivate. "Get those butts, girls!" he calls up from behind. Within a half-hour, Hunter cheerleading the whole way, we reach the apex, at which point the day's official Instagram can be taken. A normal photo is shot, followed by a jumping one, and then Hunter tells the ladies to separate. "For my personal collection, can I see all the babes over there?" Later, he'll collect everyone's handles for tagging purposes and gather the crew for a sweaty group hug. One girl suggests Hunter be named Mayor of Runyon.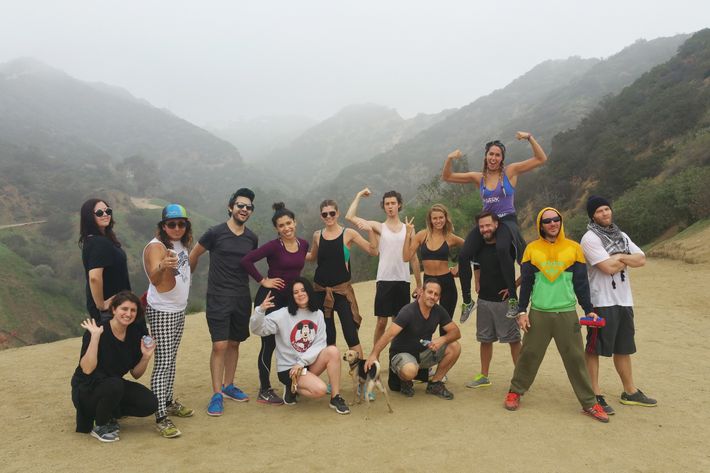 Hunter flatters young women so casually and confidently — gently rubbing their shoulders or tickling them, calling them sexy — that he never really comes off as creepy. He's good at making people feel comfortable. It's probably what made him such a great party photographer. There's a famous story about how he ingratiated himself with Kennedy's parents when he started dating her, and bafflingly, they approved of their 15-year-old daughter entering a relationship with an odd-looking older party photographer. "I thought she would be protected because Mark is a great guy," her mother told the Los Angeles Times. Megan Fay, one of the American Apparel models, brings her dad along on the Cobra Fitness hikes sometimes. "And he's amazing," Hunter says. "He keeps up with the boys."
It's ironic that Instagram is so central to the success of Cobra Fitness Club, considering it's the primary thing that invalidated the type of photography Hunter is known for. His work, flash-heavy photographs shot in dark clubs during after-hours, gave onlookers an authentic look into a wild hipster underworld. The photos were so irresistible that brands began sending Hunter around the world to shoot wild parties on their dime. "But it's not what it was because there's no mystery anymore," he says today. "Everyone's Instagramming from the party, so there's no real need to go and see what happened at the party on the internet."
Hunter still picks up commercial work; he runs a vintage shop in Hollywood, and he's working on a book documenting what happened in his early 20s. Here and there he keeps in touch with Kennedy, who is 24 and still flitting around the periphery of the New York fashion world.
"But do I really need to go to another party, hear loud rave music, and have people spill drinks on me?" Hunter asks. His new life is not so different from his old one, though. He's still surrounded by beautiful young people in search of their 15 minutes. There's just different lighting. "Switching over to this health side is awesome," he says. "You can listen to music, dance up the mountain. You get endorphins going that are similar to partying."