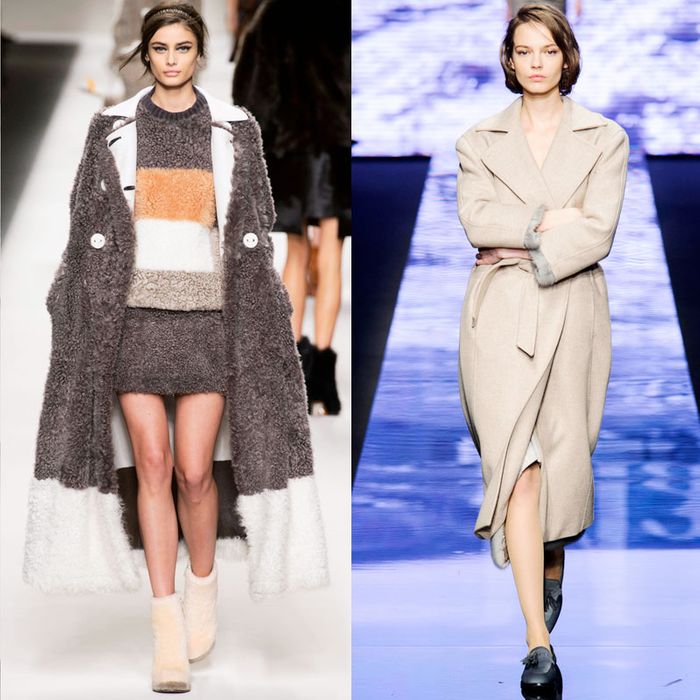 Fashion month usually brings over-the-top looks and accessories designed with fashion editorials in mind. But through all of it, we have to ask ourselves: What would we want to wear? Every day, the Cut brings you editors' picks — items from the runways they'd actually buy.
1. With Mary Janes and baby-doll dresses, Prada offered up a sugary, candy-colored collection for fall. But I found the skinny trousers to be most interesting for real life. Whether in a slim tweed suiting — seen here with contrasting fur detailing in ladylike colors — or a skinny pink pantsuit, I could see actually wearing them to work.
2. and 3. The exaggerated puffer coats and quilted dresses will surely be hits in magazines, but the second look of the Fendi show, a sleek, white leather, long-sleeve turtleneck dress cut below the knee, would be just the silhouette to try out underneath fall's many oversize coats. Fendi had a great dark gray number with big, fantastic buttons.
4. Max Mara made the case for the importance of a great coat. It's so hard to choose a favorite: There were lush camel ones and dove gray versions in textured mohair. But an oatmeal belted coat, with subtle fur lining at the wrist, most strongly conveyed subtle luxury.