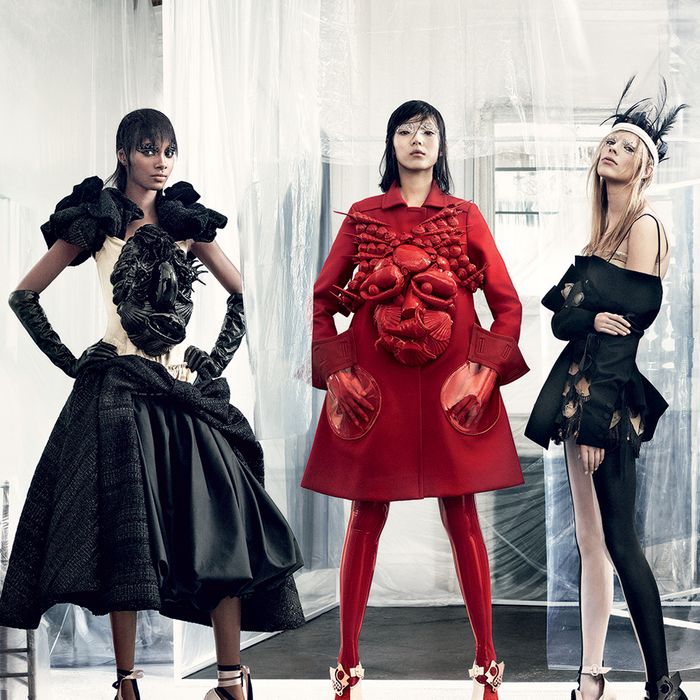 Tami Williams, Xiao Wen Ju, and Lexi Boling wear looks from Maison Margiela Artisanal.
Photo: Vogue/Craig McDean
After watching John Galliano's first show for Margiela, we still have a lot of questions. Namely, how did such an elaborate collection come together? How did Galliano transition into the new job? And does he really wear that Margiela lab coat in the office?
The March issue of Vogue, now on newsstands, has some answers in the form of a profile of Galliano by Hamish Bowles. It tracks the designer from Margiela's 11th-arrondissement atelier to Iceland — where he sat for a portrait by artist Ragnar Kjartansson — and finally to his return to London for his Margiela debut. (There, Bowles reports, his longtime supporter Kate Moss made a tardy entrance because of what she called "school-run mum traffic.") The piece also mentions Galliano meeting with Martin Margiela himself over tea; the reclusive founder reportedly gave Galliano his blessing for the job, saying, "Make it your own." Preshow, Galliano was very much aware of the pressure. "I have to prove that I can do this job," he told Bowles. "That I am disciplined. That there's still the J.G. magic."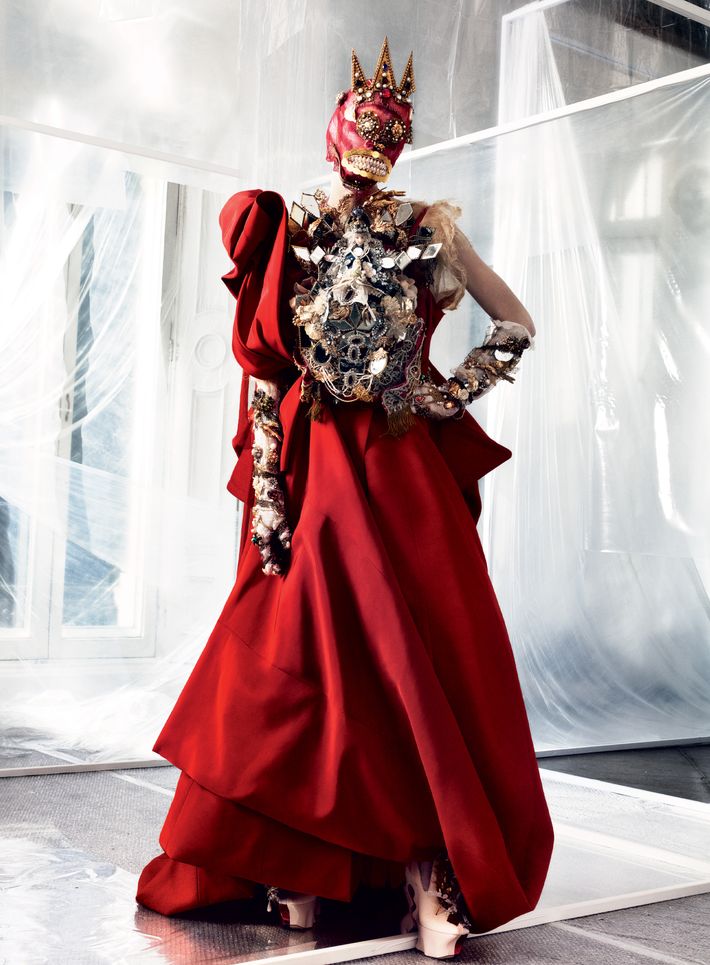 Bowles, who has known Galliano since they met in the early '80s, presents a portrait of a designer reborn — Galliano hired young blood, including former students of his from Central Saint Martins, to work for him; he traded in his thick scrapbooks for Tumblr research and Pinterest boards ("I'm living with the times!"), and enjoys adapting to the codes of a new house. And yes, he wears that lab coat, which he prefers to call "la blouse blanche." The article's most telling moment, though, comes in the preparation for the show, when Galliano turns to Bowles and says: "I've never done this sober before." Bowles told the Cut that the designer now "seems very content on lots of levels. Naturally, I've known him a long time and it's wonderful to see him in such a good place … [with] a very rich and fulfilling private life apart from the demands and excitements of work."
The designer is keenly aware that his new post has brought him back from the brink. "Already, to be given this second chance, I'm so grateful for it. It's been such a joy to be able to create," he says.
So, will his latest comeback stick? Bowles thinks so. He noted that the house of Margiela was, after all, built on recycling and re-creating, something which Galliano has done constantly through his own career. "It's a very unique house, in that it's built on so many conceptual ideas that it could almost go in any direction you want it to take. It's really a blank canvas. It's not like other design houses where you can think of two or three visual signals that immediately suggest the house," he said, adding, "I certainly think John is up for the challenge."