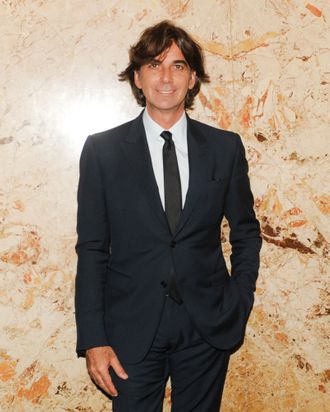 Patrizio di Marco.
Photo: Billy Farrell/BFAnyc.com
Resignation Italian-style involves a 3,000-word parting shot — at least if you're Patrizio di Marco, Gucci's former CEO who was ousted in December along with designer (and di Marco's life partner) Frida Giannini. "Against my will, I leave my cathedral uncompleted," di Marco said in remarks, obtained by the New York Times, that he apparently delivered to his employees at the Gucci cafeteria in Florence shortly before his departure. In the epic speech, he also referred to his enemies as "dwarves," which, we must say, adds a nice fairy-tale touch. (We've reached out to Gucci, which had no comment on the matter.)
Meanwhile, time marches on, and today in Milan, Gucci's new designer Alessandro Michele presented his first women's collection for the brand, with the support of industry heavyweights like Anna Wintour, who told the paper that she got coffee with him shortly after his appointment. "He was eccentric, a little bit eccentric, but charming. I really enjoyed talking with him," she said. If the benchmark for eccentricity here involves "giving speeches about dwarves and cathedrals," Michele will probably do just fine.