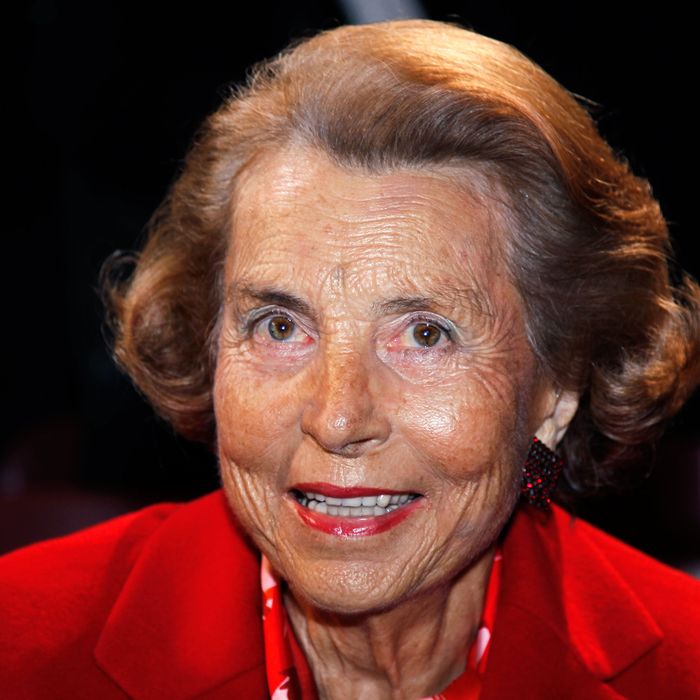 Liliane Bettencourt.
Photo: Charles Platiau/Corbis
One of the biggest trials in French history is wrapping up: At its center is 92-year-old Liliane Bettencourt, France's richest woman and the heiress to the L'Oréal fortune. (Her father, Eugène Schueller, founded the beauty giant.)
The proceedings drew comparisons to the Brooke Astor trial (or Downton Abbey, in yesterday's New York Times), and they captivated the French public despite their confusing nature — hence the spate of explainers in the French press geared toward "les nuls," or dummies.
The case concerns Bettencourt's $41.2 billion fortune (as estimated by Forbes) and her ability to manage her affairs. Bettencourt lives on an estate in Neuilly-sur-Seine, outside Paris, and until recently owned a private island in the Seychelles. Her poor health has prevented her from attending the trial, where it is being determined whether she was taken advantage of by various figures in her life — or whether she was in control of her own faculties and gave them money and gifts willingly.
Bettencourt has given much of her fortune, including artworks by Matisse, Picasso, and Man Ray, to the photographer François-Marie Banier — an estimated 1 billion euros over the course of their long friendship. She even changed her will to make Banier her sole heir. Banier's camp insists that Bettencourt was of sound mind when she gave him money and gifts, while the opposition has suggested that her dementia and the fact that she was on 56 different medications clouded her intentions.
The scandal first found its way into the public eye in 2007, when Françoise Bettencourt-Meyers, the heiress's only offspring, sued Banier for abus de faiblesse (exploitation of weakness), claiming that he had attempted to, as she put it in court, "divide and conquer" their family unit. In the ensuing trial, which Bettencourt was present for, she testified that her friendship with Banier stretched over decades and thus was not the product of any form of dementia. The benefactress relationship began, she said (as reported by Le Nouvel Observateur) "in 1985, [when] I bought him a trinket. I found it normal to help him so he could pursue his artistic ambitions. I would have been incapable of having an idea of the sum that that represented. But it did not matter to me, as far as it concerned my personal fortune. It gave me pleasure." In 2010, the court deemed her incapable of taking care of herself, and put her under the conservatorship of her daughter and grandsons.
Banier was one of several defendants in the just-concluded trial, along with his partner Martin d'Orgeval. Others included Bettencourt's ex-financial advisor, the notary who oversaw the changing of her will, the manager of her private island, and her former nurse, who attempted suicide just before the trial began and is currently in a coma. The prosecution also contends that Bettencourt senior was preyed upon by a lawyer and a businessman who were seeking investment in an online poker program they created.
But the story also expanded to include the French political landscape. In 2010, news start-up Mediapart broke the story that Bettencourt had illegally donated to then-President Nicolas Sarkozy, violating the cap on campaign donation amounts. Three years later, the same site posted recordings leaked by Bettencourt's butler that suggested a tax evasion scheme on the part of Bettencourt and her financial advisor using Swiss bank accounts, as well as alleged conversations with Éric Woerth, head of France's UMP party, about enlisting Woerth's wife to manage Bettencourt's finances. (Woerth was mounting an anti-tax-evasion initiative at the time.)
The colorful trial, during which Banier evoked Molière and Genet in his defense (only in France!), may be over, but the controversy isn't just yet — a verdict will not be announced until May 28, by which time more bizarre twists and turns are bound to occur. Stay tuned.