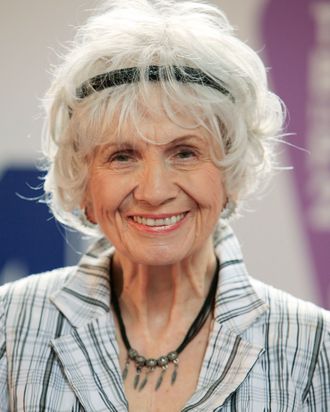 Photo: Peter Muhly/Getty Images
A 1962 Alice Munro essay has been revived in the New Yorker, where she recalls her first reading experience as a child and the powerful effects of studying history. She picked up Charles Dickens's melodramatic A Child's History of England or "the most shamelessly anecdotal history ever written." It was an old book, with an old-book smell, and Munro describes it:
As soon as I opened the Child's History I remembered the smell — which is only the smell of an old book, on good thick yellowing paper, like sawdust, only richer, with some suggestion of vanilla, or the teasing smell empty chocolate papers have. To me, of course, it smells of the summer gloom of the uninhabited living room at home, all the shades down, everything peaceful as church, except for my own sad, lingering whoops …
The whole essay, which excerpts all sorts of wild anecdotes from English history, is here.