Inside the Ambiguously Gendered, Pan-Racial, In-Your-Face Rolling Party of Hood by Air
It isn&rsquo;t just gay, or straight, or trans, or skate, or hip-hop, or art, or fashion. It&rsquo;s about joyously losing one&rsquo;s mind. <br /><br />
Post- Everything Fashion
The ambiguously gendered, pan-racial, in-your-face rolling party of Hood by Air.
Photographs by Robin De Puy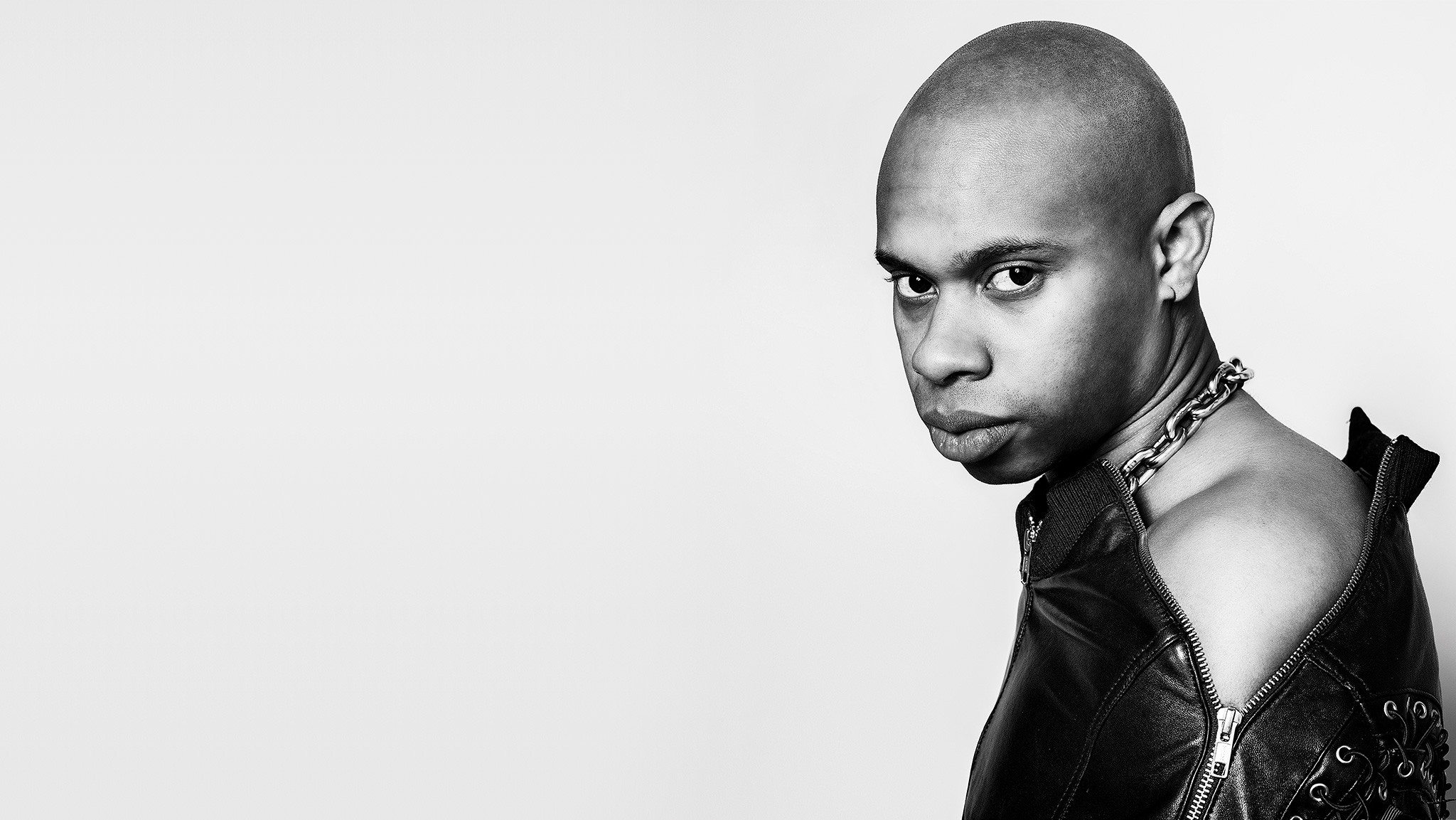 Fiesole, in the hills above Florence, is the kind of place where wealthy Americans have destination weddings. The villas of the Italian aristocracy are now ¤800-a-night bed-and-breakfasts selling house-pressed olive oil and adorable soaps. The air here smells of wood smoke, boxwood, and orange trees—the bitter kind, the kind that make marmalade, not juice. On this night in January, at the Villa di Maiano (which dates from the 15th century), an enormous white marquee has been set up in an olive grove and a booming techno soundtrack is ringing through the dark acreage, waking up the pheasants and echoing down toward the twinkling lights of the city below. In a fountain, there's a purple neon sign announcing HBA. It stands for Hood by Air, the New York fashion collective. 
A few years ago, the directors of Pitti Uomo, the Italian menswear trade show that takes place here twice a year, came to New York in search of new talent. Pitti has been on a mission to announce to the world that its scope extends beyond the stately and traditional—Thom Browne, for example, showed as Pitti's guest in 2009, and this season it invited Tilda Swinton to perform an art piece called Cloakroom in which she caressed, licked, and folded the coats of some audience members in a 17th-century theater in the center of town.
The Pitti delegation had been hearing, over and over, about Hood by Air, and so one warm Sunday morning in 2013, the elegant Italian directors in their well-cut cashmere coats made their way to the Meatpacking District. There was loud, atonal music and models of ambiguous gender wearing tattered, flowing coats and oversize T-shirts tucked into high-waisted pants. The whole thing had an energy unlike anything else going on during Fashion Week—the clothes seemed somewhat beside the point; it was the spirit they loved.
HBA the brand had been around since 2006, when it launched as a small streetwear project; logo T-shirts and hoodies celebrating a party thrown by a baby-faced guy named Shayne Oliver and his friends. The party was called GHE20G0TH1K (Ghetto Gothic) and it started in Williamsburg and then migrated around basements and warehouses on the Lower East Side and Brooklyn. The T-shirts and sweatshirts Oliver made borrowed a lot from skate culture: They were big, and they bore big HBA logos; they were more about signifying membership in a tribe than they were about advancing any design agenda. But what a tribe it was! Aggressively inclusive, HBA wasn't gay or straight. It wasn't skate or hip-hop or art or fashion—it was, rather, all these things at once.
"It was just this crazy mix," says Leilah Weinraub, who is now the brand's CEO. "It was, like, bisexual," says Oliver, by which he doesn't mean interested in both sexes, he means open to whatever comes next. "It was just about losing your mind," Weinraub says.
Joining the tribe, it turned out, appealed greatly to the people who shop at Opening Ceremony and Colette. The clothes sold out quickly and sometimes reappeared at a premium on eBay.
By 2013, when that Pitti delegation appeared, the HBA crew had moved on from T-shirts and sweatshirts and were working on coats, pants, and shoes that were sold at Barneys New York and Harvey Nichols and worn by celebrities like A$AP Rocky and Kanye West. Pitti, like the rest of the fashion world, was bewitched. It offered HBA an estimated $200,000 budget to come bring this super-mojo to Florence. And now here they are.
In a rectangular tent, the models are getting ready. Apart from the smell of singed hair and the flat light of the makeup tables, there is little here that is like a standard fashion show backstage, where models are often chosen for their sameness. These models are men, mostly, but there are boobs here and there, sometimes paired with Y-fronts. There is hair long and short, shoulders narrow and broad, waists sometimes, hips others. Some models are white, but just as often they are not. A lot of these models aren't models at all: They're artists or DJs, cast as frequently from Instagram as from agencies. They are, above all else, performers.
"I am really, really, really happy about this casting," announces Kevin Amato, HBA's casting director. He is wearing a white tank top, a black jacket, jeans, and bright-red Timberland boots. He is, specifically, proud of casting Andy Bradin, who has a flaming-red mullet and sports a cotton tank top and high-waisted jeans with a deliberately busted fly. Amato found his photograph on Facebook, and then booked his friend Josh Quinton, who also has flaming-red hair, his in a bowl cut. Quinton is wearing a snug little sweater and hip-hugging bell-bottom pants. There are tattoos on biceps and necks (BLISS, reads the neck of a performance artist named Boychild), and there is a tall black transvestite with long Pocahontas braids in a button-up union suit. "I like to think that's the first giant black transvestite that Italy has ever seen," says Amato. He marches them through rehearsals like Dom DeLuise in Blazing Saddles directing the French Mistake: "Look sharp," he tells them, then leaps, stomps, repeats.  
Ian Isiah, who is HBA's "international brand ambassador," meaning he seeks to embody all things HBA all the time, is in a comfy black sweater with a kiltlike ­bottom and a ripped-up pair of jeans. He surveys the scene, smiles, and announces: "Time to go look like somebody."
Oliver, meanwhile, is busy fitting a pair of sliced lavender trousers on a boy whose hair and skin are both the bluish color of skim milk. Oliver has a shaved head and wears a chain and padlock around his neck, a version of which retails on the HBA website for $300. The color lavender is a big part of this collection, as is sunshine yellow. There are lots of cropped bits of shearling, exposed midriffs, and button-up shirting worn beneath coats with the shoulders removed. Florence is not exactly a shoulderless-coat kind of town—men here tend toward pocket squares and quilted jackets.
Oliver does a lot of talking about his vision, even if clarity is not his strong suit. "It's sort of inspired by some sort of naïveté, and it's almost like reapproaching the brand in this very naked way and then kind of like addressing upon that," he said to me in New York a few weeks before this show. "Like, taking the elements and making them new for us and replacing them with, like, this kind of naïve way of dressing. It's not so much like, Oh, you get it, it's a pair of basketball shorts, and you get that it's, like, taken out of the context of its references. People, like, now know what we're referencing, where we're coming from, what the message is, and now it's time to explore and delve deeper into that."
Weinraub is a bit more pragmatic. She walks through the crowd with the competent swagger of a member of the Secret Service. She'd been instrumental in making the Pitti invasion happen, in selecting this location outside of Florence, in getting everyone here, in making HBA into something that warrants a giant neon sign. "When we were looking around Florence, they took us to all these abandoned factories and schools and these crazy huge spaces that were kind of falling apart, and if we were in New York, we'd be like, Cool, it was very us, but then they took us here and it was, like, Napa. It just felt right," she says. The space appealed to her because this collection represents a giant leap for HBA, into something much more luxe and adult. "The collection is not like an evolution of streetwear, it's way more experimental. And expensive."
A man exiting the tent leans over to his companion. "He's the genius," he says of Oliver. Then he nods toward Weinraub: "And she's the brains."
The crowd begins to filter in: There are at least two people wearing the Vivienne Westwood Mountie hat made famous by Pharrell. There is a man wearing a snowsuit (goggles up on his forehead, over his knitted cap) printed with GUCCI all over. In the villa's great hall, a traditional choir is wandering around, singing into wireless microphones. Isiah reappears in a shiny black cat suit. "When the time is right, I am going to perform," he says. His eyebrows have been shaved in a zebra pattern. He had "put himself on punishment" from wearing HBA basics for a few months, keeping to a strict regimen of runway pieces: As goes the brand's ambassador, so goes HBA.
The soundtrack, called "Sheep," is on repeat, filling the space with a high-pitched electronic bleating sound. The song was created specially for this night by Arca, a DJ and friend of HBA who is manning a turntable with a look of deep concentration. He whips off his shirt.
The bleachers begin to fill. Arca's soundtrack heats up (track list, available for download on SoundCloud: "Matriarch," "Pity," "Drowning," "En," "Shifter," "Submissive," "Umbilical," "Hymn," "Don't/Else," "At Last I Am Free [Interlude]," "Immortal"). Spotlights are looping, pastel-tinted smoke is rising. It looks like the beginning of the "Thriller" video, or like Yanni's famous concert at the Acropolis. For 40 minutes, this goes on and the crowd sits perfectly still, perched in anticipation. In the front row, the fashion critic Suzy Menkes assumes a crash position and jams her fingers deeply into her ears.
According to Oliver, the driving idea behind HBA is something he calls "youth excellence." Creativity may be the province of youth, but "a lot of ideas that young kids have take so long. And then, by that time, it's old and people have to do everything in a museum way." The challenge was to try to mainline the crazy energy of the parties they used to throw directly into consumer culture. "What we feel is so current, and we're making it so people are able to buy it right now," Oliver continues. "You're buying into the whole idea … When you're putting on that T-shirt, it's almost like a band tee. You're coveting the energy behind these performers, this moment, this feeling."
Oliver doesn't have any specific fashion experience. He grew up with his grandmother first in St. Croix, then in Trinidad, and eventually in Prospect Heights, where he still lives. His grandmother was a seamstress, and he does know how to sew, but he hasn't in ages, and he doesn't want to. There was a brief stint at NYU followed by an even briefer one at F.I.T., but he suspects that too much formal designing would only get in the way of what he and his friends are trying to say. Performance, more than fashion, is his medium—even if it's a medium he won't indulge in full time. "It's dangerous," he says. "I think if I just became a performer, I would be, like, the worst person in the history of the world." When he DJs, he sometimes outfits his station with a full-length mirror and dances with himself.
In November, Hood by Air took out a lease on a storefront space on Hester Street on the Lower East Side. To its members endless amusement, this new studio is beside the Meow Parlour, where patrons can book up to five-hour sessions of cat snuggling to go with their coffee and macarons. They often gather to smoke outside this kitty café, as they call it, peeking in at the fluffy wares for rent.
On a bitterly cold December day, the whole HBA crew—Oliver, Weinraub, Amato, Isiah, and fashion director Paul Cupo—is in the office prepping for Pitti. Clearly, they've been bitten by the Italian bug—Renaissance portraits are taped to the seamless as inspiration, as is a camouflage made of human bodies as opposed to leaf shapes or colors. Casting director Amato is shooting portraits of a muscular, topless model that he's thinking of silk-screening on T-shirts. The model is wearing a long, curly Romantic wig and a bath towel turban style, all of it held in place by a sweatband. On a leather sofa, the next model waits his turn, attempting to read his phone through the filmy Perspex cone collar that's been secured around his neck. On a table are flesh-colored underpants fitted with dozens of rivets and long hair extensions—remnants of the wigs from last season's runway. "We always do a wig," says Cupo. The walls are covered with a mood board of Xeroxed photos: A pavé-diamond Lakers ring has the words METAL CAGE FACE written above it. An extreme close-up of a pierced tongue is labeled BODY PLUG, and above a picture of a credit card are the words BRAILLE TATTOO. There is a photo of a jet-black baby statue on all fours wearing bondage gear labeled NAUGHTY/NICE.
"We're hoping that people start experimenting with new ideas in a way that's appealing and alluring," Oliver says. "At the end of the day, it is fashion, and we want it to be like, Don't be afraid of this idea." This is why the trans movement is so important to their work. "Like, the idea of Boychild on the runway … I mean, I don't think everyone should be trans, but I think people should approach beauty in the way that she does. And I think if you saw her on the street, you maybe wouldn't be too keen to want to approach that, but maybe on a runway it feels a bit more like … like, 'Oh, yeah, I kind of do want to look like that'; 'Oh, yeah, what does this mean?' You start talking about it."
Last year, HBA presented a capsule women's collection during Paris Fashion Week. Designing for women meant a chance to think even more seriously about the role gender plays. "HBA is sort of like a think tank," Weinraub says, "and the collection is sort of like a delivery of those things. In Paris the question was, Does HBA do women's? What is it to be a woman right now, what do we want that woman to look like, what does she do, does she exist, do we know her, is there room for her?"
Weinraub has a very masculine style—with her close-cropped hair and tinted aviators, she bears a passing resemblance to Smokey Robinson. But nothing is ever purely one way or another in the world of HBA. "There's the element of femininity, the element of masculinity, the element of both, and the element of celebrating, and also breaking down all these elements within the same conversation, you know?" says Oliver.
In the end, the women's clothes, and many of the models, were indistinguishable from previous HBA shows, which is to say that they were genderless, or gender mixed. And maybe that was the point.
At HBA headquarters on Hester Street, there is a small office walled off in the front of the space. It's where Weinraub recently finished cutting the documentary she spent ten years shooting about the black lesbian strip club she worked at in Los Angeles. Weinraub, who went to Antioch College in order, she says, "to be a fucking anarchist," is originally from L.A. and assisted the documentary filmmaker Tony Kaye through college and after, until she entered and then dropped out of an M.F.A. program at Bard because "art grad school sucks." She intends to continue her filmmaking work while growing HBA. "I have to," she says. "I mean, one informs the other."
The whole crew is learning to work during the day, to keep business hours as opposed to nightlife hours, and their eyes all have the strained look of pupils just adjusted after years spent in the dark. But here it is, afternoon, and the friends are all at work in this normalish office with Mac desktops and an assistant wearing a tie.
"We saw our friends being hired by people like Kanye," Weinraub says, "and the idea was, Can we stop working for other people, and can we just make a business where we're all, like, working for ourselves? Can we just focus these ideas and home in on them and turn it into a real business and give those ideas a backbone and a platform?"
Of course, fashion is littered with idealistic high-concept projects that were going to change our perspective with goats on the runway and firetrap shows in abandoned basements and lofts. Remember Miguel Adrover? He and his friends sat around the East Village smoking cigarettes and making clothes out of Quentin Crisp's trashed mattress and then landed the cover of WWD. After a few undersold seasons at Barneys, Adrover was back in Majorca, where he'd grown up on an almond farm. (Most recently, he designed for a German eco lifestyle brand called Hessnatur that has been compared to L.L.Bean.) Then there was As Four, a design collective known for wearing a lot of eye makeup and making a circular handbag that, for a minute, denoted membership in a certain downtown tribe. (Then they became ThreeAsFour, after one member left the group, and things were never quite the same.) There is, inevitably, something intoxicating about people who are young and excited and creative and earnest, even when it's a little bit silly. And the members of HBA are uniformly winning even in their occasional silliness. It's hard to articulate the HBA mission per se—they are as excited by the selfie that Oliver just received of a 16-year-old in head-to-toe HBA as they are by anything else—but they do imagine a world where self-expression and freedom to "lose your mind" and be whoever and whatever you want are a given. And that is one of the things that is generating such love for them in the fashion world.
They've received a number of offers from more established companies and investors hoping to take their brand and go big with it, but Weinraub and Oliver say they have turned them all down. They don't want to be owned by someone else. "It's a moral and ethical position," Weinraub explains. "The goal is to not be owned by someone else. At Antioch, there were two types of people. People who just wanted to, like, go crazy and attack everything and, like, burn it down. And then people who wanted to change it from the inside." If they keep the company, she says, they might be able to change the business from the inside, making a more utopian model in which the friends are the partners and the money flows all around—as utopian, perhaps, as their parties used to be.
"It's a group of friends and we're trying to make sure everyone's taken care of in an awesome way," Weinraub says. "We have a board of directors we're putting together now. Everything is, like, so handcrafted. Business is a place where friendship can go really sour, so right now we're doing all this foundational work with lawyers to make sure that our friendships are secure, so everybody understands how the business works."
Sales, so far, have been solid. Though some of the runway stuff is Zoolander-absurd in its wearability, there are a surprising number of viable commercial pieces mixed in. Barneys, for one, has seen high sell-through on its buys. "HBA is going to end this year as one of the top brands in the men's store," says executive vice-president of menswear Tom Kalenderian. The line speaks to a customer who imagines himself as edgy and "downtown"—Oliver & Co. have revived the idea that such a thing exists in a city that is increasingly anodyne and tourist-friendly. Barneys is boosting its orders this year, adding accessories and shoes and even sticking an HBA boot on the cover of the next men's catalogue. HBA says these accounts, combined with an online direct-retail business that runs out of the Hester Street basement, have made the label commercially successful—at least as small labels go. "It's not like we've changed our lifestyles," Weinraub says. "There's no, like, helicopters."
A prize from LVMH last year awarded Hood by Air €100,000 and mentorship within LVMH, and Weinraub has spent a lot of time mining that resource for advice on matters ranging from production (HBA is currently using both European and Asian manufacturers) to how to structure a board. But Weinraub takes the establishment lessons with a grain of salt. Her real education came years before.
"Not to be so cheesy," she says, "but I think you learn everything important at night, in nightclubs. You learn how to perform for people, you learn how to give looks, give these looks that are legendary and last forever. You know how to make people lose their minds, you know how to ask people to, like, be free."
"Everything is perfect at night," Oliver agrees. "Everything is smooth, and there's no, like, flaws."
"There's no, like, harsh realities to rub up against," says Weinraub.
Oliver sighs. "Flaws look amazing at night."
*This article appears in the February 9, 2015 issue of New York Magazine.
BEGIN SLIDESHOW