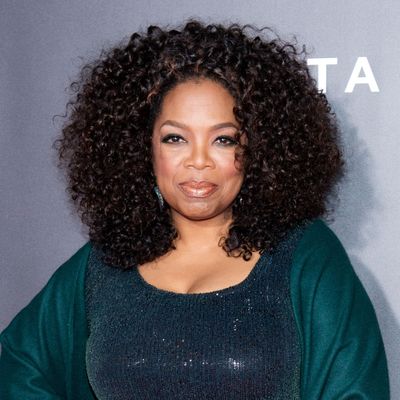 Oprah.
Photo: Noam Galai/Getty Images
Oprah wants us all to live our Best Lives — but as encouraging as she is, do we really know what Oprah's own best Best Life moment has been? Was it the day she started her own television network, OWN? Is it any day she checks her balance at an ATM? Maybe it's when she takes one of her beloved bubble baths with the lavender oils she found while antiquing in Provence?
No, she reveals while interviewing Selma star Carmen Ejogo for Violet Grey. Her best moment ever is far cozier:
Well, the best night of my life was actually recently. It was pouring rain. I had a fire and the dogs were here and Stedman was in his office and I was curled up on a sofa reading the most exquisite book. I had a hundred and twenty-some pages to go and I just looked around the room and thought, "I am so happy. I mean, god, I am so happy! I hope it rains all night or at least until I finish this book!"

Just in case you're wondering, the book in question was the most recent Oprah's Book Club 2.0 book, Ruby. And yes, Oprah was most likely swathed in some glorious expanse of cashmere while drinking a mug of warm Oprah Chai. Doesn't it just sound like heaven? I bet Oprah would make it rain every day if she could.