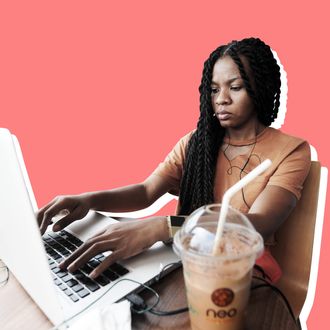 Photo: Pius Utomi Ekpei/AFP/Getty Images
Some days, it is nearly impossible to motivate yourself to get stuff done — days much like today, this terrible slush-nightmare February Monday. Over at Harvard Business Review, Alexandra Samuel provides some of her go-to tips for tricking yourself into doing the tasks you dread, and her advice about giving yourself "concurrent rewards" is worth remembering when your motivation is low and a deadline is looming. (Hat-tip to Lifehacker, which also spotted this one.) Some tasks, Samuel argues, are too tedious or nerve-wracking or simply unpleasant to get through by promising yourself a reward after you've finished it. 
Samuel writes: 
These tasks call for a concurrent reward: something you do while working so that you can bear to plow through your in-box backlog or complete your quarterly budget report. 

This type of reward works especially well for tasks that are time-consuming but not concentration intensive. You can make even difficult tasks that require your full concentration more pleasant in the right setting. 
Samuel, who is the vice-president of social media at the tech company Vision Critical, suggests some examples of concurrent rewards, including binge-watching TV while getting your mindless tasks done or arranging to work from home. And, okay, Samuel is not the first one to come up with this strategy, but I can tell you that it works: I used this advice this weekend to finally knock out several pages of a writing project I've been avoiding. My personal concurrent reward: a giant bowl of Kellogg's Corn Pops. Whatever works.