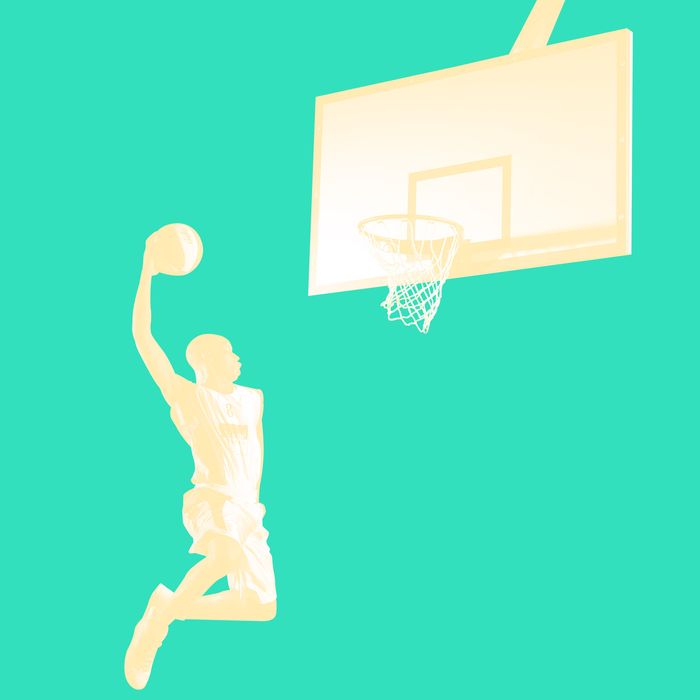 Tomorrow night, Brooklyn's Barclays Center will host the annual NBA Slam Dunk Contest as part of the league's All-Star Weekend. Dunking a basketball is generally reserved for seasoned athletes with the incredible vertical leap required to rise high enough to stuff a ball through a ten-foot rim. But what about the aging average Joes who grew up watching high-flying stars like Dominique Wilkins and Michael Jordan? Could they ever soar high enough to achieve the dream of every schoolyard baller in the country?
Asher Price, a reporter at the Austin American-Statesman, spent a year of his life trying to find out and chronicled his quest to jam on a regulation hoop in the book The Year of the Dunk, which comes out in May. Price, who played coy about whether he was able to achieve his goal, spoke to Science of Us about what a rec leaguer would need to do to fly like a pro. (Spoiler: lots of squats and alley-oop attempts.)
So first off, why did you want to learn how to dunk?
I think it's the sort of thing that a lot of kids probably fantasize about, me included. Just like you might want to become an astronaut or something like that. I was always one of the tallest kids in my class, but I never really tried to dunk. And so as an adult, you start wondering a little bit about what sorts of things you left on the table, that you never really tried your hand at. And I got it into my head that I'd pick up this childhood fantasy of mine and see if I could dunk.
What kind of physical shape are you in? You mentioned you were among the taller kids in school. How tall are you?
I'm six-two-and-a-half. So I'm tall, not very tall. When I started the project, I was in okay shape, but not great. I weighed over 200 pounds and had never belonged to a gym, and really despised working out, actually. I'm 35 now; I was 34 when I was doing most of this work. And so part of the project was obviously getting in shape.
And how much basketball experience did you have? Did you play in high school? As a kid?
I played some pickup basketball, but I had never played competitive basketball. Two years back, I started playing. Just as something to do to stay a little bit active. The only organized sport I had played competitively was ultimate Frisbee. So I was a basketball fan, but I couldn't execute a proper pick and roll.
If somebody wants to train to dunk a basketball, where do they start?
The first thing they have to do is improve their flexibility, for a couple of reasons. They need to be flexible to undertake the kind of exercises they need to be able to jump higher. They also just need to be able to increase their flexibility, because in the short sprints you take when you try to dunk a basketball, if you can imagine yourself running up to try to dunk on the rim, the higher you can bring your knees in a sprint, just like a sprinter running the hundred meters, the greater force you'll be able to exert on the ground, especially with your leaping step.
Then, in terms of exercises, you really need to get your whole body stronger. You need to improve your core, and obviously you need to improve your legs. So someone who is interested in jumping higher will find themselves doing a lot of squats. And I would suggest that if someone just started this, they could do a lot of squat exercises without even going to the gym or even bearing weight. You know, get up in their office cubicle and do ten squats. Three sets of ten reps of squats is a good workout.
Are certain muscles especially important to work out?
I think one way of thinking about it is, less parts of the body, and more the kind of muscle. You want to develop your quick-twitch, or fast-twitch, muscles, because at the end of the day, trying to dunk a basketball is an explosive activity. You're not going for a long-distance run here. You're doing three quick steps, a hard shove against the ground, and exploding upwards. So the question is how to turn yourself into basically a sprinter. You do a lot of jumping exercises where you're doing box jumps, where you jump off one box and as soon as you hit the ground, you try to jump up onto another box. That sort of thing.
What was your workout schedule like?
I tried to work out at least a couple of hours a day doing something or other. So some days were lifting, doing arm and core lifting. Again, you can imagine these sprinters, they're strong all over — if you think of Tyson Gay or someone. It's not just their legs that are muscular, it's their arms, too, because they have to pump furiously to get themselves to go faster.
Some days I would be doing leg exercises — you want to give yourself a 48-hour break between heavy lifting involving any given part of your body, to give yourself time to recover. Some days, I'd go out to the track and do a track workout like sprints. I was avoiding doing long-distance running, because I didn't want to develop slow-twitch muscles. I wanted to concentrate on fast-twitch muscles. And then for fun, on the weekends, I would play soccer or pickup basketball. I was becoming a better athlete because of this. Not only was I faster and stronger, but I was also more confident, in terms of just the run of play in any of these team sports, because I was more athletic than I had been.
There are videos on YouTube promising to teach someone to dunk in, like, three or four weeks. Is that at all realistic?
I mean, I think you can probably improve your vertical some in a month. I think, though, that for most normal people who aren't teenagers who are trying out for their basketball team, who don't have all that time on their hands, I think there's a much saner way to go about it, where you're steadily improving your vertical over a period of time. You know, there's a lot of this kind of slightly crazy, kamikaze, self-improvement type of thing, whether it's trying to jump higher or do anything else. I'm sure those things work to some extent, but it's not the way I would have wanted to go about it.
What's a more realistic time frame for an adult who really wants to do this?
In the tradition of New Year's resolutions and the like, you can give yourself a year. I certainly didn't want to give myself more than a year, because after a year I knew I would grow tired of it, and my body would start to get quite unhappy with me. But I would recommend to someone that they give it a go for at least six months. It's also a way of just getting yourself in fantastic shape. I mean, trying to dunk a basketball in itself is awesome. It's really great to be able to dunk a basketball, to get yourself higher up than you thought possible. But the process of getting yourself in that kind of position is itself rewarding.
Watching videos of other people who've tried this, a lot of them are attempting alley-oop dunks. Is there a reason for that, or are they just showing off?
No, I think there's a practical aspect to that. It's hard to grip a basketball. I mean, that's another physical challenge. I have pretty small hands, and one thing I had to train myself to do, which I couldn't do at the start of this project, is palm a basketball. So that involved fingertip push-ups, to get the tips of your fingers much stronger. It involves, while hanging out and watching television, trying to palm a basketball for as long as you can. You want to get into a quick, full sprint, and you want to be able to grip the basketball as you go up to jam it. So doing those things can be a challenge. That's partly what's behind people doing the alley-oop-type things or throwing it up off the backboard. In some cases, they simply can't grip the ball on the way to the hoop, so their solution is to throw it in the air, catch it, and try to bring it down.
What else did you learn while training?
I went to England and met with an entomologist in Cambridge who studies jumping insects. I was interested in how human evolution and jumping compared to the jumping of other kinds of creatures.
What did you learn about jumping from the insects?
I learned that insects are fucking awesome. There was an insect in particular that I was interested in called the froghopper, or spittlebug, that is basically one of the world's top jumpers. It's a survival mechanism. It can jump far, far higher than we can as a function of its weight, basically. So I learned that humans are quite modest in the jumping scheme of things.