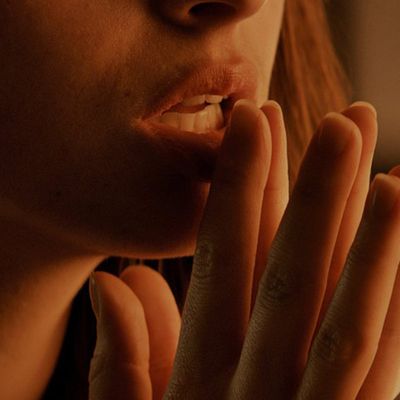 Photo: Universal Pictures
I've tried to fight it. For an entire year I've tried to avoid this day. But come the evening of Friday, February 13, I'll be sitting in a darkened room watching Christian Grey ravage Anastasia Steele while my mother most likely claps her hands in delight, nudges me during her favorite steamy parts, and bogarts the popcorn. It's happening: I'm seeing Fifty Shades of Grey with my mom. Will I ever be able to look at her again?
My mom is a great mom. I've never really been horrified by anything she's done until I realized she was a Fifty Shades of Grey superfan. She's read all three books multiple times. She talks about Christian and Anastasia like they are real people she knows. We discuss their relationship as if they are neighbors she interacts with every day. Since the movie release date was announced, it has been a topic she brings up basically every time she calls me. She thinks Christian is desperately handsome, Anastasia is kind of a wet noodle, and she really can't get over the sex. Once she tried to talk about the tampon scene, but I hung up the phone on her.
Recently she entered a Today show contest. They were offering 250 tickets to an early screening; Natalie Morales was going to be there, and Carson Daly, too. I have truly never heard her as disappointed as when she called to tell me that she didn't win. Which is why I invited her to attend a special screening of the movie with me — also, because apparently I share an interest in masochism.

When E.L. James's books first came out, I read them. I hate being left out of the cultural conversation, and I'm into erotica of all kinds. Arrogantly, I never imagined that my mom would read them, too: She likes the Hallmark Channel and is an innocent pure flower, as far as I want to know — until one day she started asking me if I'd read "those books." She'd heard a lot of people talking about them and finally picked up copies at Greetings & Readings, the bookstore for Baltimore moms. She'd gotten me a set, too, along with a fun bookmark and some chocolate — "Should she send them?" I told her to send the chocolate and the fun bookmark, but I'd read the books already. I planned never to think about it again.
Then the comments started. "It's just such a great love story, Allison." Which was innocent and fine, though baffling, because — is it? "I gave your set to Gail [her neighbor down the street], and we both could not stop talking about how hot Christian must be!"
What?
And finally: "Jeez, this whole book is just so hot!" she giggled. This was very hard for me, the giggling, because contained in those volumes of cornball metaphors and poorly written erotica, there are graphic discussions of Ben Wa balls and riding crops, spanking and orgasms, panties, and deep-throating. Acknowledging that she'd read the books meant acknowledging that she'd read things like "Christian squirts baby oil into his hand and then rubs my behind with careful tenderness — from makeup remover to soothing balm for a spanked ass, who would have thought it was such a versatile liquid." And probably enjoyed it.
When I went home for Thanksgiving she forced me to watch the trailer with her — "I want to see how hot the movie is going to be," she laughed. I wanted to laugh with her. I really did. What a fun moment of bonding that would have been. But I could not. Every time she asked me about "the books" or "the movies" with that unnatural twinkle in her eye, I mentally budgeted for another year of therapy.
I realize I'm being childish. First off, my mother is an adult human, and I've been told adult humans are familiar with things involving sex. That is allowed. And besides, Fifty Shades has been regularly described as "mommy porn." So, in a way, I'm infringing on what is rightfully hers. E. L. James's appeal is her ability to take subversive sex and make it so relatable that everybody's mom would feel totally chill discussing "erect penises" in book club. Also, I'm probably being very closed-minded for a twentysomething who lives in Brooklyn and gets a CSA. I mean, I bet there are homes all over the world where mothers and daughters candidly discuss sex — like in France, or Berkeley, California, or perhaps Park Slope. But I learned about sex and sexuality the good old-fashioned way, which included never asking my mother any questions. As far as she knows her 28-year-old daughter is a virgin who is saving herself for marriage, aside from that one encounter she grudgingly admitted to while upset about a breakup. In turn, I happily pretend my mother is also a virgin, and maybe even the Virgin Mary, because somehow she had me and my brothers. This was our deal, and now E. L. James has ruined it forever.
What does it mean that my mother is willing to accept the new terms of our adult relationship and gamely discuss sex stuff?
It means I suffer. I suffered when she pointed to a bottle of Fifty Shades of Grey Red Satin wine and a pair of handcuffs that I hadn't noticed. "Did you see that? Your father brought those home." I tried to suffocate myself with the couch cushions. "Oh stop, Allison, you're being a child," she responded. "And you're going to get the sofa dirty. Should we preorder tickets?"
During one of our many, many conversations about what my mom likes about the book, she emphasized once  again that she really just liked the love story. So: could that mean sharing this with her is actually kind of sweet instead of slightly disturbing and emotionally scarring? Is there a chance that our movie experience won't be weird?
She added, "I just want you to find your own Christian Grey."
Nope. Still weird.