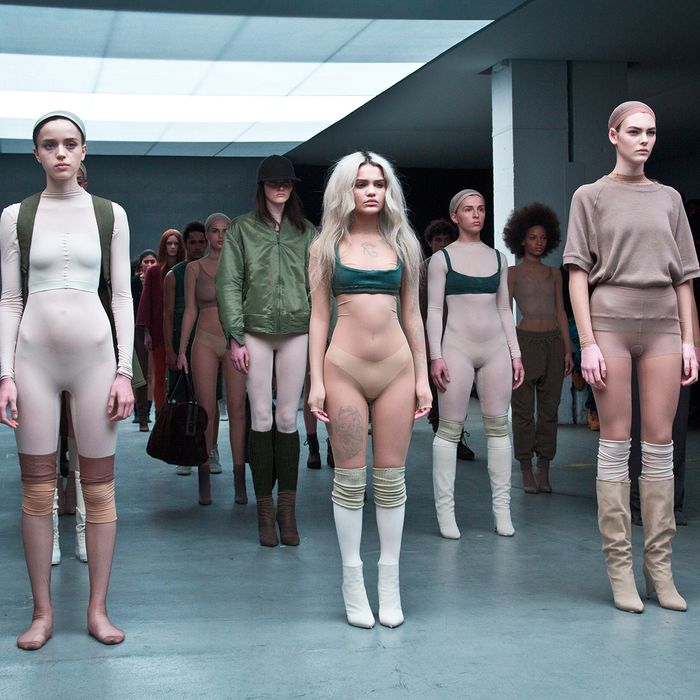 Kanye West's show.
Photo: Bebeto Matthews/Corbis
It's only the first official day of Fashion Week, and Kanye West's presentation for his Adidas collaboration has proven to be one of the hardest tickets — er, jackets — to get. For everyone else? There's Instagram. And we have a feeling Kanye would approve, because he wants to bring fashion to the masses.
The Cut scoured Instagram for photos of the venue, the seats, the presentation, and those shoes. Oh, the shoes. Now, we wouldn't go so far as to say they look like "Kanye Uggs," but they kind of do. Below, your Instagram cheat sheet to everything that happened inside the Kanye presentation.
Virgil Abloh, the creative director of Off-White, teased hair and makeup.
Meanwhile, a crowd began to form outside.
And a few brave souls wore their #YEEZYBOOSTS. Somehow they were not ripped off their feet. Somehow their bodies were not fed to the wolves. (I'll get to the wolves.)
Justin was there, too. He was not fed to the wolves, either.
Nobody would dare feed Anna to the wolves.
Only to be let into a stark room filled with waiting models.
Models waiting ominously.
Oh, hi, Kylie!
The background music, by the way? Just Kanye's new song with Sia and Vic Mensa. NBD.
More ominous waiting.
#breakthebreaktheinternetjokes
Are you supposed to look at the clothes or the people looking at the clothes?
Kanye West, inspirational speaker.
Kanye West, life coach.
Kanye loves you and wants you to be happy.
(North West was not happy.)
Models marching, one two three four.
Yeezy takes his bow.
And then he unleashed the gates and we were all left at the mercy of his app.