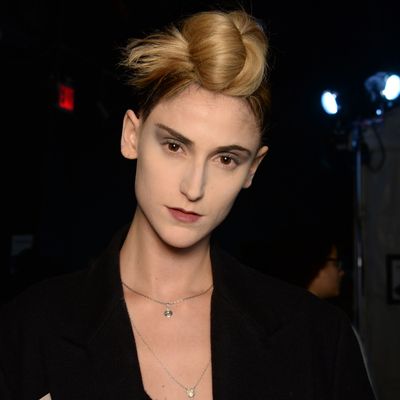 A model and her topknot at Marc Jacobs.
Photo: Clint Spaulding
After exploring various levels of nude and true no-makeup makeup throughout the past few seasons, Marc Jacobs revealed a true beauty lewk in his show tonight. This season's beauty look suggested that Marc is very much into swans — both of the animal and socialite variety. Models swanned around backstage, their already swanlike necks looking even longer thanks to the topknot style that Redken's creative consultant, Guido Palau, created. Makeup legend François Nars drew a somewhat severe and strong take on Diana Vreeland makeup, and manicurist Jin Soon Choi created a nail look that actually requires your manicure to grow out. In their own words, Palau, Nars, and Choi offer some clues into the workings of Marc's mind this season.
François Nars: "Marc came up with the idea of a really sophisticated woman, that was the first thing I heard from his mouth. His inspiration was a strong, very elegant woman, but a little eccentric, too, with Diana Vreeland as a base. But without looking necessarily like Diana, but more like the swans of the '50s and '60s. He showed us Babe Paley and Jacqueline de Ribe — women who were very strong eccentrics, but very elegant. What kept coming back in Marc's mouth was elegant. He likes the long necks of these women and the profile looks. Exaggerating that was important.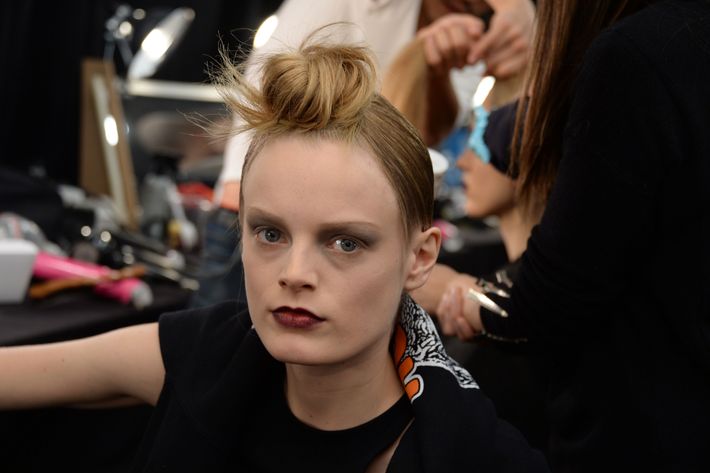 We used very dark eggplant lips, very matte, no gloss (NARS Train Bleu Velvet Matte Lip Pencil, or NARS Black Moon Eyeliner Pencil for darker-toned girls). It's a very matte face, no shine, with very structured eyebrows, not too fake. Except for the girls with very thick brows — it's not too thin of a shape, but a defined line. A great taupe-y color that almost looks kind of silver goes on the eyes, with the gloss. You can't tell if it's a gray-taupe-y, pale silvery with gloss over it. No mascara to bring more strangeness to the eye. It fits the girl that Marc wanted to see."
Guido Palau: "The look is a very chic, uptown — a very together woman. He wanted to see someone much more considered, who had their hair and makeup done. It's not an easy, breezy, kind of look where you are wearing uptown clothes and downtown hair. There's not an accident in this woman. There are no slight mistakes or ease. What was very key to him was the sculpt and head shape. It's a pulled-up ponytail and a simple knot right at the top of the head. The style elongates the neck and the swans, this dying breed of women. It's very key to their beauty and very intimate as well.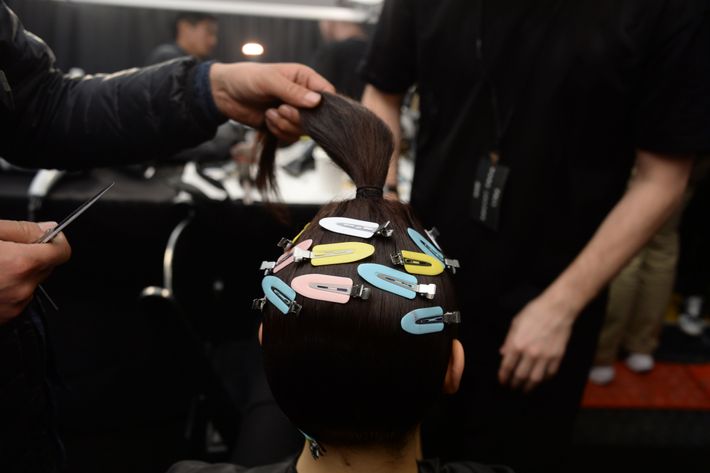 To create the look, I'm using Redken's Guts as my foundation product, to blow-dry it. You flip the hair over and create a ponytail with the knot dead on top of the head. Then I'm using Redken's Control Addict 28 hairspray to mold the hair."
Jin Soon Choi: "For him, Marc is the kind of guy — he likes the twist of a story a little bit. He showed me an old Hollywood star with her nails growing out so you can see the edge. It's like an eclipse in a way, with an eclipse line near the cuticle. His idea was not to show nail art, but to show perfectly growing nails. It was his interpretation of a different glamour, but it has to be perfect — not chipped nails or anything like that. Models got a red called Marc Beauty's Poison Apple or a white called White Snow (both colors out next fall)."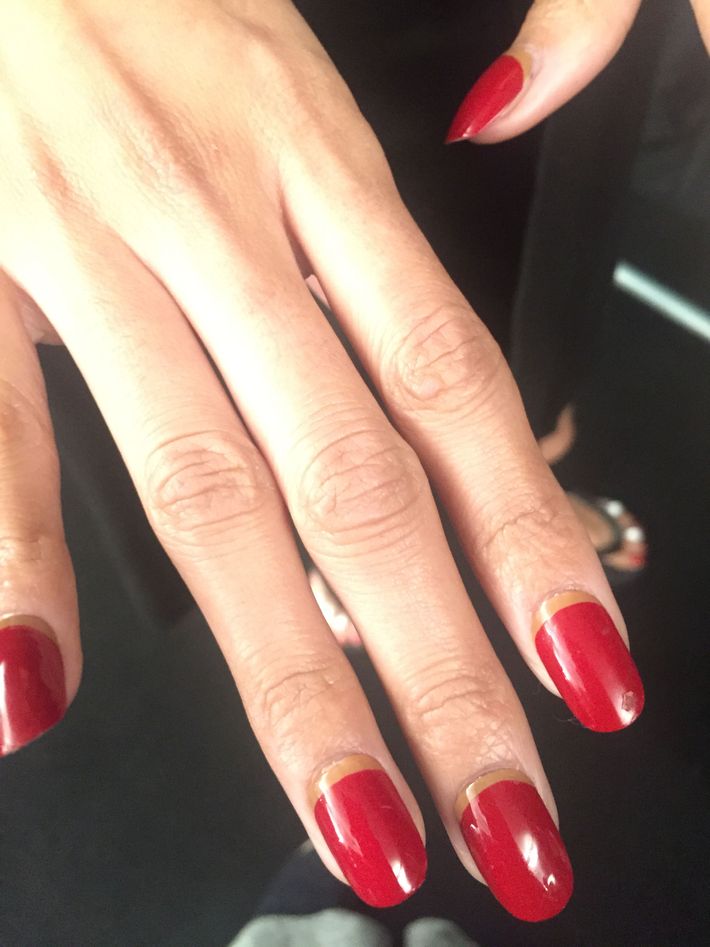 These interviews have been condensed and edited.