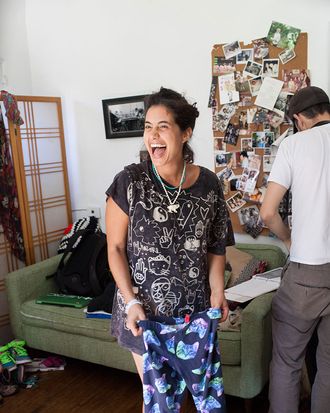 Jessie Kahnweiler.
Photo: Amanda Hankerson
Can you make a comedy about bulimia? Jessie Kahnweiler, the comedian and filmmaker behind 2013's viral short, "Meet My Rapist," is the perfect person to try. Her new project is a web series about her years-long struggle with bulimia, and like her previous work, The Skinny is darkly comic, mining bingeing and purging for uncomfortable laughs.
Transparent creator Jill Soloway is a fan: "She is fearless," Soloway told us in an email, of Kahnweiler. "Actually, she's better than fearless. You can smell the fear on her, but that doesn't stop her from doing the thing." Soloway's online video venture, Wifey.tv, has signed on to produce the web series; meanwhile, Kahnweiler is using Kickstarter to raise money to finish filming.
The Cut spoke with Kahnweiler about eating disorders, Lifetime movies, and internet stalking.
When did you first get the idea for this project?
I've been wanting to make this project for a really long time. I was still sick and I tried to write a script about a young girl who was overcoming her bulimia, but it was never me. It was always a girl named Karen who played the piano. I was trying so hard to not make it me.
The real beginning of it was about a year ago. I started talking about it in stand-up and storytelling, talking about my experience as a bulimic feminist. I would get notes from people, mostly on Facebook afterward, "I can't fucking believe you're talking about this." I talk about rape every day, so the fact that people are more shocked — that this [bulimia] is so much more taboo. I had that feeling in my gut, I have to tell this story. This is so much bigger than me. And really selfishly, I would've wanted to watch during the ten years I was throwing up, ashamed and alone.
Speaking of things you would've wanted to watch, do you have a favorite Lifetime eating-disorder movie?
I think Tracy Gold did one. I loved those Lifetime movies, but seriously, all of these girls are skinny-ass bitches that are ballerinas. I didn't see me in any of them.
I'm so hard on myself. I'm bulimic but I'm not even skinny. I'm not even doing a good job at having an eating disorder. Which is hard because I'm a perfectionist.
That's what kept me silent for a long time. Because I wasn't seeing me on TV, then it couldn't be true. I think the media has a powerful [role].
Even though you didn't see yourself reflected, did you realize that your behaviors corresponded to an eating disorder?
In the beginning, I really felt like — I wasn't shooting up heroin, I wasn't killing anybody, I wasn't hurting anybody, so I felt that it was just something I did. It was my little thing I did and I didn't have to bother anyone.
When I started doing it in high school, I would go buy a bunch of fast food or groceries. I would have waffle fries on my boobs, I would have Nutri-Grain bars shoved down my pants.
When I would say this onstage, everyone would laugh. But that's the real shit, using food to comfort me. That's what it was. It was my best fucking friend. The first time I threw up, I felt like myself. It felt so right.
From an early age, I was happy Jessie, always making people laugh. So throwing up allowed me to be that person for you, for the world. Because that is the message I got. That is the version of Jessie that people are interested in.
Sure, weight and shit is in there, but that's the core of it. It's so much deeper than just trying to be skinny. It's trying to have a skinnier soul.
You talked about how eating disorders are trivialized, how they're sort of the "get a real problem" problem. Why do you think that is?
We live in this culture that really promotes — whip yourself into shape, get on that cleanse, you have the power to control and fix and manage your weight. If you are fucking up, that's your problem.
When it's something like drinking or drugs, I just feel like there's a difference. You go to rehab. Your friends give you an intervention. I had to give myself an intervention. People said stuff [to me], but ultimately, no one is going to throw you into rehab for eating nothing but chewing gum for a week. Or buying a bunch of laxatives.
Was I raped enough to make a movie about it? Was I bulimic enough? I was never hospitalized for my bulimia. I never went to a treatment center … I would be lying if I didn't think, before the series came out, Fuck, my story is not hard-core enough. What right do I have?
What does your therapist think about the series?
Which one? [Laughing.]
Even though my stuff is really personal, I work really hard. This isn't therapy for me. It's not like, let me barf all of my problems, literally and figuratively, onto the screen. The Skinny is personal but it's a narrative.
I feel like the more personal I am, the more universal I am. I am just going to keep riding that freak train. I just need to get more issues. I'm ready for my first divorce.
How did Jill Soloway get involved?
Jill Soloway got involved because of my amazing stalking skills. I stalked her on Facebook a couple of years ago and she took me to lunch and told me, "You need to quit your job and make more shit and keep doing it." She has this whole harem of girls that she mentors and is bringing up.
I had sent her the script [for The Skinny] and partnered with Wifey to do the distribution. But she's been helping with the edits, development, and thinking about where the series is going to go and how it's going to live. And most important, having someone to call and cry to.
It's a hug and a kick in the ass at the same time.
Why was it easier to tackle your rape than you eating disorder?
Well, no one is really going to shit on the rape girl. You're the victim. With bulimia, [people think] 'It's just food. Get it under control.' Some of the shit I've done with food — eating out of dumpsters, puking in plastic bags in my car, puking on the beaches of Bora Bora, stealing other people's food, taking laxatives — it's not cute. That was the reality of my life.
You're best known for your comedic short about rape and now you're working on a series about eating disorders. Is there a dark topic you wouldn't feel comfortable tackling?
Yes, any topic that I don't feel that I have personal experience with. It's so fucking hard to make work on your own. If I'm going to make something, it has to be something I cannot not make. I could not not make "Meet My Rapist." I could not not make "The Skinny." From where I'm sitting right now, I'm making these movies because I can't not make them. I'm not searching out horrible topics.
People email me and are like, "How do I make suicide funny?" I don't know.