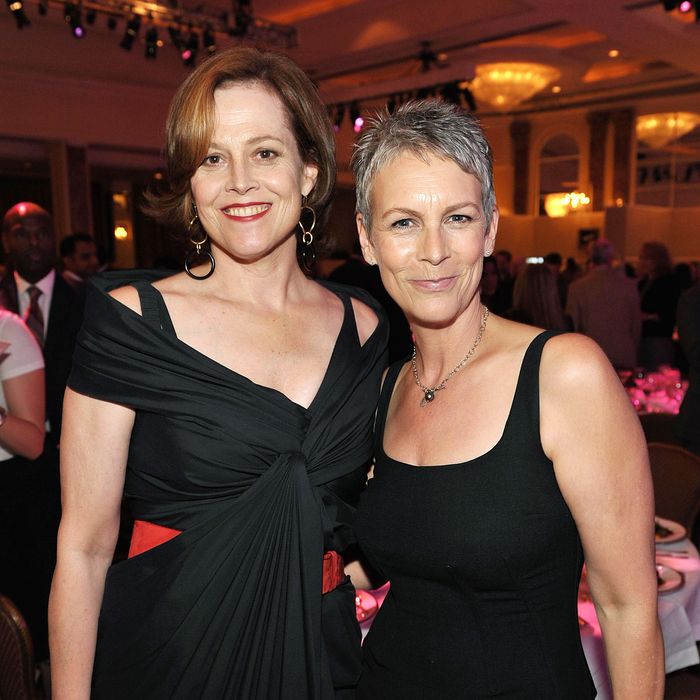 Jamie Lee Curtis and Sigourney Weaver. (John Shearer/Getty Images.)
Photo: John Shearer/Getty Images
In a discussion for Interview magazine, Jamie Lee Curtis and Sigourney Weaver had one of those wonderfully intense conversations that ends in one person deciding that they are going to get a tattoo. How does one get to that sort of conversational conclusion? Well, one could start by talking about tidying one's home and joining the cult of Marie Kondo.
CURTIS: Talk to me about your theater, the Flea. When you said, "We started the Flea," that's like me saying I cleaned out a closet, something that happens every day—because in my house it happens every day. I now am a deep believer in this woman, Marie Kondo, who has revolutionized the art of getting rid of shit.

WEAVER: I need her desperately! 

CURTIS: She has this book out right now, which I'll google while we're talking, because I can do two things at once. 

WEAVER: I can do five things at once. I'm tapping my foot, I'm opening my mouth and talking to you, and looking at the bulletin board. How about that? 

CURTIS: The name of her book is The Life-Changing Magic of Tidying Up: The Japanese Art of Decluttering and Organizing.

WEAVER: I have this book! You take this thing and you say, "Does it spark joy?"

CURTIS: That's the tattoo I'm going to get, "Does it spark joy?" Because that is the reason I do what I do. But anyway, we digress.
Sometimes when you get rid of enough, you've got to add a thing, and that thing is sometimes a tattoo.