Cosmopolitan's Joanna Coles and Feminism's 4th — or Is It 5th? — Wave
Joanna Coles, the editor-in-chief who wants to change what people think of <i>Cosmo</i>.
38 Hot Sex Moves That Will Make You a Better Feminist
Cosmopolitan's Joanna Coles and the fourth—or is it fifth?—wave.
Photographs by Christopher Anderson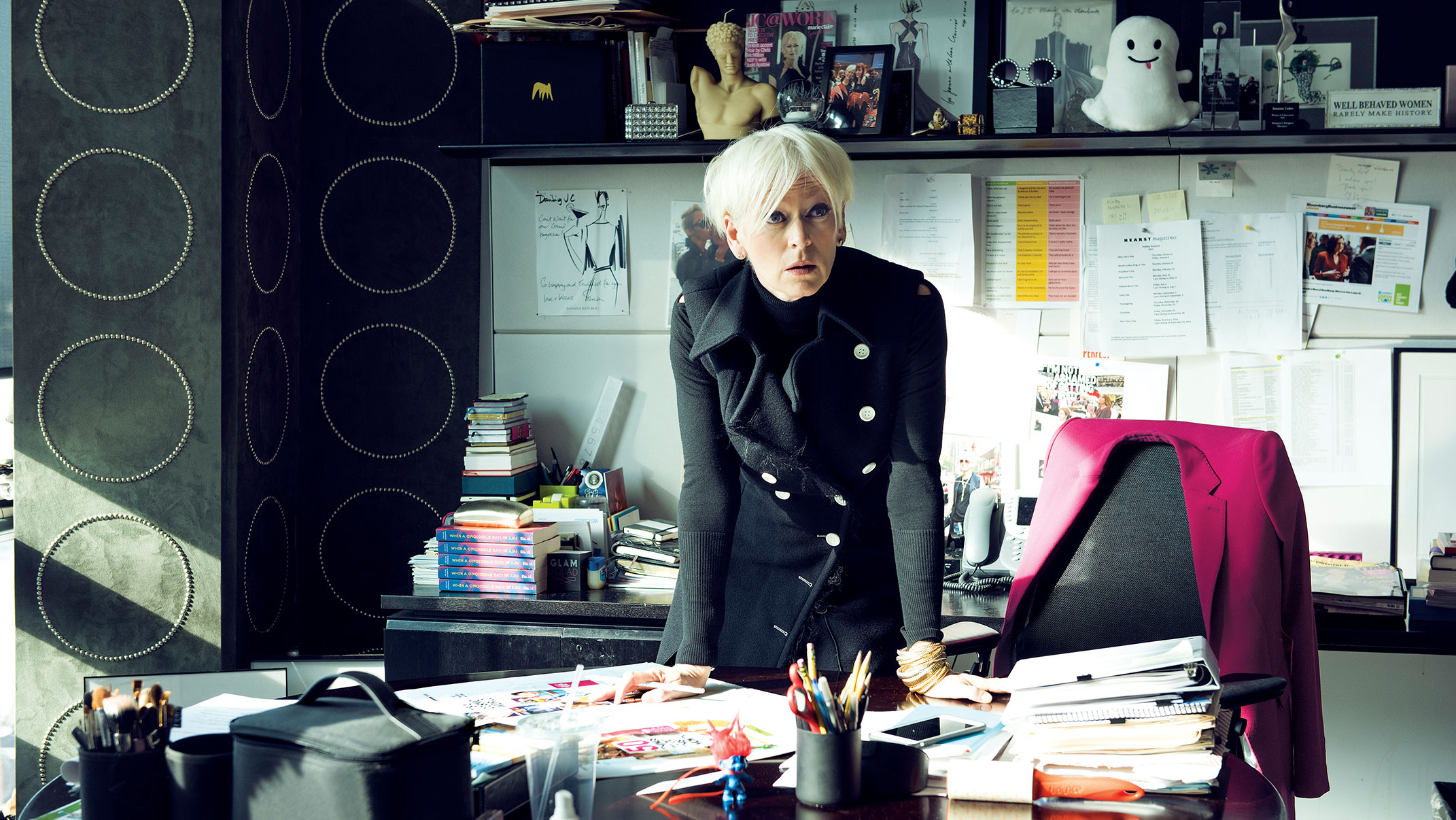 One Saturday in November, nearly 2,000 mouseburgers, who'd made pilgrimages from Queens and New Jersey and Arizona and even as far as Norway and Dubai, paid between $99 and $400 for a ticket to Cosmopolitan's first "Fun Fearless Life" conference.
The two days of programming at Lincoln Center's David Koch Theater would include presentations by a YouTube sensation; the CEO of Twitter; Sallie Krawcheck; a teenage charm-jewelry mogul; an Osbourne; and a celebrity trainer formerly of The Biggest Loser, among others, all intended to help these women "forever change the way you approach your career, health, and love life — in just one weekend," as the marketing materials modestly promised. 
To kick things off, an ostentation of male models walked up through the crowd, on to the stage, and, with a purple-pink light show highlighting sponsors' names behind them, unzipped gray and hot-pink #FUNFEARLESSLIFE hoodies to display their impressive bare torsos. Then, out through the anatomies strode a leather-leggings-and-spiky-boots-clad Joanna Coles, the magazine's editor and as fine a performer, in her own way, as anyone who's ever graced that stage. Behind Coles, who resembles a more traditionally pretty Tilda Swinton, was a couch with two throw pillows bearing her initials and another that read EAT THE PIE! Coles reveled in the applause. "This," she said in her declarative British accent, "is a spa weekend for your spirit!"
Despite the opening act, the conference was largely bereft of the raunchy "how to please your man" focus that's been synonymous, in the popular imagination, with the Cosmo brand for decades. Instead, the orientation was toward careers. Life was framed as a challenge-based reality-TV show conquered via empowerment and savvy networking. Sara Blakely, the founder of Spanx, who became the youngest female self-made billionaire in history, told the story of the frustrating white-jeans panty line that launched her empire. "I love women!" she said by way of warming up the crowd. Amy Cuddy, a ballerina turned accident victim turned TED-talk phenom, explained the power poses — various yoga postures; feet on the desk, Obama style — that, if performed for a sustained amount of time, are scientifically proven to increase your chance of behaving with confidence in any given situation. Her presentation concluded with a short video of a depressed Icelandic pony who learned to power-pose like a stallion and shook the darkness for good. During breaks, DJ Hannah ­Bronf­man, the socialite who recently launched an app for finding last-minute beauty treatments on the go, spun a playlist that featured songs like Destiny's Child's "Independent Women: Part I," from the Charlie's Angels soundtrack.
To facilitate bonding, ticket-holders were asked to fill out name tags that included their celebrity spirit animal. At the snack bar, an accountant whose spirit animal is Taylor Swift bonded with an immigration attorney who is, in her soul of souls, the swimsuit model Chrissy Teigen.
Backstage, Coles held a marker over her own tag. "It's really John Oliver, but that doesn't quite work," she muttered before writing down TILDA SWINTON. She snapped a picture of her staff, who were wearing FEARLESS tank tops (one editor paired hers with hand-me-down Louboutins from "J.C."), before heading out to mingle and be the starring guest in an endless series of selfies. "I love this moment," she said as the first wave of fans surrounded her. Arrayed in more leopard print and cascading ombré barrel curls than you'd normally see before lunch on a Saturday, these were mouseburgers (Helen Gurley Brown's famous term for plain Janes) already transformed. "This is such a good-looking crowd!" she greeted them.
These women know Coles — who is variously deadpan, stagily frosty, and an enthusiastic deployer of a crisply pronounced "fantastic" — not just as the editor of Cosmo. She is also famous for Running in Heels, a sort of reality-TV The Devil Wears Prada, filmed in the offices of Marie Claire when she ran it, and for a stint as a judge on Project Runway: All Stars. (Coles says this particularly helps her in airports: "All the TSA workers watch style shows.")
"You're my celebrity spirit animal!" said a woman with a large pink bow in her hair to match her pink floral skirt. "You and Beyoncé. Because you're basically the white British version of Beyoncé."
One girl asked Coles what would make her application for a Cosmo internship stand out. Coles considered. "Did you tweet this question?"
"My dream job … would be your job," another said. "Don't say that," Coles replied. "I don't want someone stealing my job yet!"
Ever since Gurley Brown took the reins at Cosmopolitan half a century ago this year, the magazine (and now the global brand) has been in the business of helping young women become better at being young women. And while all women's magazines deal in the currency of aspiration — the ability to engineer a precise combination of self-loathing and yearning is attractive to advertisers — Cosmo has tried to distinguish itself from the competition by actually providing a game plan for how to get there, and by keeping the aspirations much more attainable. The deep irony, or perhaps genius, of the name is that the Cosmo girl isn't especially cosmopolitan. She doesn't care so much about a new Prada bag; she wants to know things like "how to eat when you're totally broke," and how to keep her relationship healthy.
Cosmo has had a complicated relationship with professional feminists over the years — Betty Friedan called it "quite obscene and quite horrible," but Gloria Steinem's byline has appeared in it occasionally for decades. As the original popularizer of the American woman's sexual liberation, the magazine has always had a kernel of feminism at its core — a broad, inclusive, highly generalized editorial message of women's empowerment that doesn't judge its readers for their ambitions, no matter what they are. It operates on the principle that wanting a happy love life or expertly done smoky eyes doesn't make a woman frivolous. Neither does wanting to know how to give the perfect blow job. 
The sex tips are still a major part of the brand. Over the past year, nearly every one of the magazine's top-left cover lines has hit the same theme: "Best. Sex. Ever" (September), "38 Hot Sex Tricks" (December), "75 Crazy-Hot Sex Moves He'll Think About All Year Long!" (January). But Coles has made it her very public mission, since she took over the top job in 2012, to change the perception of the magazine as little more than a monthly sex handbook with near-endless suggestions for penile amuses-bouches. She signed up Sheryl Sandberg as the magazine's careers editor and told Capital New York, in 2013, that the magazine is interested equally in "mascara and the Middle East." Over a plate of bacon at the Hearst cafeteria, she expanded on her idea of Cosmo feminism. "Feminism means, basically, are you in favor of equal opportunities for men and women? It's hard to argue with that." As for her editorial philosophy, she explains it this way: "It's a bit like having a few drinks with someone in the bar, but usually in that conversation you'll touch on two or three things which are a little bit more serious." She even has a feminist-economic justification for the sex advice: "In Helen's day, women used sex as a way to find a man to look after them," Coles says. "Our reader doesn't assume that she won't be able to look after herself. And so I would say that we approach sex from the point of view of, How can this be fun for you?"
Feminism is stylish at the moment, of course, which alternately heartens and flummoxes its most ardent disciples. Taylor Swift and Beyoncé have made demonstrative alliances with feminism part of their appeal to young women. And an easy way for a beauty brand to get a viral nudge on an ad campaign is by inserting feminist overtones. (It can also function as a sort of armor: Sell your shampoo — or your sex tips — under the guise of empowering women, and no one can fault you for making them feel the need to spend money on making their hair softer and more touchable.)
The changes to Coles's Cosmo have been incremental. In its September issue, the magazine ran an essay by Roxane Gay, a black, bisexual, breakout essayist, titled "Can You Be a Sexy Feminist?" (The answer: Yes.) The issue also contained a feature on an Occupy Wall Street protester who'd done jail time at Rikers, as well as the first interview with Jill Abramson after her firing from the New York Times, something of a true scoop and one that the magazine pursued intently. "I think it is interesting to readers when senior women, or groundbreaking women, get fired," says Coles. "You're thinking, Well, is sexism institutionalized across many industries, or was this just bad luck?" (Coles keeps a page proof of that story pinned up behind her desk, right next to a photo of her with Miley Cyrus.) There are also cheekier victories for womankind in the magazine, like the recommendation for ID Juicy Lube, in Cool Mint, $9.99 at Walgreens, and a service-y "Peen on Screen" guide.  
"Interesting. No female directors in there." Coles was on Morning Joe, talking about the Oscar nominations, which had been announced moments before. She appears on the show with some regularity, several times recently wearing a hot-pink jacket she calls her "telly jacket." "I've only got one with color," she told Mika Brzezinski on-air when the co-host noticed the repeat performance. Brzezinski, who writes a workplace column for Cosmo that she began under Coles's predecessor, counts Coles as a friend. "Women still struggle with being a little passive. She's totally out of that," says Brzezinski.
Brzezinski and Coles both make a practice of publicly surrounding themselves with other powerful women, which amplifies their own influence via the multiplicative power of association, a networking strategy that men have arguably practiced for years. Coles has become friends with Sarah Jessica Parker ("She doesn't genuflect," says the popularizer of the alcoholic Cosmopolitan) and Sandberg ("When my book [was being] published, she took the initiative to call me and give me advice," says the Facebook COO). She even allows time for the occasional powerful male, such as her spirit animal John Oliver, with whom she likes to talk about British current events. "She has a sensitive bullshit detector," he says. "I sometimes am surprised that she's able to survive in that world because she's so funny, and it's a world that seems to me to be almost humorless."
Coles's klatch of TED-friendly feminists, the women who get called on to give quotes about whether one can "have it all" (a phrase that originated with Gurley Brown), all appear to know and blurb and adore one another. They write prominent, profitable books chronicling their rise through the corporate ranks, which usually include accounts of feminist awakenings in the boardroom rather than in the women's-studies department. It's an opportunistic brand of trickle-up feminism: Women's increasing centrality to the economic realities of the United States has created the need for workplace icons. Coles's predecessor Kate White says that content on careers didn't test particularly well with Gen-X readers, but she saw that begin to change with the rising generation. What Coles's Cosmo has sought to do, rather cannily, is to bridge the gap between the average young reader and those TED-talking icons by packaging, into a digestible confection, their messages of empowerment. Hence, the 24-page section "by" Sandberg on work in an upcoming issue.
Coles even does it in conversation. When talk turns to sexual assault, she'll mention that she is concerned with the amount students are drinking on campuses, and bring up her friend in the Obama administration. "I had a long argument with Valerie Jarrett about what is the college administration's role in this," she said. When she talks about work-life balance, she quotes "Sheryl" on how the most important decision a woman can make for her career is whom she marries. She is, as one former colleague said of her, good at "shrewdly assimilating ideas" and certainly not against the accruing of ­personal power — to the extent that she has managed to become one of these workplace icons herself.
Coles's office is notable both for the treadmill desk (which she's turned largely into a standing desk after realizing that her preferred 4-mph-plus pace didn't square with either her typing obligations or her leather pants) as well as what she cheerfully calls her "ego wall." Along with photos of Coles posing with particularly dear co-workers (several of whom have themselves, she is proud to say, gone on to become editors-in-chief) there are pictures of "me and Joe Biden, me and Hillary, me and Angelina, me and the Bushes, John McCain, and me lecturing Barack." Coles was a guest at a White House State Dinner last year; she wore a dress with black leather panels and told a semi-shocked Washington press corps she hoped "it wasn't too slutty." She also hosted the cast of Scandal at last year's White House Correspondents' Dinner. "They are so much fun to party with," she said. "We went into Valerie's office, and they were all hanging out."
The week we met in her office, Coles was busy making plans for Sundance and Milan Fashion Week. She seems to be able to make her way into just about any sphere. On the night of the Super Bowl, she tweeted a photo of herself with Richard Sherman, captioning it "Worlds most unlikely selfie … But if not today, when could I ever share it?"
She sees social butterflying as part of her job. "That's where I get my ideas. I don't get my ideas from reading other people," she says. "I talked to the daughter of a friend of mine the other day who is at an Ivy League college. And I said, 'Tell me about life and what's going on.' And she said that she and her friends all go out on Friday night. They hook up, and then they all go down to the medical center the next morning and take Plan B together. And I was like, There's the story." (Coles reminds me that Cosmo is not "judgy" about women's sex lives.)
Coles leaned back at her desk in the power pose that Amy Cuddy might call the CEO, waiting for her friend Preston Konrad, American Eagle's style director, whom she met when they were paired for a failed reality fashion pilot years ago. Konrad happened to have a TLC makeover show premiering shortly, and Coles happened to have a reporter shadowing her for the afternoon, so the occasion seemed right for a catch-up. "Oh my God. Is that the Konrad?" she said as he walked in wearing a crisp camel coat and fedora. "You look absolutely ridiculous. Would you ever believe this man used to be 350 pounds?" It was a classic Coles compliment — slightly but not cruelly backhanded. (Coles specializes in the very British sort of humorous undercutting that manages to win over its targets. A former colleague remembers running into Coles at the Céline store during Paris Fashion Week, where Coles was trying on "some full-body leather getup," while the other editor was testing out a pair of sunglasses. Coles pointed to the other woman's merchandise, then her own, rather more expensive, haul, and said, "Your job. My job.")
"I'm obsessed with this coat," said ­Konrad. "Wearing it super-randomly with, like, a big Free City hoodie and jeans."
"He's such a rebel," Coles said drily. "The next thing you know, he'll be protesting in Ferguson."
Coles swapped her long Céline jacket for Preston's (Club Monaco) and asked him to find her a version of it. "Price is nothing when it comes to fashion. It's all about the style," she said, turning her head slightly to see if the reporter was writing that down. 
Konrad and Coles moved on to what she was going to wear at Sundance. "You need, like, a hint of Kate Hudson in there," Konrad said. Coles looked amused and flashed her eyes sideways. "Oh, I never thought of that. Do I want a shearling moment and what would it look like?"
As Coles sipped her mocha, she asked Konrad about his show, in which makeover subjects are put behind a two-way mirror and forced to watch people dissect their appearance. "They're giving their honest, raw first impressions. Maybe she's a hooker. Maybe she is a construction worker. Maybe she's a man," he explained. One social worker got "new teeth, new skin, new hair, the whole bit. And then we put her back in front of a new jury, but the jury doesn't know she had a makeover. So they're like, 'Oh, she's the editor-in-chief of a fashion magazine. Maybe she is the head of Coca-Cola.' "
Coles considered. "Does she still want to be a social worker? Maybe she should be an editor-in-chief of a fashion magazine."
Manhattan media circles are famously welcoming to British women with larger-than-life personas. But unlike Anna Wintour or Tina Brown, both from posh backgrounds, Coles was born in Yorkshire to a teacher and a social worker and attended the University of East Anglia. She was ambitious early. At age 10, Coles mailed a copy of the magazine she self-published, called Your Choice, to the queen. She also went through "a phase of reading poetry and then writing to the poets to tell them how much their poems had moved me, terribly earnest and rather teenager-y."
At 17, she was asked to run as the Green Party candidate in a local election, though her father said no to the endeavor. (Later, "I was a member of the young liberals, the young conservatives, and young Labour, according to who gave the best parties.") In her 20s and 30s, Coles worked as a reporter for several of the major British newspapers. A posting as foreign correspondent for the Guardian brought her to New York, where she delighted in the sceniness of 1990s Manhattan, as chronicled in The Three of Us, a highly diaristic book she co-wrote with her now-husband, the Zimbabwean-born writer and PEN America president Peter Godwin. In the book, she relates a story of going to a dinner party at Tina Brown's apartment, attended by "Manhattan media A-list," including Steve Martin. The actor, whom she'd never met, walked in late and mistook Coles for the hostess. Coles writes, " 'Oh, how could I have mistaken you?' He giggled, trying to mollify me as Tina approached unseen behind him. 'You're so much younger!' "
Coles decided to make a move into magazines after a last-minute, urgent trip to New Hampshire to cover the double murder of two German professors meant she missed her toddler's birthday and saw her husband — on the way home from reporting in Africa — only in passing in the elevator. "I thought, You know what? This isn't really working for me," she said. She got a job at New York, which, as she explained on Sandberg's "Lean In" website collection of successful women's coming-up stories, meant taking a 50 percent pay cut, since her British employers had been paying her rent and other living expenses. From there, Coles moved to More, a magazine aimed at women over the age of 40, which she'd never read before the interview. "I had a little baby at home and Peggy [Northrop, the editor-in-chief] was like, 'Come on. It's ten issues a year. Just come and have fun.' And she actually had a cup of jicama on her desk that she was eating and she pushed it across the table and she said, 'Do you want some of this?' I'd never tried jicama before, and as I was eating it I thought, This is an omen. This is a new flavor, and why not go into women's magazines? And so I did."
If anything, the move sharpened her career focus. When the Marie Claire job was up for grabs, Coles pitched herself to Cathie Black, then in charge of Hearst, by jumping into the executive's car on the way to the airport. As with Cosmo, she proposed the idea of a more serious-minded women's magazine. She has said that by the time the car arrived at JFK, she'd landed the gig. "I'm extremely practical," she told me. "In whatever situation I'm in, I'll make the best of it."
Because Coles is so unabashedly ambitious, observers like to speculate on her next move. Some believe Coles's ultimate goal is running a different kind of magazine, Vanity Fair, perhaps. Some believe she's angling to be Hearst's answer to Condé Nast Über-editor Anna Wintour — an opinion bolstered after Coles recently took over as editorial director of Seventeen in addition to her Cosmo duties (though some inside Hearst see this as simply part of a general streamlining measure to cut costs). A friend of Coles's told me that she's been approached for several television-executive jobs. For her part, Coles said she hopes someday, in the distant future, to get back into writing; she chronicles her life in a journal, so perhaps a memoir is in the offing. In the meantime, she's collaborating with the indie filmmaker ­Leslye Headland on a television show about a political blogger turned sex editor at a publication very much like Cosmo. NBC bought the pilot.
For now, though, Coles is enjoying being the guru of Cosmo girls. "Media brands do well when they have a leader who people can closely identify with the spirit of the brand," Hearst Magazines president David Carey says approvingly. Coles's personal buzz has helped with advertisers (2014 was Cosmo's highest revenue year ever, and the magazine co-sponsored this New Year's Times Square ball drop with CoverGirl), even if it hasn't translated into sales of magazines. While single-issue sales of Cosmo's September 2014 issue remained tops in the industry (at 698,500), its newsstand sales were down 35 percent over the previous year. (In an interview with Women's Wear Daily, Coles blamed the bankruptcy of a major wholesale distributor, as well as "new fixturing" at Walmart.) 
But Coles is also looking beyond the newsstand. When Snapchat launched its "Discover" feature in late January, Cosmopolitan was one of 11 beloved-by-millennials brands (and, along with People, one of two targeted to women) to provide original editorial content for the app.
The brand has also been a success on the web, its traffic tripling in just a year. Cosmo.com now gets 30 million unique views per month, compared with the magazine's 18 million monthly readership. But how much of that is attributable to Coles is unclear. In 2013, Hearst hired editor Amy Odell, previously of BuzzFeed, to set upon a renovation project at Cosmo.com. Odell does not report to Coles and oversees an entirely separate newsroom. While the magazine has arguably gotten less funny in the Coles era, the site has gone big on internet-y humor. The scroll-down news feed one day in January included stories headlined "Gwyneth Paltrow Shares Her Recipe for Sex Bark Because Of Course She Does," "A Backstreet Boy Crashed a Wedding and It Was the Best Thing on Earth," "Women With Big Butts Might Have Smarter Kids?," and "Snooki Is Now an Ordained Minister Because the World Is Amazing." In other words, it's the internet, run through the editorial filter of "Would a bored 23-year-old woman click on this?" But there was also a column by senior political writer Jill Filipovic, formerly of Feministe, on "Why Opponents of a New Planned Parenthood Are Doing Everything in Their Power to Stop It."
"Absolutely I think of my readers as feminists," says Odell, "and I know this because we'll sometimes do posts about celebrities who say they're not feminists and see the reaction."
The waiting area in the Cosmo.com newsroom, in a building next door to the main Hearst tower, is decorated with a large neon wall installation that reads I WANT IT ALL, a statement of purpose both in life and in business. "We share the same values," says Odell of Coles.
Last year, Cosmo collected its first-ever National Magazine Award for a frank, useful guide to birth control. In her acceptance speech, Coles brought down the house by telling the crowd, "Some of you may not know this, but at Cosmo we have a sex position called the ASME [referring to the American Society of Magazine Editors, which awards the prize]. It involves bending over, holding your ankles, and enjoying some slow digital input."
The award prompted a rash of articles, in places like the Columbia Journalism Review, about how it was time to take Cosmo seriously. This year, nominated for three awards including Magazine of the Year, Cosmo was clearly being taken seriously. "Seems to have gone very fast since we were here a year ago. I think there are a lot of people here in the same outfit," said Coles, walking into the midtown hotel ballroom where the awards were being handed out. She was wearing her signature leather pants and a low-back shirt that showed a leather bra when she walked away. ("I always like to see what Joanna is wearing," said Gayle King.)
In the end, it was Wintour who took the stage to accept the award for Magazine of the Year, and Coles walked away empty-handed. But she didn't seem at all ­bothered. There was lots of other stuff she wanted to talk about, like the conversation she'd had with someone about practical feminism just that previous Saturday night. "I said the most useful thing I can do at Cosmo is equip women with the skills to ask for at least what men get. And she went into this long and not uninteresting argument about how that was the wrong issue and we have to address huger inequalities in the culture. Which isn't wrong, but in the here and now what really impacts a woman is how much she gets paid."
Coles considered the mouseburger right in front of her. "Here's what you do," she said, smiling. "You write this piece, and then you go in and ask for a raise, and I will show you how to do it."
*This article appears in the February 9, 2015 issue of New York Magazine.