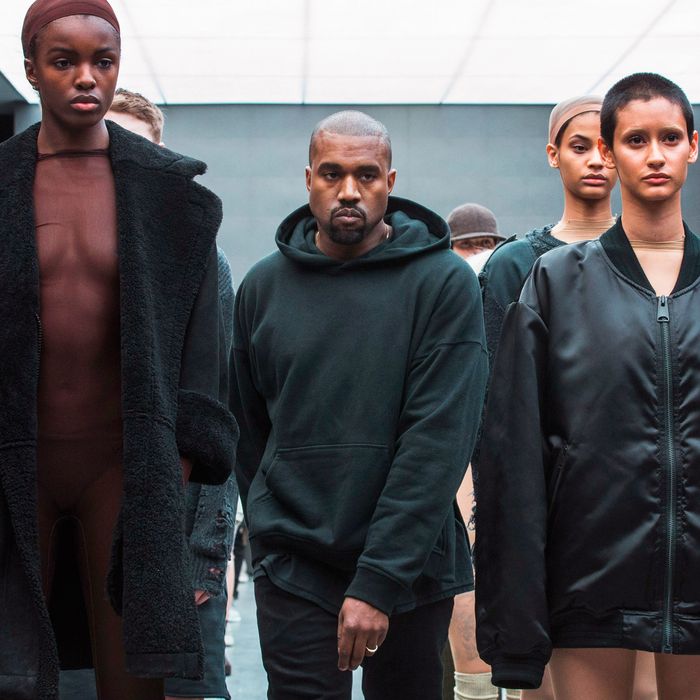 Kanye West at his 2015 show.
Photo: Lucas Jackson/Corbis
Imagine if, instead of stealing from the rich to give to the poor, Robin Hood had given them "Alaïa that you can sweat in." That, per an extensive Style.com interview today, is the dream of Kanye West. Speaking about the divisive collection he showed last week for Adidas, West was in full populist mode — William Jennings Bryan in Yeezy Boosts. "We'll eventually get them super-inexpensive. And it will be all about everyone having them," West promised. He also weighed in on his least favorite fashion term, having a "heartfelt discussion with his Tumblr," and that whole Jean Touitou thing. Here, some highlights from the exchange.
On ready-to-wear:
"I believe the category of ready-to-wear should be removed." (He also says the category is in a state of "extreme medium.")
On the notorious wait at his show:
"I actually had no idea what time it was. I wasn't looking at the clock or in charge of that."
On why he hates the word chic:
"I'd rather someone be nice than to be chic."
On being one of the few prominent black designers out there:
"Racism and the focus on racism is a distraction to humanity. It would be like focusing on the cousin from your mom's side versus the cousin on your dad's side. We're all cousins. We're all the same race. To even focus on the concept of race, it's like—perhaps people give me an extra cookie for the fact that my color palette is so controlled and I'm black. When someone that's like, racist, comes up to me at A.P.C. and says, 'I thought it would be a bunch of animals on your shirts,' because they heard that I rapped. But it just makes the journey interesting. We came into a broken world. And we're the cleanup crew. And we're only cleaning up by helping each other."
On his influences:
"You guys know my fucking influences. I've got four influences and it's written all over the face, you know the combination. Just as much as Drake is influenced by Kanye West, you know my fucking influences. You see Raf Simons right there, you see Helmut, you see Margiela, you see Vanessa [Beecroft], you see Katharine Hamnett. It's blatantly right there. I'm not going to try and act like I was influenced by a fucking dog walking down the street that broke its ankle that I had a heartfelt discussion with. I had a heartfelt discussion with all of these fucking Helmut Lang images that I stared at for so many years. I had a heartfelt discussion with my Tumblr."
On his good buddy Jean Touitou:
"Jean Touitou is one of the most humane people I know. Jean Touitou had my family have dinner with him every time we came to Paris. And there are a lot of people who own fashion companies who didn't."
On wanting to pull a "Spaceship" and go back to the Gap:
"One of my dreams was to be the head creative director of the Gap. I'd like to be the Steve Jobs of the Gap … [I want] full Hedi Slimane creative control of the Gap."
On … something about a petrified wood Rick Owens table:
"Now it's up to you to choose whether or not I'm chic enough to sit at your dinner table. And I could give a fuck about your dinner table, by the way. I've got my own petrified Rick Owens table in my house. Is that chic enough?"
On Nike:
"I'm sure they're doing OK."