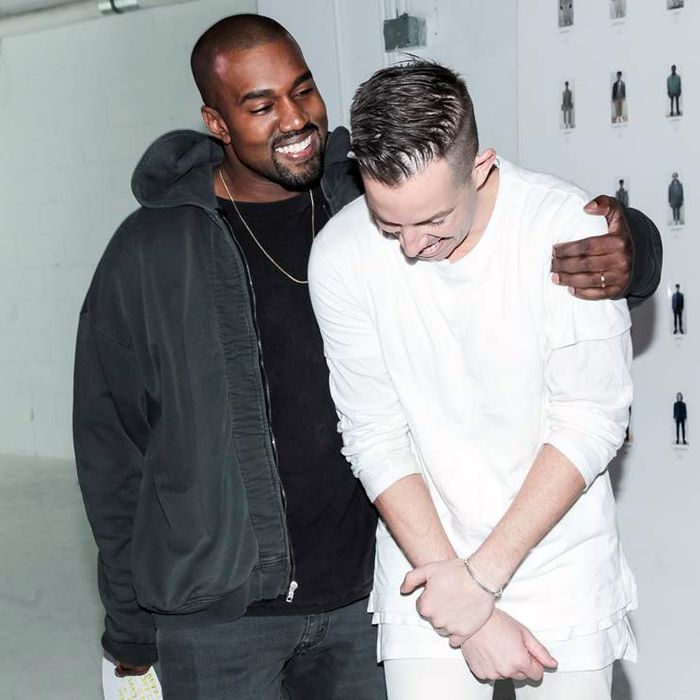 Kanye West with designer John Elliott.
Photo: courtesy photo
NBA stars Nick Young and J.R. Smith were just two of the big names at this morning's John Elliott + Co show, but the impeccably bearded and beanied audience who turned out for the L.A.-based menswear brand remained cool in the face of celebrity. At least until Kanye West appeared.
All that studied chill vanished the minute Kanye entered: All heads snapped in his direction when he walked in (sans Kim or North) just after the lights had dimmed, and took a seat in the second row. It was a move that caused several PR girls to scream-whisper  in panic:
PR girl 1: What is Kanye doing in the second row?? Does he know he has a front-row seat??

PR Girl 2: I think that's just his style??

PR Girl 1: We should say something? Am I allowed to just run up on Kanye West like that? Is that allowed?

PR Girl 2: Chill. He looks chilled.
Yeezy, still riding the high of his Adidas Original presentation yesterday, actually looked chiller than chill. He graciously entertained the receiving line of fanboys offering fistbumps, Yo, Yeezys, and photo requests, all while they tried to maintain the chill levels required by their Supreme beanies and limited-edition Air Force Ones.
As West took a photo with a staffer, he even gave the camera a rare, broad smile — similar to the satisfied grin of a person relaxing at a brunch the morning after getting laid. Except his was even bigger.