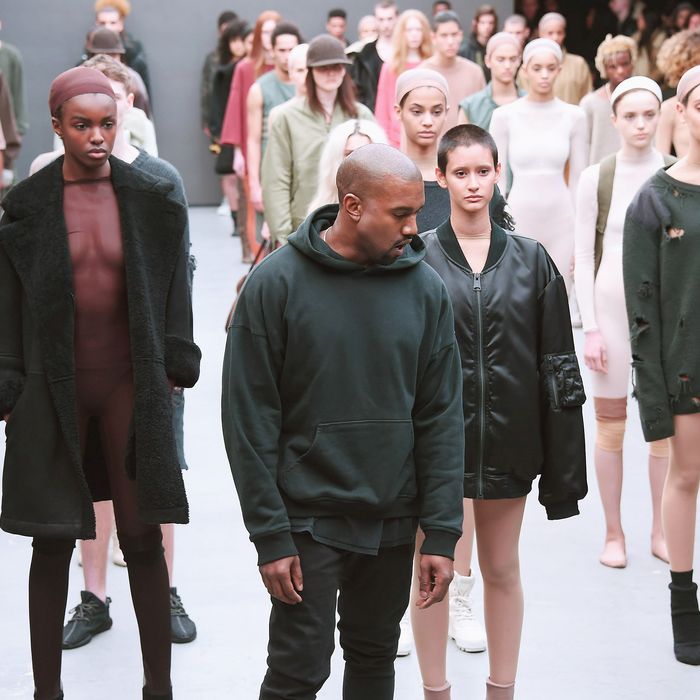 Kanye West at his show.
Photo: Gary Gershoff/Getty Images
"This better be good," one showgoer grumbled about the somewhat Kafka-esque experience of getting through the bottleneck to view Kanye West's much-hyped collection for Adidas Originals. And while both showgoers and those watching in theaters around the world took to social media to vent their impatience, the spectacle ultimately delivered.
Walking into the venue, the first thing you noticed were the Friends of Kanye (Beyoncé, Jay Z, Rihanna, Anna Wintour, and Justin Bieber — who was in the second row!) — along with Kim, primly toting a squealing North's juice box like it was a Céline box clutch. And then the models, arranged by the artist Vanessa Beecroft into a series of militarily-precise rows, wearing apocalypse-worthy sweaters that looked as though they'd been attacked by an army of moths, nude pantyhose-like underpinnings, and on their feet, the coveted Boosts. Kanye appeared to have moved away from the embrace of fur-clad luxe that he showed in his namesake collection at Paris Fashion Week in 2011, and into a stripped-down aesthetic that drew on utilitarian references as well as the minimalist designers he idolizes. The models were a refreshingly diverse group, both ethnically and in terms of body type — it's rare that you see a curvy, tattooed woman who barely clears five feet modeling at New York Fashion Week. As they stood in semidarkness, everyone was treated to a classic Kanye disquisition, recorded and edited to sound almost like a braggadocio-filled pregame NBA interview.
I see all these people commenting, "Why's he still trying?" I mean, if I see something , I see an opportunity, I'm gonna go for it. I'm here to crack the pavement and make new grounds, sonically, and society, culturally. We're not always in the position we want to be at, where we're constantly growing, constantly making mistakes, we're constantly trying to express ourselves and trying to actualize our dreams. I want to create something better for you. We have been limited. It's bigger than who I am even in this — my presence, living. It's about, you know, when I was on earth, what did I do to help? I want people to think more, I want people to feel like it's okay to create and follow what their dreams are and not feel boxed in. I want people to feel like awesome is possible. There's a lack of creativity in every field, because people are afraid. As an artist, and in this world, we can do whatever we want.
Then, as the lights came up, a new Kanye song, "Wolves," featuring Sia,  played with the whole room nodding in time. So was the show a breakthrough of creativity on the level of what Kanye promised? It certainly had all the attention-getting elements: high art, high-wattage celebrity, and good old commerce. As fashion, it had plenty of pieces its intended demographic will snap up: artfully oversize bomber jackets, military-style backpacks, perfectly lived-in sweats. As a statement, it worked — it's all anyone will be talking about today. How many fledgling designers can say the same?