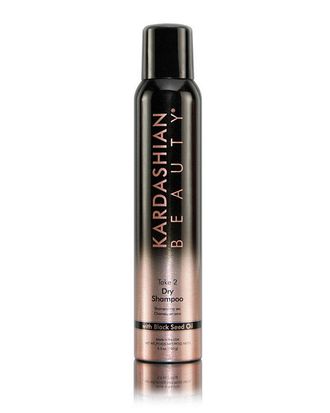 (Courtesy of Kardashian Beauty.)
Photo: Courtesy of Kardashian Beauty
Dry shampoo has never appealed to me. I just don't understand it. Why would you willingly make your hair even dirtier rather than just, say, take a shower? When I received this can of Kardashian Beauty Take 2 Dry Shampoo, I looked around desperately for instructions — was I just supposed to spray it in like hair spray? Could it possibly be that simple? Yes, senior beauty editor Kathleen Hou explained patiently, that is the definition of dry shampoo. 
I sprayed it in cautiously at first — it added stiffness to where there once was sweat and made all the shiny signs of grease disappear. A few quick blasts resurrected the volume in my hair. The smell was earthy and sweet, but not too overpowering. Those Kardashians must have also been looking out for brunettes like me, because there was no residual white stuff floating around in my dark roots. It was glorious.
So I am here to say, I get it. I like my hair dirty now. And I actually look forward to when I can get my hair even dirtier — because can manipulate it into that piece-y, Kate Moss–like look. You know that somewhere, just like us, the Kardashians have Kate Moss on a hair-spiration board.