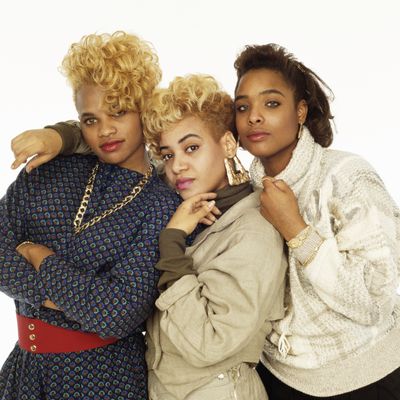 Salt-N-Pepa. Photo: Tim Roney/Getty Images
Photo: Tim Roney/Getty Images
Just as they are crushing on Jared Leto and wearing high-waisted shorts, the youth are thrilled about their discovery of fresh-out-of-the-kitchen band Salt-N-Pepa.
Cheryl "Salt" James and Sandra "Pepa" Denton were interviewed about finally gaining notability with their hot track "Push It," notably featured in a Geico commercial. In the words of these new artists:
Denton: We like to say that song is possessed because it'll never go away. It has a life of its own. We're fortunate and blessed that we made timeless music, and we knew we had our fan base. But since the commercial, we now have teenagers and all these young people coming up to us.

James: They think it's a new song. Their moms have to tell them it's 25 years old! 
Um, sure, Mom. You were totally cool and definitely listened to cool music. We all fully believe you. Now tell us about how everyone thought Mel Gibson was really sexy again.