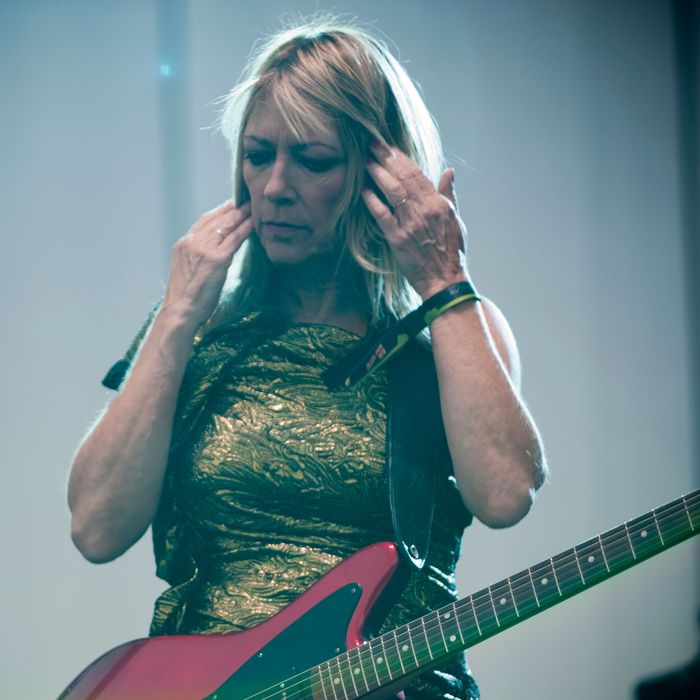 Kim Gordon at the 2010 Austin City Limits festival. (J. Dennis Thomas/Corbis.)
Photo: J. Dennis Thomas/Corbis
When we came out onstage for our last show, the night was all about the boys. Thurston double-slapped our bass guitarist Mark Ibold on the shoulder and loped across the stage, followed by Lee Ranaldo, our guitarist, and then Steve Shelley, our drummer. I found that gesture so phony, so childish, such a fantasy. Thurston has many acquaintances, but with the few male friends he had he never spoke of anything personal, and he's never been the shoulder-slapping type. It was a gesture that called out, I'm back. I'm free. I'm solo.
I was the last one to come on, making sure to mark off some distance between Thurston and me. I was exhausted and watchful. Steve took his place behind his drum set like a dad behind a desk. The rest of us armed ourselves with our instruments like a battalion, an army that just wanted the bombardment to end. It was pouring, slanting sheets of rain.
After thirty years, tonight was Sonic Youth's final concert. The SWU Music and Arts Festival was taking place in Itu, just outside São Paulo, Brazil, five thousand miles from our home in New England. It was a three-day-long event, broadcast on Latin American television and streamed online, too, with big corporate sponsors like Coca-Cola and Heineken. It was a strange place for things to come to an end.
Thurston and I had exchanged maybe fifteen words all week. After twenty-seven years of marriage, things had fallen apart between us. In August I'd had to ask him to move out of our house in Massachusetts, and he had. He was renting an apartment a mile away and commuting back and forth to New York.
The couple everyone believed was golden and normal and eternally intact, who gave younger musicians hope they could outlast a crazy rock-and-roll world, was now just another cliché of middle-aged relationship failure — a male midlife crisis, another woman, a double life.
They say when a marriage ends that little things you never noticed before practically make your brain split open. All week that had been true for me whenever Thurston was around. Maybe he felt the same, or maybe his head was somewhere else. I didn't really want to know, to be honest. Offstage he was constantly texting and pacing around the rest of us like a manic, guilty kid.
Thurston mimed a mock-startled reaction as a tech passed him his guitar. At fifty-three, he was still the shaggy, skinny kid from Connecticut I first met at a downtown New York club when he was twenty-two and I was twenty-seven. He told me later he liked my flip-up sunglass shades. In his jeans, old-school Pumas, and un-tucked-in white button-down oxford, he looked like a boy frozen in some diorama, a seventeen-year-old who didn't want to be seen in the company of his mother, or any woman for that matter. He had the Mick Jagger lips, and the lanky arms and legs he didn't seem to know what to do with, and the wariness you see in tall men who don't want to overpower other people with their height. His long brown hair camouflaged his face, and he seemed to like it that way.
That week, it was as if he'd wound back time, erased our nearly thirty years together. "Our life" had turned back into "my life" for him. He was an adolescent lost in fantasy again, and the rock star showboating he was doing onstage got under my skin.
The first song we played was "Brave Men Run." It was an old, very early song from our album Bad Moon Rising. I wrote the lyrics on Eldridge Street in New York City in a tenement railroad apartment where Thurston and I were living at the time. During the song, Thurston and I didn't look at each other once. When it was done, I turned my shoulders to the audience so no one in the audience or the band could see my face, though it had little effect. Everything I did and said was broadcast from one of the two forty-foot-high onstage video screens.
For whatever reasons — sympathy, or sadness, or the headlines and articles about Thurston's and my breakup that followed us wherever we went that week — we had the passionate support of South American audiences. Tonight's crowd stretched out in front of us and blurred with the dark clouds around the stadium — thousands of rain-soaked kids, wet hair, naked backs, tank tops, raised hands holding cell phones and girls on dark boys' shoulders.
The bad weather had followed us through South America, from Lima to Uruguay to Chile and now to São Paulo — a corny movie-mirror of the strangeness between Thurston and me. The festival stages were like musical versions of awkward domestic tableaux — a living room, or a kitchen, or a dining room, where the husband and the wife pass each other in the morning and make themselves separate cups of coffee with neither one acknowledging the other, or any kind of shared history, in the room.
"Hello!" Thurston called out genially to the crowd just before the band launched into "Death Valley '69." Two nights earlier in Uruguay, Thurston and I had to duet together on another early song, "Cotton Crown." Its lyrics were about love, and mystery, and chemistry, and dreaming, and staying together. It was basically an ode to New York City. I had been too upset to sing it, and Thurston had to finish by himself.
But I would make it through "Death Valley." Lee, Thurston, and I, and then just the two of us, stood there. My about-to-be-ex husband and I faced that mass of bobbing wet Brazilians, our voices together spell-checking the old words, and for me it was a staccato soundtrack of surreal raw energy and anger and pain: Hit it. Hit it. Hit it. I don't think I had ever felt so alone in my whole life.
The press release issued a month earlier from our record label, Matador, didn't say much:
Musicians Kim Gordon and Thurston Moore, married in 1984, are announcing they have separated. Sonic Youth, with both Kim and Thurston involved, will proceed with its South American tour dates in November. Plans beyond that tour are uncertain. The couple has requested respect for their personal privacy and does not wish to issue further comment.
"Brave Men Run," "Death Valley '69," "Sacred Trickster," "Calming the Snake," "Mote," "Cross the Breeze," "Schizophrenia," "Drunken Butterfly," "Starfield Road," "Flower," "Sugar Kane," and closing out with "Teen Age Riot." The São Paulo set list borrowed from when we first started out, lyrics Thurston and I had written apart or together, songs that took Sonic Youth through the eighties and the nineties, and our most recent albums.
The set list may have seemed like a best-of compilation but it was carefully thought through. During rehearsal and all that week, I remember Thurston making a point of telling the band he didn't want to perform this or that Sonic Youth song. It eventually hit me that certain songs he wanted to leave out were about her.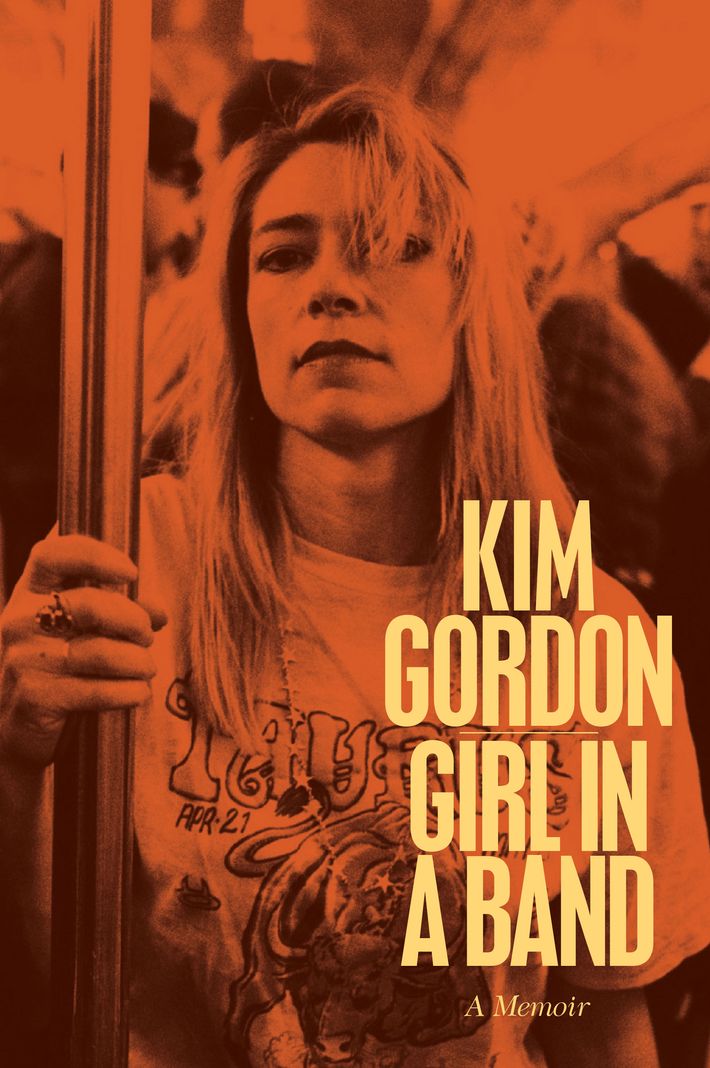 We could have canceled the tour, but we'd signed a contract. Performing live is how bands make a living, and we all had families and bills to pay, and in my and Thurston's case, college tuition for our daughter Coco to think about. At the same time, I wasn't sure how good it looked to be playing these gigs. I didn't want people to assume that whatever stuff had gone down between Thurston and me, I was playing a supportive, stand-by-your-man role. I wasn't. And outside of our immediate circle no one really knew what had happened.
Before flying to South America, Sonic Youth rehearsed for a week at a studio in New York. Somehow I made it through, with the help of a Xanax, the first time I'd ever taken one during the day. Instead of staying at our apartment, which now felt tainted to me, the others agreed to put me up in a hotel.
True to band form, everyone pretended things were the same. I knew the others were too nervous about how things were between Thurston and me to interact with me much, considering they all knew the circumstances of our breakup, and even knew the woman in question. I didn't want anyone to feel uncomfortable, and after all, I'd agreed to go along with the tour. I knew everyone had his own private judgments and sympathies, but I was surprised at how jovial everyone was acting. Maybe everyone was just too overwhelmed by the unreality.
The same went in South America. We flew separately. I flew in with the band, and Thurston traveled with Aaron, our front-of-house sound guy. On tour, after the airplane touches down, vans speed you to your hotel. People scatter, sleep, read, eat, exercise, go for a walk, watch TV, e-mail, text. That week in South America, though, everyone in the band, including the crew and the tech guys, came together for meals. A lot of the crew had worked with us for years and were like family members. Thurston sat at one end of the table, with me at the other end. It was like dining out with the folks, except Mom and Dad were ignoring each other. Everyone ordered up big platters of food and drink, and most of our conversations centered on what we were eating and drinking as a way to avoid talking about what was really going on. What was going on was the silent, unwelcome guest in the room.
Our first show was in Buenos Aires. Sonic Youth hadn't played Argentina in a while, and the audiences were expressive and enthusiastic, and seemed to know every lyric to every song. For the first couple of days, I had my wall up around Thurston, but as the tour went on, I softened a little. With all the history between us, it made me incredibly anxious to hold so much anger toward him. A couple of times he and I found ourselves taking photos outside the hotel, and I made a conscious decision to be friendly, and Thurston did too.
What got me through was being onstage, the visceral release of performing. Extreme noise and dissonance can be an incredibly cleansing thing. Usually when we play live, I worry whether or not my amplifier is too loud or distracting, or if the other members of the band are in a bad mood for some reason. But that week I couldn't have cared less how loud I was or whether I accidentally upstaged Thurston. I did what I wanted, and it was freeing and painful. Painful because the end of my marriage was a private thing, and watching Thurston show off his new independence in front of audiences was like someone rubbing grit in a gash. My friendliness faded away as one city turned into the next, replaced by anger.
It reached a point in São Paulo where I almost said something onstage. But I didn't. Courtney Love happened to be touring South America at the same time. A few nights earlier, she had begun railing against a fan in the audience who was holding up a photo of Kurt Cobain. "I have to live with his shit and his ghost and his kid every day and throwing that up is stupid and rude," she screamed. She left the stage, saying she'd return only if the audience agreed to chant, "Foo Fighters are gay." The clip ended up on YouTube. It was typical Courtney shtick, but I would never want to be seen as the car crash she is. I didn't want our last concert to be distasteful when Sonic Youth meant so much to so many people; I didn't want to use the stage for any kind of personal statement, and what good would it have done anyway?
The band closed with "Teen Age Riot" from our album Daydream Nation. I sang, or half sang, the first lines: "Spirit desire. Face me. Spirit desire. We will fall. Miss me. Don't dismiss me."
Backstage, as usual, no one made a fuss out of this being our last show, or really about much of anything. All of us — Lee, Steve, Mark, our music techs — lived in different cities and parts of the country anyway. I was too sad and worried I would burst into tears to say good-bye to anyone, though I wanted to. Then everyone went his or her own way, and I flew back home, too.
Thurston had already announced a bunch of solo shows that would start in January. He would fly to Europe and then circle back to the East Coast. Lee Ranaldo was planning on releasing his own solo album. Steve Shelley was playing nonstop with the Chicago-based band Disappears. I would be playing a few gigs with a friend and fellow musician named Bill Nace, and working on artwork for an upcoming show in Berlin, but mostly I'd be home with Coco, helping her through her senior year of high school and the college application process. In the spring, Thurston and I had put our New York apartment on Lafayette Street on the market, and it finally sold six months later. Apart from that, just as the press release said, Sonic Youth had no future plans.
From the book GIRL IN A BAND: A Memoir by Kim Gordon. Copyright © 2015 by Kim Gordon. Reprinted by permission of Dey Street Books, an Imprint of HarperCollins Publishers.