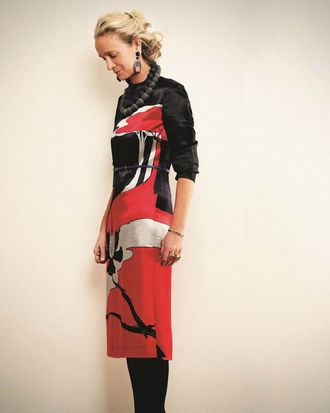 Lucinda Chambers
Photo: Toby Knott
In her 2012 memoir, Grace Coddington wrote about an assistant she had at British Vogue in the 1980s, who was prone to forgetting phone numbers and getting lost:
She would arrive each morning looking like a flower in outfits she made herself, and sat at her desk outside Bea [Miller]'s office spouting petals of organza. I have never known anyone more passionate about clothes. Nor more blissfully scatty.
That assistant was Lucinda Chambers, who eventually went on to become fashion director. She's still a little scatty, but her career since then has been no joke — she's the right-hand woman to British Vogue editor Alexandra Shulman, and also a longtime consultant to the Italian label Marni. Her shoots are soulful, emotive, and inspired by the weird and wonderful — unsurprising for a stylist who trained under Coddington. Her closest collaborators include Mario Testino, whom she has known since they were penniless kids living in London squats, and Patrick Demarchelier, with whom she did her first Vogue shoot 30 years ago.
When the Cut visits Chambers at her home in west London, it's like walking into Wonderland. Her taste is "lots of color, lots of stripes, lots of pattern," and on every surface and wall are souvenirs she has collected along the way. She's lived in the house for 25 years, she thinks, although she can't remember whether she is 53 or 54 years old. We settle into armchairs, and she tells me about her early days at Vogue, her working relationship with the legendary Beatrix Miller, and how Coddington taught her everything.
How did you get started in fashion?
Well, I was going to be a secretary. I wasn't outstanding at anything at school, and I really had no ambitions. We used to move every 18 months because my mother did up houses — she was amazing, but we didn't have a lot of money and it was always a bit by the seat of our pants. And then one day, we really did run out of money. Back then, if you had very little earnings, you could get a grant to go to art college — enough to live on — and you didn't have to pay it back. The highlight of my career so far was that I'd won a Christmas-card competition. So my mother said, "Look, we should both go to art college." We made portfolios on the kitchen table, and we applied and we both got in. She was 58, I think, and she did incredibly well. She went on to write about ten books, and became a renowned lecturer. But I hated art college — I wasn't good at anything.
I went to Hornsey, which at that time was very left wing and very anti-capitalism. When I expressed a slight interest in fashion, they were like, "Oh, fashion ought to be blown sky-high." They actively discouraged it. But then I found the Perspex [a clear type of plastic] room, and secretly I started to churn out all this jewelry. I went to Camden Market and I sold it on a stall, and into a couple of shops, and from that point on, I began to tentatively work in fashion. I got a job in Topshop, and I worked as a wardrobe mistress for a theater company.
After about a year I rung up Vogue — I don't know quite how I got the courage. I got through to the personnel director, and she invited me in for an interview. A few weeks later, she offered me the worst job in the building — secretary to the petty-cash woman. I said, "I'll take anything."
You ended up becoming editor Beatrix Miller's secretary. What was that like?
She was so wonderful. It was such a privilege to work for her, particularly because at that period in the fashion room there was Liz Tilberis, Grace Coddington, Anna Harvey, Sheila Wetton — such legends, and I came into contact with all those people. Miss Miller was a mentor to me, and for some reason she really liked me. She said, "Darling, you've got lots of furniture in your head, but you're absolutely terrible at everything else. It's all up there, but it's got to come down here." She ran the magazine in a really interesting way. People were quite unhappy a lot of the time, and she found that healthy. I'd say, "Miss Miller, everyone's in the loo crying!" and she'd say, "Healthy competition, darling! Healthy competition."
Eventually I was asked to be Grace Coddington's assistant. Grace liked me because I used to make all my own clothes, and I looked like a freak. My hair was multicolored. I'd be a ballet dancer one minute, a fairy the next minute, and then an urchin. I remember wearing a wastepaper basket on my head because it had a brim, thinking, "No one will think this is a wastepaper basket — they'll think it's a really interesting wicker hat." Luckily, it appealed to Grace. She's very beguiled by young people trying things out — it's part of her generosity.
You must have been so excited to work with her.
Yes, it was incredible. But I was pretty terrible [at the job]. I was hopelessly inefficient. I loved calling in clothes and I hated sending them back. I'd cram everything into a cupboard and hope that nobody would ask for it. But I used to love how Grace thought about stories — I mean, she taught me everything.
I think what she taught me that was so fundamental, which I don't see in the next generation, is a way of looking at fashion that isn't really to do with the clothes. You go to exhibitions, or you're on a train journey, or you're walking the dog, or you see two patterns together — and an idea can literally come from anything. You're not looking at other people's pictures and what's already been done. It's interesting, because if I work with a young photographer, they'll say, "Well, what references have you got?" And I say, "I haven't." So I feel very indebted for growing up in the time that I did, because I think there is so much information now. It's difficult to resist looking at it.
Do you remember the first shoot you styled?
Yes. Beatrix Miller brought me in, and she said, "I want you to do a shoot. But I don't want a fashion story from you, darling. I want a beauty story, and none of your stupid hats." I came back with a fashion story that didn't have just one hat, but several hats piled on top of each other. I remember coming back on the plane with the Polaroids, thinking, "I'm just going to get fired." It was such a stupid thing to do! But something just takes over me and I think, "I know this is wrong, but I'm going to do it anyway." It's a very odd thing.
Funnily enough, I went to Grace the minute I got back from New York and I said, "Grace, I've really screwed up." She was amazing. She showed the pictures to Miss Miller and said, "Don't shout at Lucinda — I think they're really good." I got away with it, and I got a kind of mad confidence that if they're good, then that's okay.
That's what counts.
I think so. Because you have to be a bit bloody-minded. I see people working for other magazines and they're very nervous about what their editor will say or think. You can't second-guess, you have to do what you think — that's why you've been hired. Otherwise you'd be too terrified to put a bloody pair of earrings on, in case Anna Wintour or Alex Shulman didn't like them.
There's a grand tradition of people leaving British Vogue and going to American Vogue. Have you ever been tempted?
I've never been asked. [Laughs] I would not be their cup of tea at all.
I think American Vogue is fantastic. The editors are my heroes in a way, probably beyond any other magazine. But I don't think I'd be asked to go, and … I also feel lucky, in a sense, to be doing this in London. I heard a quote from Anna Wintour the other day — she said she could never live in London, because where would she wear all her clothes? I thought that was very funny, and I could absolutely understand where she was coming from. For me, that's the privilege of living here — you can have another life that has nothing to do with your day job. We're steeped in fashion and culture, and then by 6.30 we can be at home, pottering around in the garden.