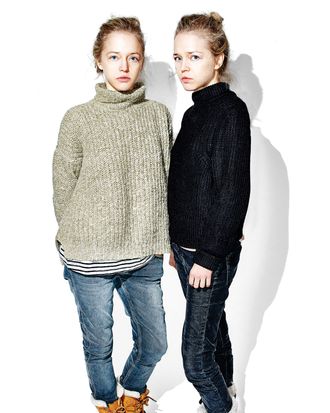 Twin sisters Stephanie and Melanie Hausberger.
Photo: Bobby Doherty
Stephanie (left) and Melanie Hausberger, Artists
What kind of accent do you guys have?
Melanie: We're from Austria. But from an early age we knew that we wanted to move to New York. So we both came here in 2010; we got into the same fine-arts program at the School of Visual Arts.
Stephanie: We took all the same classes and made the decision to start making art together. I photograph her, and she photographs me.
Melanie: We've tried to be apart—there was one year in high school where I was in Austria and Stephanie went to an English boarding school, but we spent so much money on phone bills.
Do you have a lot of friends?
Melanie: Not too many.
Stephanie: I think people are maybe intimidated and think we come as a package.
Where do you guys live?
Melanie: In a one-bedroom in the East Village.
Does that mean you sleep in the same bed?
Melanie: We do, actually. I'm so used to sleeping with her, I don't care anymore.
Stephanie: We're both very good sleepers. And the funny thing is we have the same rhythms. Like, I often have to go to the bathroom at the same time as her.
Lightning Round
Age: 27.
Older twin: Melanie, by ten minutes.
Currently reading: "A new book about Jackie O.—we'll read anything about her."
Sweaters by: Zara (Stephanie) and  American Apparel (Melanie). "We have one closet and share most of our clothes."
Favorite restaurant: Souen. "We both always get the same thing, kabocha squash with carrot dressing."
*This article appears in the February 23, 2015 issue of New York Magazine.