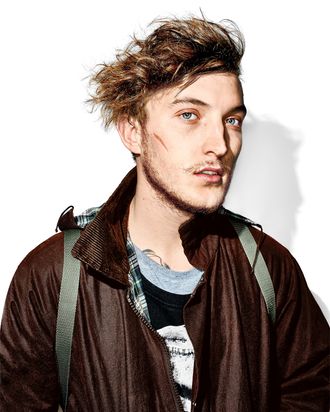 Thomas Harding.
Photo: Bobby Doherty
Thomas Harding, Model, Actor, Chef
How'd you get that scar?
A dog bit me when I was 6. I get so sick of strangers asking me about it that sometimes I make up a story. Like when I was younger, this woman in my ballroom-dancing class asked me about it and I told her that my mother had knifed me in the face; afterward, she confronted my mum. I got in a lot of trouble. But I like my scar. When I was working at a hotel in Melbourne, I went by "Scarface."
Are you from Australia?
No, I'm from a small town in England, but I lived in Australia for two years before I moved here. I was only planning on staying in New York for a short time, but I started seeing this guy, a model-socialite I met at Le Bain, and so I stayed longer. We went to Alexander Wang's Fashion Week after-party together, and I found myself dancing next to Miley Cyrus. I remember thinking, I never want to leave New York.
Lightning Round
Neighborhood: Bedford-Stuyvesant.
Age: 21.
Last acting gig: "I'm in an episode of this Australian TV show Please Like Me; I'm making out with one of the main characters."
Go-to drink order: Gin-and-tonic.
Favorite restaurant: Macao Trading Company.
Favorite TV show: Shark Tank.
Shark Tank idea: "A foot lever that allows you to pick up the toilet seat without using your hands."
*This article appears in the February 9, 2015 issue of New York Magazine.