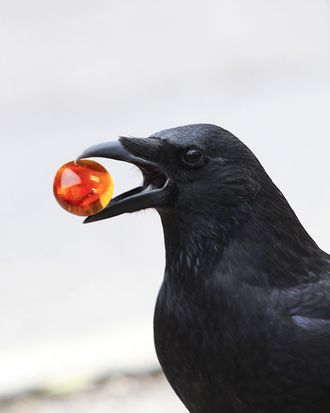 Photo: Karl-Josef Hildenbrand/Corbis, Getty Images
In Seattle, a flock of crows has located their god to exalt and glorify and present with adoration and precious gifts. Katy Sewall, at BBC News Magazine and the Bittersweet Life, reports that after 8-year-old Gabi Mann feeds the birds in her yard each day, they bestow shiny trash upon her.
But what does a crow consider a gift? Oh, mostly things that humans consider gifts (jewelry, toys) in addition to various hardware and office supplies. In the past couple of years, the loving birds have left: sea glass, light-bulb shards, a silver ball, buttons, beads, Legos, a heart pendant ("It's showing me how much they love me"), a hinge, a blue paper clip. Reporter Katy Sewall writes:
One time it was a tiny piece of metal with the word "best" printed on it. "I don't know if they still have the part that says 'friend'," Gabi laughs, amused by the thought of a crow wearing a matching necklace.
When you exchange best-friend necklaces, that means it's for real.