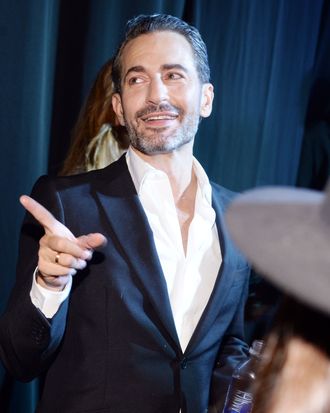 Marc Jacobs.
Photo: Clint Spaulding/Patrick McMullan
Marc Jacobs isn't exactly yelling at young designers to get off his lawn, but he doesn't sound thrilled with what they have to offer in a new interview with Suzy Menkes for British Vogue. "I look at young fashion and it seems like it's all the same — the idea of what is edgy or cool," the designer says. "It's style with no substance; it doesn't really seem born of anything. I don't see the rebellion or edge in it. It just looks like a cliché: salad oil in the hair, Frankenstein shoes and the trappings of punk and all these other things." (Based on that description, could he be referring to a certain punk-inspired collection from this past season?)
"I just hope that somebody — like a younger person — will have that energy and power," Jacobs adds. "Or maybe there is nothing going on that has inspired that. But it doesn't seem like 'the street' or that idea of cool is new. That's why I became interested in someone who found an allure in the past, but was curious about the future. That's how I got into this whole Vreeland thing," he concluded, referring to the iconic editrix's influence on his fall collection.
And it doesn't sound like Jacobs will be reading this anytime soon. "I am so appalled by the whole social media thing," he says. "I don't get it, it doesn't appeal to me, neither does a computer, or working on a laptop. I don't want to read a book on a device. I like a book with a hard cover, and text on a piece of paper. I like magazines. I don't care if I carry around 100lbs of magazines, I'd rather do that than look at them on the internet. I am just not of that generation. I get it the allure of it, but it just doesn't appeal to me." This, from the man who brought grunge to the runways and hangs out with Lil' Kim.