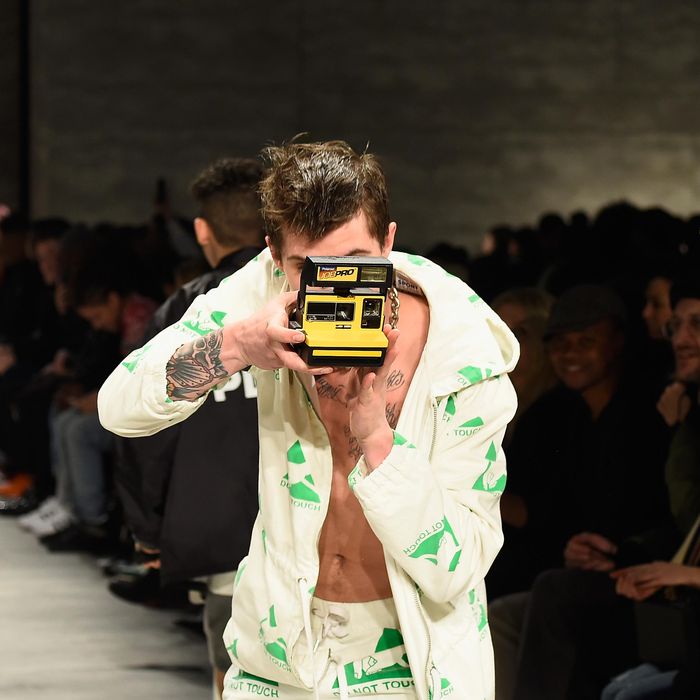 A model at last night's VFiles show.
Photo: Frazer Harrison/Getty Images
"I was too distracted by the poodle." That was my seatmate's response when I asked her to identify the slogan on a shirt by Di$cout Univer$e, a Melbourne-based brand that made its debut at last night's VFiles show. Somewhat jarringly given its downtown roots, the show was held at Lincoln Center, but models on VFiles Sport Plus–branded Razor scooters, sequined LOLs, and the aforementioned canine model kept things from feeling stuffy. Fashion Week's unofficial first day found a lot of emerging designers, including the VFiles crew, throwing spaghetti gleefully against the wall without too many worries about what stuck. And being of a generation where online lives have superseded real ones, there was plenty of reflection on the vast maw of the internet. While no pizza-printed garments were in sight, plenty of designers drew on memes and a Tumblr-style stew of references as part of their process.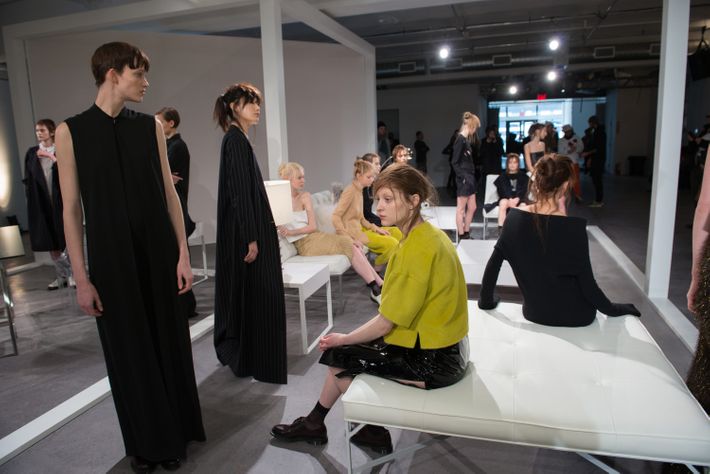 Yesterday morning saw Ji Oh, an emerging New York talent with two seasons under her belt, pointing out the emoji designs on her sweaters. (She opted for her favorites, the peace sign and the blank-faced man.) Her fall 2015 collection was inspired by the uniquely digital-dependent experience that is working from home, although those of us who do so in ancient college T-shirts and sweats would be hard pressed to recognize the connection. When informed of this, Oh exclaimed, "But you can! It's very comfortable. There are a lot of soft textures," namely cashmeres, silks, and snuggly mohair coats. Her models, posed in a boardroomlike setting, wore mixes of the corporate (banker stripes) and the Ur-casual (notably, a loose-fitting pair of chartreuse shorts that would be perfect for the couch-bound).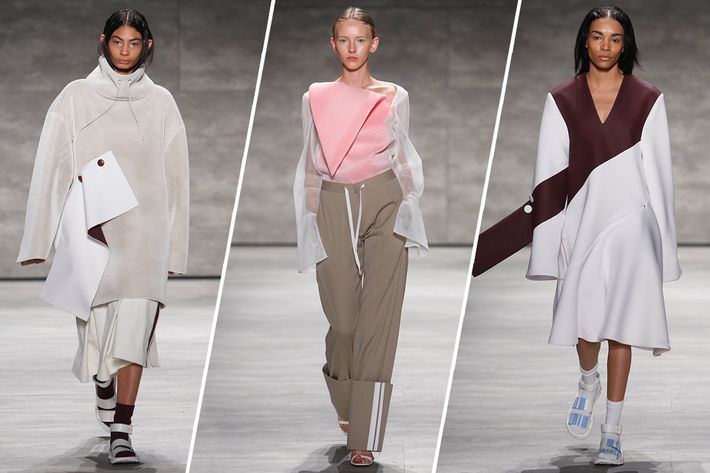 Perhaps the buzziest designer of the day was Andrea Jiapei Li, who, less than a year out of Parsons, is selling at Dover Street Market and was a semifinalist for this year's H&M Design Award. Her handiwork can be seen swaddling Agyness Deyn in the current issue of LOVE magazine (part of a spread photographed by Tim Walker) and will appear in the upcoming issue of CR Fashion Book. How did she get her work across their transom? Not through anything as prosaic as pounding the pavement. "They saw the pictures online," she said matter-of-factly, adding that a lot of job offers have come her way as well. All of this, mind you, on the basis of a graduate collection.
As for the assortment of looks she showed as part of the VFiles group (which constitutes her first official collection) she said: "I really like the oversized look," severely understating the case — the models ought to get hazard pay for shouldering her hulking neoprene coats. One was emblazoned with the slogan "You Never Know." Her rationale for choosing the phrase was simple. "I want to communicate. I want to tell a story to the girl [who's seeing the collection]."
Also in the VFiles show was Ximon Li, the winner of the H&M competition in which Andrea Jaipei Li was runner-up. Evidently sharing her penchant for all things outsize, he showed a menswear collection inspired by a documentary on post-Soviet youth called The Children of Leningradsky. (When I asked him to elaborate, he simply pulled up the screenshots he took on his iPhone and passed it to me.) From the street kids' multilayered, frostbite-battling ensembles, he put together a collection of comically large coats, paired with pinstriped shorts and skater pants so wide they looked like skirts. "For them, it's about survival. It's not styling," he noted. "Pretty much anything they can wear, they just put it on."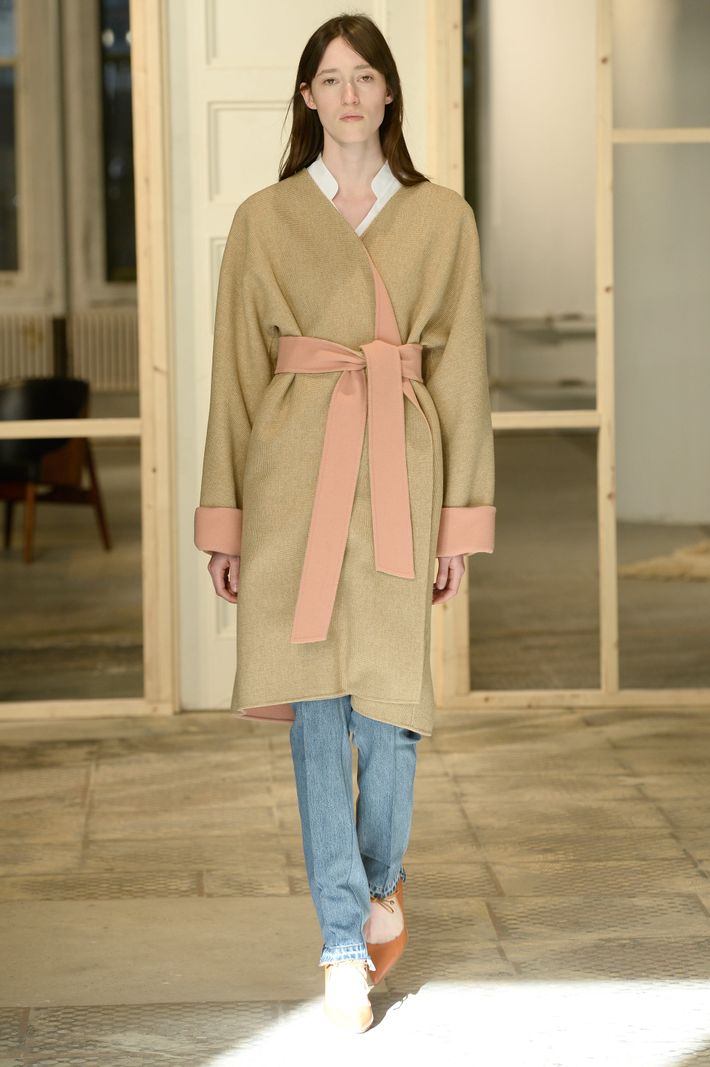 If there was any through line between these disparate viewpoints, it was the absence of clothing for adults with office jobs. Oh's and Ximon Li's use of pinstripes read as re-contextualized and jokey — whether it was gleeful club-kid lunacy or understated comfort, the focus was very much on leisure, which is understandable given that all of these people are in their early 20s. Slightly out of step with the prevailing millennial mood, but still very much a success, was Kate Wendelborn's first presentation for her line, Protagonist. Wendelborn wouldn't be caught dead airbrushing text-speak onto clothing; her collection marked the only adult moment of the day. Her pieces are quietly luxe, in a way that suggests thought and effort. Jackets with fur-trimmed collars and oil-slick gloves up to the elbow purred with ostentation, but what really stood out were her nonchalant pairings, notably a camel coat and jeans on a Charlotte Gainsbourg look-alike. It was nice to see someone making room for grown-up clothes for a change.