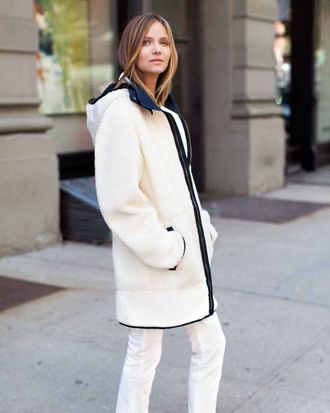 Emerson Fry Sherpa Coat.
Photo: Emerson Fry
While I've enthusiastically embraced one normcore staple (the white sneaker), I have yet to really get behind fleeces. In my mind, they recall fuzzy North Faces and Patagonias — things you'd wear climbing out of a chilly tent in the middle of a freezing forest. They're practical, warm, and reserved only for vacations, not real life.
That is, until I saw this coat by Emerson Fry. The low-key label has a cult following for its simple, chic, and relatively affordable pieces that hit on trends without feeling dated after a single season. The company has transformed the granola fleece by making it longer and adding a contrasting trim against crisp white. Throw it on when the weather's cold and you will feel instantly cozy but still pulled together.
Emerson Fry Sherpa Coat, $525 at Emerson Fry.