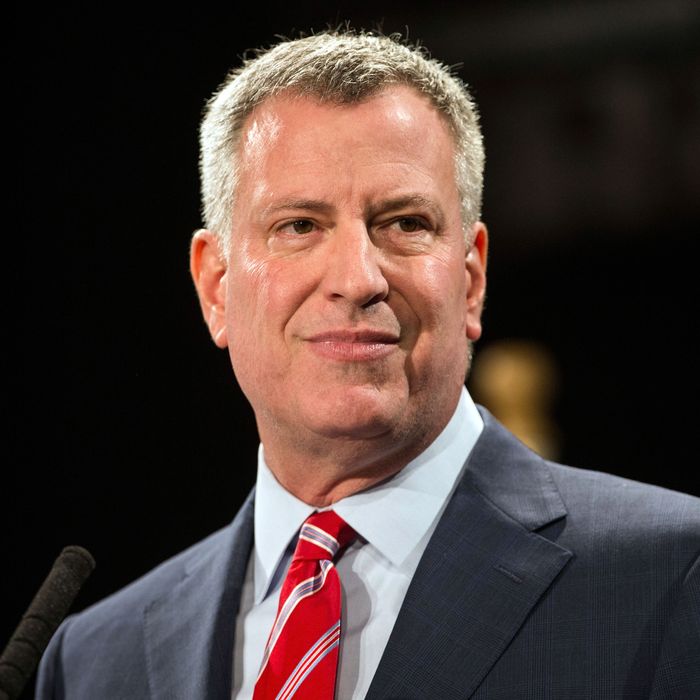 Mayor Bill de Blasio.
Photo: Andrew Burton/Getty Images
Last night, Mayor de Blasio continued his stated commitment to the city's fashion industry by unveiling his debut collection of  big and tall men's casualwear. Just kidding — but he did take the stage at MADE to announce the launch of an exciting fashion initiative. Per a press release from the mayor's office, the city will be tripling the amount of money it allots to the fashion industry, going from $5 million to $15 million. (After all, the industry does employ almost 200,000 New Yorkers.) The "Made in NY" initiatives to be funded with this money include internships and scholarships for students, as well as a high-profile marketing campaign spotlighting the city's fashion talents. Made in NY will also offer an awards program for designers and grants to train garment workers in new technology.
Also this year, the city will partner with the CFDA on the NYC Capsule Collection, which will be designed by various local talents and manufactured and sold in New York, with merchandise beginning to come into stores as early as this fall. Said the mayor in a statement, "Fashion is incredibly important to New York City, not just because it helps make us the most creative and exciting city in the world, but because of the hundreds of thousands of jobs and links to economic opportunity it creates. We are determined to ensure that New York City's working designers and manufacturers — and those aspiring to join that community — have the support they need to make it in New York City, and continue to grow NYC as the fashion capital of the world."