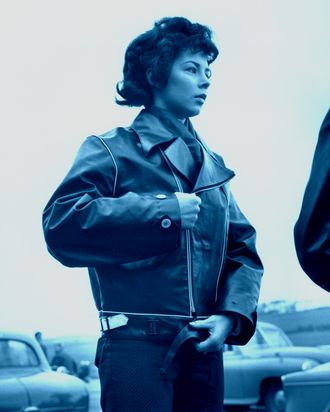 Photo: Keystone Features/Getty Images
Mac McClelland is used to being called a badass. "I'm always very flattered, always very honored that they say that," she told Mother Jones recently. It makes sense: She's a journalist who made her name hanging out with refugees of Burmese genocide, chasing a warlord in Democratic Republic of the Congo, and interviewing sexual-assault survivors in post-earthquake Haiti — in other words, doing a really tough job. "At the same time," she continued, "it sort of depends on your definition of badass. I think that the normal definition is that you don't have any feelings, right? So it's like you don't care, you're not really comfortable, and you're not touched by things, and you can do whatever you want."
This isn't always the connotation of badass. Sometimes the term is applied to people with palpable confidence and an uncompromising attitude who do feel comfortable shedding a few tears and displaying nurturing characteristics. But McClelland is right that, as it's most commonly used, badass implies both toughness and disaffectedness. It's rare to look at someone whose chief qualities are measured thoughtfulness and open emotionality and declare her a total badass. As women carve out careers and comfortably adopt traits that were once considered "masculine," there's strong social pressure on them to mimic the stoicism that men have traditionally been expected to maintain in the face of hardship. By now, we know the drill: Lean In if we want to succeed, and Go Outside if we have to cry.
As one of the people who has referred to McClelland publicly as a badass — as well as her friend and former editor — I've been thinking about this ever since I read her new book, Irritable Hearts: A PTSD Love Story. It's an incredibly personal memoir about her experience with trauma and falling in love while trying to heal. Much of McClelland's PTSD struggle is acknowledging that she had the right to be traumatized even though she was merely threatened and witnessed horrible things, not physically harmed, in the line of duty. During her panicked breakdowns, she tells herself things like, "These are the sorts of bullshit excuses you make for yourself when in fact You. Are. THE WORST."
It's almost scary to realize how deeply many women — especially those who are pushing the boundaries of what's traditionally been considered feminine — have internalized the message that toughness and feelings don't go together. There is something very appealing about adopting this no-feelings badass approach when you're a woman who's outnumbered professionally or who's chosen a line of work that, historically, women have been shut out of. There's pressure to prove that you're just as capable as men are, which can turn into pressure to ignore your emotional responses and downplay the tendencies you have that are traditionally considered "feminine." I've internalized this myself: When I was a boss, I struggled to downplay my emotions, even in extremely difficult moments. More recently, when an editor I respect tweeted about crying during her workday, I felt a pang of disgust. Keep it together, I thought.
Nothing throws a wrench in this desire to downplay the feminine quite like a pregnancy. Photojournalist Lynsey Addario also recently published a memoir that is, in part, about her decision to keep up her grueling and dangerous work while she was pregnant. "With the exception of military embeds, I took on all my regular assignments, hiding my growing belly beneath loosefitting shirts, cargo pants and sometimes, fortunately, a hijab," she wrote in an excerpt for the New York Times. She pushes aside her growing fears about jeopardizing the safety of her child and her guilt about making her husband worry. She certainly doesn't talk about it at work. "I adamantly didn't want any of my editors or colleagues to know that I was pregnant until I could no longer hide it. I worried about being denied work or treated differently." The fear is understandable. Most of her colleagues covering foreign conflicts were men. And once she told her story, exposing her competing concerns for her job and for her child, the backlash was swift. "I found Lynsey Addario's behavior absolutely reprehensible!" wrote one commenter. "How a mother could put her own ambitions and ego above that of her child is beyond belief." Wrote another, "I feel so sorry for the baby."
The particular pressure to be a certain type of badass woman is not unrelated to the "cool girl" phenomenon — you know, how sexist stereotypes about "most women" pressure certain girls to be the woman who puts away burgers and beers, laughs at sexist jokes, and sets herself up as an exception to the rule that women are soft and gentle and high-maintenance. The cool girl is just as hot but with far fewer feelings. While I'm sure McClelland and Addario would be the last to refer to feelings as a sign of weakness, both of their memoirs reveal how tempting it is to fall into gendered, old-school definitions of toughness. Badasses don't worry about being assaulted! Badasses don't get PTSD! Badasses don't let pregnancy stop them from venturing into a war zone! If they have to cry, badasses go outside!
Although McClelland and Addario are journalists, this phenomenon is much broader than women war reporters. It's tempting to think that a certain level of thick-skinned posturing will solve women's problems. We advise women who are harassed online to simply toughen up, shake off their haters, and get on with their lives. In a more extreme example, conservative politicians are recommending women arm themselves in order to prevent sexual assault. "If these young, hot little girls on campus have a firearm, I wonder how many men will want to assault them. The sexual assaults that are occurring would go down once these sexual predators get a bullet in their head," said Nevada Assemblywoman Michele Fiore. Anyone who knows anything about sexual assault knows that guns won't solve it because most assaults happen between acquaintances, not as a result of brute-force attacks. Anyone who's been the victim of hate-filled online attacks knows that the "block" button is not enough. The answer doesn't lie in removing or ignoring all perceived vulnerabilities. It lies in recognizing those vulnerabilities exist — mostly owing to deep-seated cultural factors. And women are no less badass for feeling traumatized by them.
It strikes me that as women continue to break into traditionally masculine professions and defend their right to exist in unsafe spaces, the rest of us have a responsibility to do more than cheer them from the sidelines. We should also make clear that we understand this work is hard, that it often takes an emotional toll, that there are no easy answers, and that, when they acknowledge their feelings and admit their struggles, they're all the more badass for it. This wouldn't just help women with challenging jobs or in dangerous situations. It would also benefit men who have long been expected to bury their emotional responses and carry on as if they are unaffected by trauma. It's not "badass" to survive a horrible situation without shedding a single tear. The real badass move, as women like McClelland and Addario show, is to fearlessly acknowledge how something has affected you and make space for others to do the same.