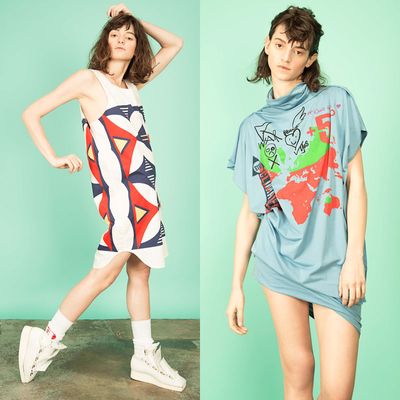 Photo: Daisy Walker/Vivienne Westwood
World's End, the emporium Vivienne Westwood opened on London's King's Road in 1971, has catered to punks and rebels from Chrissie Hynde (who once worked there as a retail associate) to the Slits' Viv Albertine. You may also know it under one of its previous names: Let It Rock, Sex, Seditionaries, or Too Fast to Live, Too Young to Die. Opening Ceremony's Humberto Leon and Carol Lim, who know a thing or two about creating a memorable retail experience themselves, approached Westwood about creating a capsule collection of some of the standout designs from the era, like trousers from the designer's landmark Pirate collection in 1981 and the tongue trainer from her 1983 Witches show.
Said Leon in a release, "My love for Dame Vivienne Westwood and her creative legacy has truly been a life-long affair. In particular, her impact and relevance extend beyond fashion and into all the cultures that Opening Ceremony also embraces: from music, film, and art, to politics, civil rights, and environmental causes … This reissue has never been done before, and we could not be more excited to share our favorites from Vivienne's work with a new generation." The collection will be available beginning February 9, and will be sold exclusively at Opening Ceremony's New York and L.A. outposts.