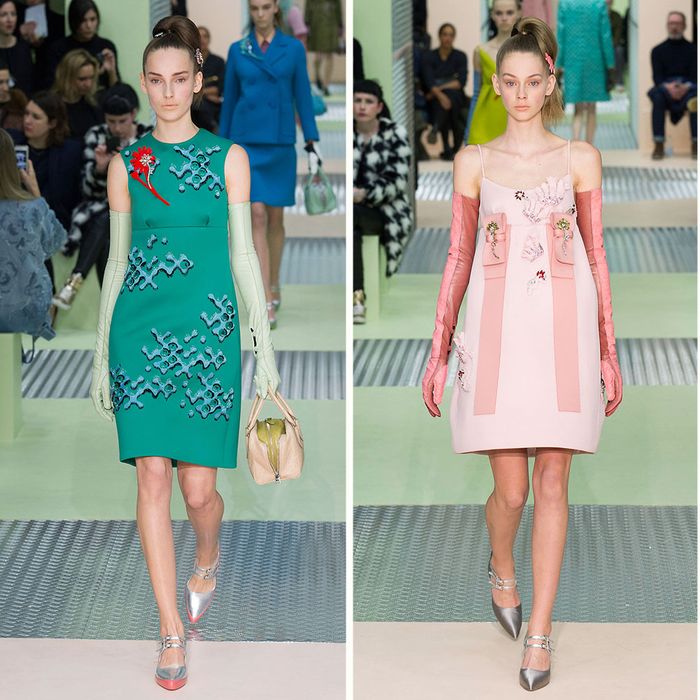 Fashion people get Super Bowl–level excited about the Prada show, with good reason. Each season Mrs. Prada is among the few designers whose shows can actually serve as a weather vane for trends. And if yesterday's show is any indication, the early '00s are about to be very much with us.
The collection — a radical left turn from last spring's apocalyptic, upholstery-fabric-driven mood — toured the swinging '60s via the '00s. The collection was filled with pastel tweeds, sharp two-toned bowling bags, and Mary Jane pumps in the pale blue of Hard Candy's coveted "Sky." Prada brought out some of her favorite silhouettes: boxy '60s Mod shifts, here worn over blouses; cropped pants with a slight flare; and double-breasted suits done in a more feminine style, with rounded edges. Everything came in youthquake jellybean hues, but simultaneously felt adult thanks to high levels of tailoring. That attention to detail extended to the set, which resembled the interior of a Lucite jewelry box or the counters of a chic candy shop, as though spectators were stepping into an early 2000s Prada campaign.
Of course the collection wasn't some straightforward riff on any decade. The Ladurée-hued clothes had a quirky bent, with abstract floral pins and rhinestones affixed to the bodices or lapels of the looks, and odd surface details like randomly spaced floral embellishments that felt entirely unrelated to any era. Just when she risked skewing too saccharine, Mrs. Prada would toss things off-center, making them weird and cool again, for instance, with fur epaulets that gave an otherwise girlie pink dress a sauvage edge. (Those Italians and their love of unexpected dashes of fur!) She also stuck with her penchant for surprising color combinations: mustard with candy-pink, lime-green with gray. And, someone please alert Amal Clooney about the brightly colored gloves, some of them in contrasting hues, stretched well past the elbows on many of the looks. (Maybe the upper arm is the new erogenous zone?)
The collection felt more upbeat than her past few — which was refreshing to see in the context of a fall collection. It seemed as though Prada, with her palette of Easter colors, was tossing the traditional notion of seasons aside. And there was an old-fashioned, ladylike quality to it, like the youthful version of Marc Jacobs's grandes dames — think Diana Vreeland's go-go-boot-wearing assistant, almost. If the Prada ripple effect continues apace, September should be very sweet indeed.