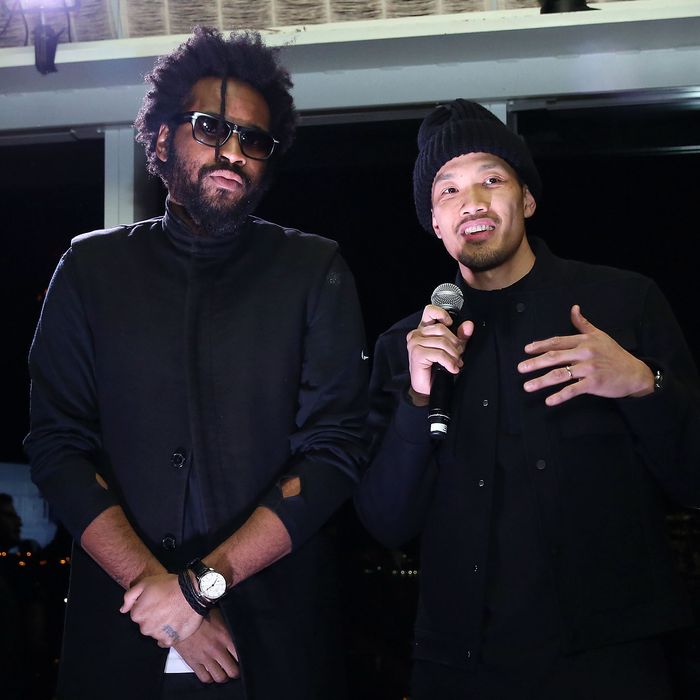 Public School's Maxwell Osborne and Dao-Yi Chow.
Photo: Cindy Ord/Getty Images
Now that Public School's (raved-about) show is done, one half of the brand's design duo, Dao-Yi Chow, is ready to celebrate the Lunar New Year. "I'm going away this weekend with my whole family, we're doing a whole snowboarding Chinese New Year extravaganza," Chow said at the Reimagine Learning initiative launch on Tuesday, where he and design partner Maxwell Osborne showed a few looks from their newest runway collection. Chow's entire extended family will be there; however, his mother will not be joining in most of the family activities. "My mom will be on Instagram," he told us. "She might be the most active Instagram user in the world." He's not joking. "She's the most active commenter," Osborne clarified when we asked for her handle. "Right," said Chow, "she's not a heavy poster, but her comments are pretty hard-core. I mean heavy. My mom is … We've gotta take the phone away from her, as opposed to parents taking them away from their kids." So, will Mom be too busy on social media to make a big holiday dinner? "Exactly," Chow laughed.
Meanwhile, the Fashion Week crush means bad eating habits and late-night snacks at the office. But the two prepared with a pre-NYFW juice cleanse, a tradition, they say. (They also juice before the Met Gala each year.) "You just want to go in, you know, feeling good, and feeling healthy about yourself, because you spend these long hours, and you just develop all these bad habits, so it's good to be able to detox every now and then," Chow explained.
That very day was a perfect example: They ate an entire cake before the party. "Someone sent a Momofuku dessert platter up, so we just nibbled on that through some fittings today," Osborne said. Neither of them posted pics to Instagram, so no criticism from Mom.