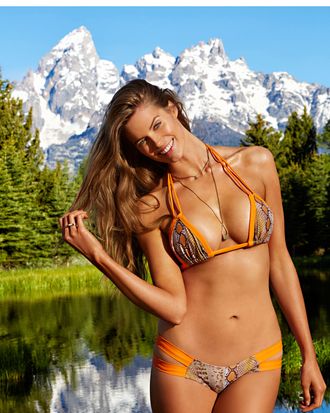 Photo: James Macari/Sports Illustrated
This year's Sports Illustrated Swimsuit Issue brought the introduction of the groin V and more Chrissy Teigen. But it also featured a spread of body-image advocate and "plus-size" model Robyn Lawley — the first time in history a model beyond a traditional sample size has appeared in the swimsuit issue. Calling while nine months pregnant from a tent in California, Lawley spoke to the Cut about shooting the issue during her first trimester, the Calvin Klein plus-size model scandal, and why designers need to bring about a change for body diversity in the fashion industry.
What was the casting process like?
In 2013, I met all the [casting] girls and they seemed really interested. It didn't happen that year. And then the next year, I thought I could maybe go to them and be like, "So, I have this swimwear line you guys didn't know about …" And instead, they were like, No, we really want to use you and have been trying to get you in and booked. And then it happened! It was almost a year ago.

Were you surprised by the timing?
MJ [Day, assistant managing editor of Sports Illustrated] said it was like the Kate Upton effect. Everything happened in a flow and is finally happening, but my agents at Wilhelmina have been working at this for years, trying to even get us in the door to see people. At the end of the day, I'm a size that they're not used to. It's quite a process and I am quite stoked they were really willing to go down that route. A lot of magazines are not inclusive of my size.
Did you do anything special to prepare for the shoot?
I love sports. I was a sports captain in high school. I took up yoga because I have a terrible lower back and am very inflexible. I've been doing kickboxing the last year and a half. Because I was going to be in SI and they love sporty, healthy girls, I did up my workouts but nothing crazy. I was pregnant and sleeping all the time. Even now, I'm doing yoga and am nine months pregnant. I love sports, and exercising is essential, especially if it means I can eat however I want.
Every time a plus-size model is featured in a magazine, it seems like the media and consumer response is overwhelmingly positive. Yet, plus-size models are still rarely featured. Why do you think that is?
I don't really understand why. I used to think sample sizes were made into a 0. But as a designer myself, I make the sample sizes whatever I want. Why are we so focused on having the girl fit the clothes rather than the clothes fit the girls? I wish it were completely different and women didn't worry about other bodies. I just want it to be a regular thing. I want Vogue to be regularly featuring curvy or plus-size or size-8 models. At the end of the day, I (and other girls) look up to these magazines. If you just see one consistent body type, you're going to hate your body. I don't want girls to feel like that.
You've disavowed the term "plus-size." Is there another term that you prefer?
Well, I like "curvy." Unfortunately, I have to be differentiated for castings. SI never once called me a plus-size model. If you actually look back, they haven't said anything, but everyone loves a story. I agree with people when designers think I'm plus-size. But my size is just a number.
There was a lot of controversy this year over Calvin Klein's first plus-size model, who was a size 10. Do you think size-ism is an important discussion?
To me, it's a necessary evil we need to get through right now. The change has been happening for a long time. We weren't even getting looked at. When I did the Steven Meisel cover, all these designers booked me without even looking at my size. My agency was like, Do they know her size? And once they did, everyone dropped. People don't know how hard it is to break a mold. It's a step in the right direction — I'm proud of Ralph Lauren, Calvin Klein, Sports Illustrated — and it needs to happen faster. We're hoping it does.
Designers need to not be so fearful of using a few models that are a different size on the catwalk. They expect you just to fit into these sample sizes. They say, Yeah, you don't look like a size 12. I've got a 42-inch hip, my friend; this is not going to fit. I can't get clothes for events. I'm very excluded from a lot of that, and it sucks. If designers had more sample sizes, they would make the magazines shoot size 8 on a size 8.
This interview has been condensed and edited.